By Pat Harty
IOWA CITY, Iowa – One of the most impressive things about how Kirk Ferentz has handled being the Iowa football coach for nearly a quarter century is that he usually goes out of his way to defend and protect his players.
While some coaches during tough times are quick to blame the Jimmys and the Joes instead of the Xs and Os, Kirk Ferentz has avoided doing that for the most part.
However, based on what he said during Wednesday's press conference, that could be changing.
Kirk Ferentz, obviously, knew that he would have to defend his decision to keep his son, Brian Ferentz, as the offensive coordinator and Kirk came ready with plenty of excuses, deflection and distractions, and much of it came at the expense of his players.
He didn't single out any players for criticism, but Kirk Ferentz made it abundantly clear that he believes the lack of experience on the offensive line, coupled with injuries on the offensive line, and at receiver, were the biggest reasons why Iowa averaged just 17 points per game and finished next to last in the country this past season in total offense, but that it didn't have anything to do with coaching.
"If you look at our offensive line right now we weren't where we needed to be a year ago and felt the same way this year," Kirk Ferentz said at Wednesday's press conference. "I think we had — I don't want to say suffered from — but we were forced to play some guys that probably weren't quite ready to compete at the level we're looking for. It's been part of what we've been battling a little bit.
"The facts are that when you can't do things up front, kind of cascades to the entire offense. It's hard to run an offense when you can't block with proficiency. But the one thing I will say about our guys, last year is they worked extremely hard. I know they're being well-coached and they have a high level of pride in seeing improvement in both seasons."
Kirk Ferentz also brought up without saying his name the decision by Charlie Jones to transfer from Iowa to Purdue before the start of last season, as the head Hawk seemed to suggest that it created a void that was too much to overcome.
"Next thing you can look at are the receiver position, and I would suggest to you right now, if you look at us last spring, we were feeling pretty good about our group," Kirk Ferentz said. "Quite frankly, since that time we experienced a transfer of one of our best players, if not our best receiver transferred out.
"You had a guy who showed a lot the previous year as a true freshman who played 13 snaps last year. You have Brody Brecht that we think is a really good prospect, but he's an unusual prospect."
Kirk Ferentz was referring to receiver Keagan Johnson as the player who only took 13 snaps last season, and with Brecht, Kirk Ferentz seemed to be saying that his status as a two-sport athlete created another obstacle.
Johnson has since transferred to Kansas State, while Brecht is considered one of the top young pitching prospects in college baseball, but he has made little impact so far as a receiver in football.
Kirk Ferentz's message on Wednesday seemed to be that the problems on offense have more to do with personnel than with coaching.
But even if that were true, which is highly debatable, whose fault it that?
It's Kirk Ferentz's fault because it's his responsibility, and the responsibility of his assistant coaches, to recruit enough talented players to have success, and to keep them on the roster.
Charlie Jones transferred to Purdue because he wanted to play in a better passing offense to showcase his receiving skills for the NFL, and his decision paid huge dividends as Jones was named the Big Ten Receiver of the Year this past season, whereas at Iowa he was used mostly as a return specialist and backup receiver.
The fact that Iowa started mostly underclassmen on the offensive line this past season is because there weren't enough veteran offensive linemen to build around.
But again, whose fault is that?
Injuries were a factor, but every team deals with injuries.
Iowa had five quarterbacks that were injured during the 1994 season, and yet, that team still averaged 407 yards per game with Don Patterson as the offensive coordinator.
The lack of depth currently at receiver is due largely to attrition, and to mistakes that have been made in recruiting.
But whose fault is that?
It seems clear at this point that some receivers have left the program because of the problems on offense, and those same problems also have made it hard to recruit quality receivers.
But whose fault is that?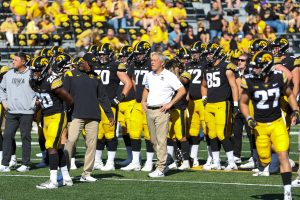 Kirk Ferentz is an awkward situation of having to defend and deflect for his son, and apparently the easiest way to do that is to blame the players for not being ready to perform at this level, or to blame the problems on injuries or attrition.
In fairness, Kirk Ferentz might actually believe that the problems on offense have more to do with personnel than with coaching, and he obviously believes that Brian Ferentz is a good coach.
The concern, however, is that Kirk Ferentz is biased in this case, and not able to think objectively because Brian Ferentz is his son.
Another concern is that Iowa Athletic Director Gary Barta is powerless where Kirk Ferentz is concerned and unwilling to take a stand on anything that might upset Kirk Ferentz, like for example, demanding that Kirk Ferentz make a change at offensive coordinator.
Kirk Ferentz kept referring to his body of work for why he believes Brian Ferentz still deserves to be the offensive coordinator.
Kirk Ferentz also conveniently played the loyalty card when explaining why he hasn't ever believed in firing a coordinator, saying that he is following the example of his predecessor at Iowa, Hayden Fry, and that of the Pittsburgh Steelers
"If you look back 24 years we've had down periods, years that have been disappointing," Kirk Ferentz said. "We normally rally back. We normally rally back and fix it, and that's always kind of been my attitude. We're all products of our upbringing, I guess, or influences, and I worked for a guy for nine years who there was never a coordinator fired here during my nine years with Coach Fry, and I don't think the next 11, or two and eight I guess it would be, I'm not planning on doing it. I haven't done it.
"I grew up in Pittsburgh where they had pretty good success. The thing you learn from the Steelers is they fix things. They don't panic, they fix things. As long as you got the right people. It's like players, too. Good attitude, good work ethic, and you've got to be competent to do what you're going to do."
The problem with this comparison is that Bill Snyder served as Fry's offensive coordinator for the first half of Fry's time at Iowa and was then replaced by Patterson for the second half.
Fry had no reason to fire either of his offensive coordinators because Snyder and Patterson both excelled at their job.
Snyder has been described as an offensive genius and he used his genius to orchestrate arguably the greatest rebuilding job in the history of college football at Kansas State, while Patterson would go on to be a successful head coach at Western Illinois after leaving Iowa.
To compare the situation on offense under Fry to what is happening now under Brian Ferentz seems disingenuous and misleading.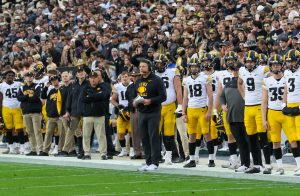 Kirk Ferentz is right in saying that Iowa normally rallies and fixes its problems.
However, the current situation is far from normal with Ferentz's son running an offense that has been dysfunctional and has brought ridicule and shame to the football program.
Kirk Ferentz has had three offensive coordinators during his time at Iowa with Ken O'Keefe and Greg Davis having preceded Brian Ferentz, and the one thing all three coordinators had in common is that fans ultimately wanted them replaced because the offense was struggling.
O'Keefe eventually left on his own, while Davis retired after the 2016 season after having spent five seasons on the job.
The problem with Brian Ferentz is that he doesn't seem to have anywhere to go, especially if he wants to come close to matching his $900,000 annual salary, and maybe he doesn't want to go anywhere because Brian Ferentz might still think he has a chance to replace his father as head coach as crazy as that sounds.
Brian Ferentz is also a defendant in a racial discrimination lawsuit, and that certainly doesn't help his cause.
Perhaps the best word to describe what Kirk Ferentz said to the media on Wednesday is disappointing because he seems to be putting his own personal interest above the program.
The good news for Kirk Ferentz is that Iowa should be solid again on defense and special teams next season, and the 2023 schedule, which doesn't include Ohio State or Michigan, is very manageable.
Iowa also has former Michigan quarterback Cade McNamara now leading the offense, and the Big Ten West Division leaves much to be desired from a strength standpoint, at least on paper, so there is reason to be optimistic about next season.
The bad news is that fans are upset and disgruntled because they feel is Kirk Ferentz is protecting and coddling his son at the expense of the football program.
And now it has become so difficult to justify why Brian Ferentz should still be the offensive coordinator that Kirk Ferentz is blaming the players because he's running out of options.
That isn't just disappointing, it's sad.