By Susan Harman
IOWA CITY, Iowa – Player of the Year.
The topic has come up lately around Iowa City with the spectacular play of point guard Caitlin Clark. Clark was in the running a year ago when South Carolina's junior center Aliyah Boston won all the major POY awards. South Carolina won the national championship and was the dominant team all season.
But what in particular distinguishes a player of the year? Is it the best player on the best team? Is it statistical production? Is it the player who elevates her team significantly above what it would be without her?
This conundrum is common in sports. In 1987 Andre Dawson won the National League MVP award despite playing with a particularly lousy Cubs team. He had good stats (HRs, RBIs in an era still smitten with those statistics), albeit in a season where run production was elevated. But clearly his play wasn't enough to lift a bad team out of the cellar.
His rivals included spectacular shortstop Ozzie Smith, who of course couldn't match Dawson's power numbers but led his team to the World Series.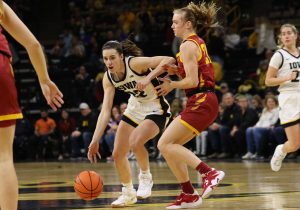 The NBA is equally confounding. Do you think Denver's Nikola Jokic should have been MVP the last two years?
Iowa coach Lisa Bluder made an impassioned plea for Clark's candidacy after the junior torched Maryland with 42 points, seven rebounds and eight assists. Clark made 13 of 19 shots, including six of 11 3-pointers. She gets down the court faster while dribbling among obstacles than most players can run without the ball.
"I think it's the best player in the United States, that's what I think it means," Bluder said. "I think she is the national player of the year. You look at what she does and compare that to what other people do, nobody can do what she can do. Nobody in the country.
"And how does she impact the game, not only with her points but with her assists? That sets her apart from everybody else. Who has the ball in her hands the most? The point guard on your team. That's a lot of responsibility."
Clark's ballhandling skills have effectively neutralized full-court pressing defenses.
Bluder's sensible perspective favors the point-guard position in POY consideration if all the other boxes are checked, and certainly Clark's stats do that.
But four years ago Bluder likely made a different argument for her center, Megan Gustafson. Gustafson led the country in scoring (27.8 ppg), field-goal percentage (.697) and was third in rebounding (13.4). She had 33 double doubles. Her national POY awards came from the Associated Press, ESPN, Naismith foundation, and the USBWA.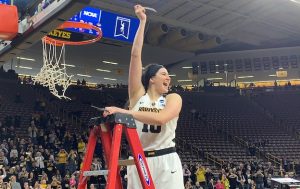 She had a heck of a year. ESPN's panel said she "won the honor both for her game-after-game consistency and her big-game fireworks. She was already a leading candidate as the nation's top player, but she slammed the door shut with an epic performance in leading Iowa to its first Big Ten Tournament title since 2001."
If you don't remember, Gustafson was other-worldly in that tournament, finishing with 45 points and 10 rebounds in the title game against Maryland. She averaged 32 points and 13 rebounds in the three games.
That same year Oregon junior Sabrina Ionescu won the Wade Trophy and the Wooden Award for the top women's player. Ionescu also won the Wade Trophy as a senior. She was, at the time, the state-of-the-art point guard with a slew of triple doubles to her credit.
Point guard vs. Post. How in the world do you compare those two positions? Apples and oranges. "They are two totally different positions," Bluder said. "It's a subjective award; it's based on people's opinions."
Boston remains the best player on the best team in the country. The 6-foot-5 senior is a productive, intimidating presence in the post. Her stats are down, but that's because her team is running over its opposition, and her minutes are reduced. She will be a top pick in the WNBA draft.
Former Maryland star Angel Reese is lighting it up for unbeaten LSU. The unsinkable Ashley Joens continues to roll at Iowa State. There are others.
On the other hand, Clark is a dynamic player who impacts the game in many ways. She scores (27.9), she orchestrates the offense (7.9 assists), she is a top rebounder (7.9) among guards.
She is the most exciting player in the game. She draws fans to arenas and eyeballs to TV. She impacts nearly every aspect of the game. Iowa is a top-10 team and has reached another level in Big Ten play. Like Boston, Clark has produced for three years in a row without fail.
So who's the POY? Apples or Oranges?
Iowa (18-4, 10-1) vs. Penn State (13-10, 4-8)
When: Sunday, 11 a.m.
Where: University Park, Pennsylvania, (Bryce Jordan Center)
TV: Big Ten Network
Radio: Hawkeye Radio Network