By Pat Harty
IOWA CITY, Iowa – Did Gary Barta actually believe the amendments to Brian Ferentz's contract that were announced on Monday would appease the fans and send the right message?
Because if he did, shame on Gary Barta for not understanding how most Hawkeye fans really feel about this controversial topic.
Brian Ferentz, who has been the Iowa offensive coordinator under his father, Kirk Ferentz, since the 2017 season, has signed an amended contract for the 2023 season with financial incentives based on Designated Performance Objectives.
The contract amendments include a salary of $850,000 effective Feb. 1, 2023, which is $50,000 less than Brian Ferentz made last season, while the Designated Performance Objectives include an average of at least 25 points per game and a minimum of seven wins, including regular season and a possible bowl game.
If the performance objctives are met, the contract would return to the prior two-year rolling agreement terms, and Brian Ferentz would also receive a $112,500 bonus, and his salary would be set at $925,000 annually.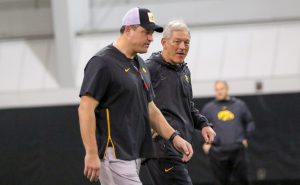 The reaction on social media was swift, snarky and mostly one sided as fans and some members of the raced to Twitter to push their talking points, and to poke fun at the amendments.
An average of 25 points per game would have ranked Iowa 85th out of 131 FBS teams in scoring this past season, and seven wins is barely .500 for a 12 or 13-game schedule.
These performance objectives are hardly what could be called ambitious because Brian Ferentz would basically be rewarded for being average, or just slightly above average.
However, if the contract amendments are not met, Brian Ferentz's contract will terminate on June 30, 2024.
So that is significant, and the closest Barta has come to drawing a line in the sand.
However, whether that means Brian Ferentz would be let go or have to take a much larger cut in pay under a new contract remains to be seen.
The 25-point benchmark is interesting considering that Kirk Ferentz told reporters in his Feb. 1st press conference that Iowa is 55-3 in games in which it scored at least 24 points, but he didn't acknowledge that some of the points were scored on defense, and on special teams.
The assumption now is that Brian Ferentz will be coaching to save his job next season, and while that might be the case, it isn't for certain because terminating a contract isn't necessarily the same as being fired because they could always restructure, although, that would go over like a turd in a punch bowl.
But what if Iowa should win the Big Ten West Division and 10 games overall next season, but then averages just 24 points per game?
It's easy to see that scenario unfolding, but hard to see Brian Ferentz being fired under those circumstances.
What seems certain, however, is that Barta is giving Brian Ferentz every chance to save his job by setting a pretty low bar.
The question is who is Gary Barta trying to appease in this case?
Brian Ferentz, who reports directly to Barta to avoid violating nepotism laws, probably doesn't like having his salary cut, or having to meet performance objectives, or risk being terminated, and his father probably doesn't like it, either.
And it's obvious that some fans, and maybe a lot of fans, aren't pleased about the amended contract just based on their reactions.
So again, who is Barta trying to appease?
These amendments seem more like window dressing than anything else, a weak attempt to show that Iowa is taking a stand, and an attempt to shift the narrative surrounding Brian Ferentz, who has gone from being one of the most popular and media savvy members of his father's coaching staff to a laughingstock and punchline.
Barta probably would've been better off doing nothing with the contract because eventually the frustration and disappointment from Kirk Ferentz having made no coaching changes would've at least cooled, sort of out of sight out of mind.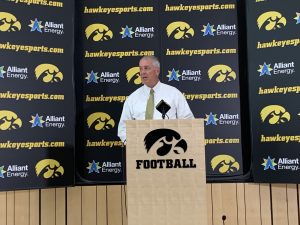 But in announcing the contract amendments, and the less-than-ambitious performance objectives that come with it, the focus stays on Brian Ferentz, and the anger and frustration with fans only grows.
These contract amendments also should squash the rumors and speculation about Brian Ferentz leaving for a coaching job in the NFL.
That rumor didn't make much sense under the circumstances because Brian Ferentz probably would've had to take a significant cut in pay.
And why leave when your bosses aren't forcing you to leave?
Brian Ferentz is also a defendant in a racial discrimination lawsuit filed by seven former black players from Iowa, and that kind of baggage probably wouldn't sit well in the NFL where most of the players are black.
The good news for Brian Ferentz in regard to the amendments is that Iowa's 2023 schedule doesn't include Ohio State or Michigan, and the nonconference opponents are Utah State, Iowa State, which is coming off a 4-8 season, and Western Michigan.
You now sort of have to wonder if Kirk Ferentz would be more willing to try to run up the score against Western Michigan and Utah State to help his son meet the performance objectives.
That would go against everything Kirk Ferentz believes in about respecting your opponents, but desperate times sometimes call for desperate action.
The path to seven victories hardly seems daunting, and to score 25 points per game isn't asking a whole lot, especially if your defense has a knack for scoring touchdowns as is the case with the Iowa defense under Phil Parker, which scored six touchdowns and had two safeties this past season, including two pick-sixes in the 21-0 victory over Kentucky in the Music City Bowl.
The points-per-game benchmark includes any points scored, so Phil Parker and defensive players such as star defensive back Cooper DeJean could have a lot do with whether Brian Ferentz saves his job.