By Pat Harty
IOWA CITY, Iowa – After what he accomplished last season as a member of the Iowa baseball team, Keaton Anthony had people in his home state of Georgia wondering where he would be this season.
"There weren't many things that happened under the table," Anthony said of southern schools trying to entice him to enter the transfer portal. "But there were definitely some people back home that were like, so, are you going to leave?
Anthony met with media on Wednesday as part of Iowa's annual media day event and he explained why he chose to stay at Iowa where he now ranks as one of top hitters in the Big Ten.
"This place is home for me," Anthony said. "I love it here. I would never want to re-start anywhere else.
"I'm so comfortable here. I'm comfortable with all my coaches and my teammates. So, it was never through my mind that I wanted to leave and go anywhere else."
Anthony was named the Big Ten Freshman of the Year and a freshman All-American last season after hitting 361 with 22 doubles, 14 home runs, 55 RBIs and 46 runs scored during the 2022 season.
He also hit safely in 44 games, reached safely in 50 contests and had a team-best 22 multi-hit games.
On the mound, Anthony threw two hitless innings against Cornell College, striking out four in his only pitching appearance as a freshman.
But even though he ranks as one of the Big Ten's best hitters, Anthony wants to expand his role by pitching on a more regular basis this season.
He excelled as both a hitter and pitcher in high school, and Anthony thinks he can do the same in college.
"I've been doing it since high school, obviously, and I feel I can do it at this level," Anthony said. "I'm confident in my abilities to do it at this level, and I want to help the team anyway I can. And I feel confident if I'm on the mound to help us, and obviously in the box.
"Just whatever I can do to help us win games."
Anthony tested the amateur baseball draft process this past summer since he met the age requirement.
However, no team made an offer that was too good to pass up, or too good to make him want to leave the University of Iowa.
"I  had a lot of guys that we're telling me we're not going to go higher than this set amount, and I was like, okay, I'm just going to go back to school," Anthony said.
His experience with the draft has motivated Anthony to prove his doubters and naysayers wrong.
"Growing up, I've always kind of bet on myself throughout high school, and even here my first few years coming all the way up here," Anthony said. "It's just something, obviously, I have a chip on my shoulder. I don't think I've proved enough. I think I have a lot more to prove."
Iowa head coach Rick Heller is obviously thrilled to have Anthony back for another season, and Heller believes it speaks highly of the culture at Iowa that Anthony gave no consideration to transferring to a warm-weather school, or that Anthony gave little consideration about entering the draft.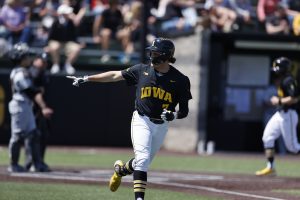 "I think is say a lot in that number one, Keaton was looking at the bigger picture when sometimes guys don't," Heller said. "He had the double draft year being a draft-eligible sophomore, and I guess that would be kind of the golden ticket if you were a player because you've got two leverage years.
"And the thing that made me most happy, is one, you know the program is strong and he feels like he's going to improve, or he wouldn't have come back. So, that makes you feel great. The other thing is his maturity if he didn't get the money that he wanted. He knew that he could come back and bet on himself, and hopefully, get that next year, having two opportunities in the draft with some leverage."
Anthony also wants to show scouts that he deserves consideration as a pitching prospect, and Heller is eager to help in that regard.
"He didn't pitch a whole lot last year, and then having the ability to come back this year and show the scouts that he's also a front-line pitcher, just helps his chances once he gets to pro ball in case something goes haywire with the hitting or something like that," Heller said. "He can always have a second shot on the mound possibly.
"I think that's a cool thing, too. So, I'm just really pumped that he's back and that he trusted the staff, the program that put him in a place where he could be in a really good spot this year."
Anthony always has high expectations for himself, but he feels the same about his team, which finished 36-19 overall last season and 17-7 in the Big Ten.
Iowa has posted nine consecutive winning seasons under Heller, and since Heller took over in 2014, only three Big Ten schools – Iowa, Indiana and Michigan – have qualfied for the Big Ten Tournament each season it was held.
"I have high expectations this year, obviously, all the way to Omaha" Anthony said of the College World Series, which is held in Omaha, Nebraska. "I think we're going to hit really well. We have real good arms all the way up and down.
"So, I'm really excited."
Anthony was named a preseason second-team All-America selection by the National Collegiate Baseball Writers Association, it was announced last Thursday.
He made a name for himself as a hitter last season, so teams will have him scouted at the plate.
But for Anthony, it's business as usual.
"I don't really want to change my game plan in the box, my approach," Anthony said. "Obviously, I'm sure guys have all these reports on me, scouting reports. But that's not going to change who I am. I'm just going to continue to be who I am and just take that approach day in and day out."