By Pat Harty
IOWA CITY, Iowa – Playing baseball had always come so easy for Brody Brecht and Marcus Morgan, especially on the mound where they both were dominant in high school.
Batters were usually overmatched against the two right-handed flame throwers and that led to a lot of easy strikeouts for both of them, and to a lot of praise and recognition that would follow them to college.
There was enormous hype surrounding both Brecht and Morgan when they joined the Iowa baseball team last season as freshman pitchers.
But they both would soon learn the hard way that pitching at the Division I level is far more challenging than anything they faced in high school, especially from a mental standpoint.
Brecht certainly had his moments last season as he finished with 44 strikeouts over 22 2/3 innings and was a Big Ten All-Freshman selection.
The Ankeny native also allowed just one earned run in his last 10 relief outings, spanning 13 1/3 innings with 28 strikeouts.
But there were low points to his season, too, the lowest being his disastrous start against Michigan in the Big Ten Tournament when Brecht didn't make it out of the first inning.
"After the Michigan game last year, I kind of after that start realized that I never wanted to feel that way again," Brecht said Wednesday at Iowa's annual media day event. "I feel like I let my team down, so after that game it hurt for a while.
"But I kind of regrouped in summer ball and was starting to do it for me and just trying to be the best pitcher I can be."
Brecht, who also plays receiver for the Iowa football team, said he was too preoccupied last season with trying to live up to the hype and meeting everybody's expectations.
"I kind of lost track of how I want to do things," Brecht said. "And so, for this year, I want to be the best me and not really worry about what everybody else thinks. I'm trying to do what I can to help the team win."
Morgan, meanwhile, had his own struggles last season and most of it was from a mental standpoint.
The former Iowa City West standout struggled to throw strikes and only pitched 15 1/3 innings after having been named a starter at the beginning of the season.
Morgan finished the 2022 season with 26 strikeouts, which is nearly an average of two strikeouts for every inning he pitched.
But he also had 21 walks and a 7.63 earned-run average in just 10 outings.
Asked what he learned last season, Morgan said:
"That baseball is a tough sport. I matured last year and learned a lot during my first full year in baseball. You really just want to take those things and learn from it. I think it was something everybody goes through, and honestly, I was fortunate enough to go through it early."
Morgan, who was a multi-sport star in high school, said it was tough adjusting to college hitters after having been so dominant in high school.
"I used to just go out there and be able to throw and do whatever," Morgan said. "But the game of baseball is a lot more mental, honestly, than it is physical. I learned a lot. I started getting into the mental game stuff and working on those things. It was an emphasis during the offseason to work on stuff like that and I'm in a much better place. I'm excited to go."
Morgan and Brecht helped each other fight through their struggles on the mound last season, and during that process they became friends.
We're really close," Brecht said. "I consider him one of my best friends. We've gone from being real dominant in high school to having a lot of ups and downs last year. So, we've been kind of a shoulder for each other to lean on. I say we definitely bonded over that, and we've come a lot closer."
Brecht soon realized after becoming a Hawkeye that pitching at the Big Ten level brought new challenges that he didn't face in high school.
The hitters are obviously better in college, but so too are the scouting reports.
"You're kind of under a microscope here," said Brecht, who was named a preseason third-team All-American by Baseball America. "The other team, they're getting your timing down, your holes down. They're scouting you and trying to find if you're tipping pitches or anything. It's just a lot different than high school.
"So, just being able to mature mentally. It's a race to maturity here in college. And last year, me and Marcus kind of went through that and had to experience that first hand. And now we're kind of different people and we're excited to go."
Iowa has a new pitching coach with Sean McGrath having replaced Robin Lund during the offseason.
Lund left for a job with the Detroit Tigers organization, while McGrath left his job as pitching coach for the Seattle Mariners Double-A affiliate the Arkansas Travelers to join Rick Heller's staff at Iowa.
The Travelers put together an ERA of 4.27, ranking second in the Texas League. The staff led the league in three categories: totaling 11 shutouts, a 1.30 WHIP and a .229 batting average against.
McGrath is well aware of the struggles that Brecht and Morgan both had last season, but McGrath feels both pitchers are now on the right track from a mental standpoint.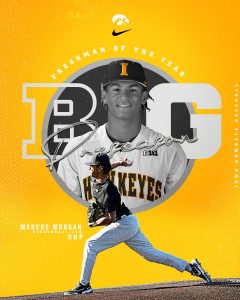 "It's a huge adjustment as the level of hitters get better and the umpire's zone gets smaller," McGrath said of the adjustment from high school to college. "There's a lot of variables. A lot of things that need to happen for you to be successful at the next level. And that goes for when they get opportunities at the professional level.
"They'll have to kind of readjust and recalibrate again. They're up to the task. They're really talented guys. I'm really confident in what they'll be able to do this year."
McGrath is encouraged by what he has seen from Morgan up to this point.
"This game is about the space between your ears and Marcus is coming to know that and learn that," McGrath said. "He's a guy with all the physical traits., remarkable stuff out of the hand. It's just his ability to commit to one pitch at a time without worrying about all the other variables, in life, in the game, in between pitches. And he's done a real good job of trying to learn that and kind of taking baby steps towards becoming a better version of himself."
Brecht has been hampered by nagging injuries that come from playing two sports. But now he's healthy and in a much better place mentally.
"He's in a really good place right now and just seems to be improving each week," Rick Heller said. "He'll have another live start on Saturday and then, boom, we get started.
"I'm really excited for what this season holds for Brody."
Heller is also pleased with how Morgan approached the offseason, and with how he has handled adversity.
"I would say Marcus falls right into the same boat with Brody on that, too," Heller said. "There's a lot of pressure on Marcus and maybe he didn't handle it as well as he would have liked.
"He went out and toughed it all summer, pitched through some things and came back and had a pretty good fall. We feel like we've found some things to really help Marcus with his pitch selection and some things that he does to try to give him a better shot. And it seemed to really work.
"He and coach McGrath have bonded quickly and it's been really good for Marcus right now. Marcus is in a really solid place and I feel real good about where he's at. He turned the corner and his attitude is good."
Brecht and Morgan are part of a deep and talented pitching staff that features expected Friday starter Ty Langenberg and a cast of proven relievers.
Iowa is coming off a season in which it finished 36-19 overall and 17-7 in the Big Ten.
Morgan described the current team as being very close and he likes what he has seen from a chemistry standpoint.
"A lot of charisma on our team," Morgan said. "I think we're really gritty with a lot of really hard competitors and a lot of guys that compete on this team. And we mesh better than any team I've been a part of, especially this year. We have a great group of guys."
Iowa has posted nine consecutive winning seasons under Rick Heller after having had just two winning seasons from from 1997 to 2013.
Iowa will face Indiana State in the season opener on Feb. 17 in Port Charlottle, Florida.