By Susan Harman
IOWA CITY, Iowa – The Iowa women's basketball team has a two-game home stand starting with Sunday's 2 p.m. tip against Rutgers and ending on Wednesday against Wisconsin.
The home games are the calm before the storm when the Hawkeyes (19-5, 11-2) must negotiate road games at Nebraska and eighth-ranked Maryland and finish the season at home against league leader, No. 2 Indiana (23-1, 13-1).
These two home games against teams at the bottom of the Big Ten are also an opportunity to put together some good play in front of an enthusiastic, adoring audience and build confidence that may have been slightly bruised by the loss at Indiana.
"We hope we can bounce back with a good performance," Iowa coach Lisa Bluder said. "We only get to play three more times at home."
Rutgers (10-15, 4-9) is tied for ninth in the Big Ten, and Wisconsin (7-18, 2-11) is 12th. The Scarlet Knights' signature victory came against Nebraska when the Cornhuskers made 2-of-25 3-point shots and shot 28 percent overall. Wisconsin's best win was on the road at Michigan State.
"We have two teams that are kind of in the lower half of the Big Ten conference, and then we go in and play three really tough games," Bluder said. "These games count just as much as those as far as the W column, so you've got to come out and play with the same kind of heart. You've got to prepare for them exactly the same way.
"But it would be really nice to get some confidence. Anytime you lose, your confidence takes a bit of a hit. But I'll tell you, (Indiana) was a really great environment, the best we've played in all year. I think Nebraska will have a great environment, so if we can learn from that and take it into that game it will help us."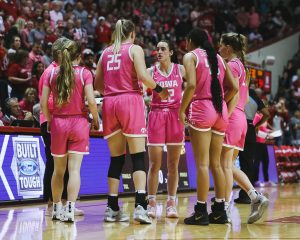 Indiana's crowd of 13,046 against Iowa was the best in its history. And while Iowa lost it was really never out of the game. An 11-2 Hoosier run early in the fourth quarter created enough separation, and IU maintained the lead at the foul line. The Iowa post-mortem was not without some 'what ifs.'
"We were right there with a couple minutes to go against the No. 2 team in the country and didn't play our best basketball," Bluder said. "How much of that was us and how much of it was Indiana I don't know. But I just know we turned the ball over way too many times with unforced turnovers.
"Monika (Czinano) did not have her best game. Caitlin (Clark) didn't have her best game either. When those two are struggling, it's tough for us.
"But it's really encouraging to know that we didn't play our best game and we are right there with the No. 2 team in the country, down to the wire on their home court."
Bluder pointed to seven Iowa turnovers in the first quarter as part of 18 in the game. Many of Iowa's turnovers were feeds to the post.
"I felt like we could have taken control of that game early had we just valued the ball more," Bluder said. "They get six more shots than we do just from turnovers alone. We know what a great target Monika is, but we also have other people we need to use in our offense. I don't think we did that effectively (Thursday)."
Bluder wants the ball to go into the post because Czinano is money, and that has been a point of emphasis. Yet the offense can't be so post-centered that the defense is always there to take it away.
So these two home games are a chance to settle the offense and get it running again. Indiana really limited Iowa's transition game and thus its chances at easy baskets. The ball needs to find more hands, and that will build confidence.
NOTE:  Bluder defended freshman Hannah Stuelke, who had a tough day at the foul line against Indiana. While Stuelke made all five of her shots from the field she missed all eight of her free throws.
"Hannah is working on it. She does get in the gym, and she works on it a lot," Bluder said. "So it's not from lack of desire or not being a good teammate and working on these things. Believe me, she is working on them.
"I think she got into her head a little bit (Thursday) night. It was an incredible environment. It was the first time that Hannah and Molly (Davis) have ever played in an environment like that. And I think when she missed her first couple it really got into her head."
Stuelke is averaging 43 percent from the line in Big Ten play and 45 percent overall.
"So, yeah, we don't want it to be a "hack-a-Shaq" type of thing where they just come out and put her at the free-throw line because they know they can take advantage of that," Bluder said. "My heart kind of aches for Hannah right now because she took it really personally after the game. I know her heart and her work ethic is in the right place, so I know we'll get there eventually."