By Susan Harman
IOWA CITY, Iowa – Iowa apparently was only laid up for a couple days after that trip to Indiana. Probably food poisoning. No lingering effects were visible Sunday as the fifth-ranked Hawkeyes ran Rutgers out of the gym, 111-57. It was Iowa's largest point total against a Big Ten foe.
The Hawkeyes put the game away with a season-best 60-point first half. The second quarter was particularly potent as Iowa outscored the Scarlet Knights 31-10. The biggest reason was Iowa's transition offense.
 "We bounced back pretty well after that Indiana disappointment and that's what you want from your team," Iowa coach Lisa Bluder said. "It's not really that we won the game; it's how we won the game. To me that's what's important."
Bluder cited a big rebound margin, few turnovers in the first half, excellent shooting and the willingness to share the ball.
 "It was really a nice team basketball game," she said.
 Iowa's All American guard Caitlin Clark showed the court vision and skill that enables her to use a variety of ways to feed her teammates the ball for baskets. Long, up-court pass on a fastbreak? Long, bounce pass that seemingly snakes its way through the forest of legs to find a Hawkeye at the other end of the court? Sure. How about drives to the basket that cause the defense to collapse and leave a teammate open under the hoop?
Clark was credited with eight assists in the first half (10 overall), but it seemed like many more. Clark played 20 minutes but still had a double-double.
Iowa had 15 assists on 21 first-half baskets (29 on 39 total), and those passes ensured that the scoring came from multiple sources. In fact everyone played and everyone scored.
"For us, for everybody to get in, in their pink uniform with somebody's name on the back honoring someone who's fought cancer, that's important to us," Bluder said.
Iowa executed so well that it had only three first-half turnovers.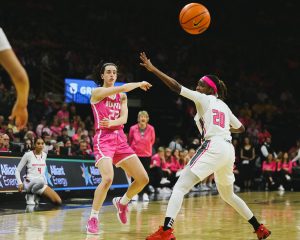 Molly Davis led Iowa with 13 first-half points on 4-of-5 shooting. She finished with a season-high 17 points.
"They were finding me and the defense was sagging off a little, so I was open," Davis said.
Davis hit a couple big threes and ended the first quarter by driving the lane and scoring.
"We were running one of our end-of-shot-clock plays, and they usually double Caitlin," Davis said. "I faked the ball to her, and the defense kind of bit. I saw an open lane and took the floater and got a really nice roll from the rim."
Iowa coach Lisa Bluder played 11 in the first half. Addie O'Grady made all three of her shots including a 15-footer as the trailer on a fast break.
The game turned out to be a showcase for Iowa's reserves, many of whom get precious few minutes normally but took the opportunity to demonstrate their value. Freshman guard Taylor McCabe, in particular, lit up the big crowd with four 3-pointers in the final few minutes of the third quarter and finished with 12 points.
"It was pretty fun, I can't lie," McCabe said. "My coaches and my teammates see that pretty frequently. I don't think anyone was too surprised. It was kind of nice, an introduction to me as a shooter here."
The starters went wild on the bench as the freshman kept burning the nets.
"Oh, I could hear them," McCabe said. "It was pretty cool. Like I said I think they kind of expect that from me at this point to prove them right and to prove my coaches right."
 Freshman Hannah Stuelke got a big hand when she made two free throws with 4 minutes left in the third quarter. The crowd clearly was aware that Stuelke had struggled from the line at Indiana and she had missed two foul shots in the first half Sunday. But she swished both and looked a big chagrined at the crowd reaction.
 "What's even more significant is she missed the first two," Bluder said. "So she came back and hits those two."
Freshman Jada Gyamfi of Johnston made the first 3-pointer of her college career and finished with four points. Shateah Wetering scored on a nice drive and had an assist.
The crowd of 13,150 on Iowa's Pink Day had plenty to cheer about and Bluder once again saluted their enthusiasm. Iowa improved to 20-5 overall and 12-2 in Big Ten play, while Rutgers is 10-16, 4-10. Iowa plays host to Wisconsin on Wednesday night at 6:30 p.m.