By Susan Harman
IOWA CITY, Iowa – "I had the chills."
That was the feeling Gabbie Marshall had as she and her teammates emerged from the tunnel to the Carver-Hawkeye Arena floor a year ago to play Michigan for the Big Ten championship. The roar from a jam-packed crowd overtook and embraced the Hawkeyes.
"We dreamed of a sold-out arena when we came here, and you couldn't have scripted it any better," Iowa coach Lisa Bluder said.
 The dream continues this season. Sunday's game against Indiana is sold out and has attracted ESPN's popular college GameDay program, which will air three hours before game time.
Iowa will finish the regular season averaging 10,738 fans per home game, which will eclipse the previous record set in 1997-98 by Wisconsin when it averaged 10,455. Iowa leads the league in attendance at Big Ten games as well. Counting a full house on Sunday, Iowa will finish averaging 11,660 for its Big Ten games, second in conference history to Wisconsin of 1997-98 (12,474).
These totals are significantly higher than the last three seasons, which were Iowa's best, even eclipsing attendance figures during the Vivian Stringer era. Fifth-year senior Monika Czinano said the difference between her freshman season and now is noticeable.
"You can feel how the space is impacted by so many more Hawk fans," she said. "It's so electric in a way that I didn't imagine it could be my freshman year."
This year's freshmen were influenced by that growth.
"In recruiting and just watching the Hawkeyes you definitely get to see the fan base," freshman guard Taylor McCabe said. "That's one thing that is special for women's basketball. You don't get that at a lot of places. It makes it a lot more fun and makes the game a lot more enjoyable.
"It also serves a bigger purpose. You know you're impacting a lot more people when you're out there playing and performing and doing your absolute best. No matter what, these people are going to support you."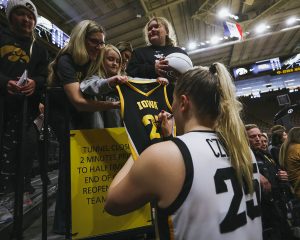 Attendance impacts recruiting. Players want to play in front of people who are there to appreciate their skills and support them. They want to come to a place that appreciates women's basketball, and attendance shows recruits that they will be valued.
Big, involved crowds can impact performance. Indiana coach Teri Moren thanked the big crowd when the Hoosiers beat Iowa. "So grateful for the energy in this building," she said. "And we needed every one of those 13,000 helping us get to the finish line."
Czinano said there's no doubt the big crowds have an on-court impact.
"It gives me an energy boost and a confidence boost," Czinano said. "As a team I think the fans definitely impact our performance for the better. Having 15,000 people wanting you to succeed and willing you to do so is special."
Bluder makes it a point to thank the crowd after every home game. Even against lowly Penn State the crowd was a player.
"I thought our crowd was amazing and gave us some unbelievable energy to begin this game," she said.
Senior Kate Martin said the team loves the big crowds, whether at home or away. But home is something else.
"Our home crowd is just so fun," she said. "It's so electric in here, there's nothing better than Hawkeye fans. It's fun to quiet another crowd, but there's nothing better than the Hawkeye faithful."
"The people that come out for our games – we feel it," Bluder said on her radio show.
Deafening crowds can affect the opposing team. They likely won't admit it, but sometimes it's painfully obvious in watching players dissolve while feeling the pressure imposed by an amped-up crowd.
Several factors have influenced Iowa's attendance jumps. Women's basketball in general is attracting more fans and more television coverage. The level of play continues to improve.
"The Big Ten as a whole has escalated because of the Big Ten Network," Bluder said. "People can see the product all across the country. It just brings a different respect. That helps with recruiting and fans and everything."
Iowa's coaching staff and players are out in the community. Coaches have three or four events each season for season-ticket holders before home games. Iowa also holds different promotional events for home games like Girl Scout Day. Coaches and players talk to the scouts, and it's usually one of the best-attended games (13,344 this year) of the season.
Marketing takes different forms, according to Bailey Speraw, Assistant Director of Marketing. Brandee Britt, Iowa's director of social media and digital, has produced material to highlight the personality and successes of the team.
She has at her disposal a creative team of graphic designers, photographers, videographers and live- event production. They not only encourage fans to attend but entertain fans once they're in the arena.
At various times during the year Iowa has provided free tickets through its mailings to prior ticket buyers. Iowa promotes games via email, social media and radio spots, among other sources. Bluder has a weekly radio show that encourages interaction with fans and takes place at Bump's restaurant at Finkbine golf course.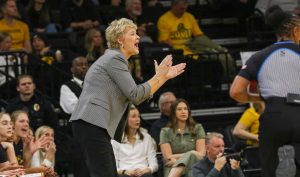 You can argue that most Power Five conference schools do some or all of the above to promote their teams. So what distinguishes Iowa's ability to attract fans? Top-ranked and defending champion South Carolina is the only team in the country to out draw the Hawkeyes.
Historically Iowa has supported girls high school basketball, especially in the six-player era. Iowa's attendance in relative terms has always been pretty good since Vivian Stringer took over and the modern era commenced.
"I think women's basketball has a much bigger spotlight than it did before, and I think our program is one of the programs putting women's basketball on the map," Czinano said. "People know how fun it is to watch."
Iowa's attendance has taken on a different dimension this season and last.
"I think having star players and a winning team absolutely helps attendance, but more than that we have a team that is really fun to watch," Speraw said.
The Hawkeyes' style is fast-paced and features acrobatic pinpoint passing on fastbreaks, 3-point shooting and a dominant post player.
"I think our attendance has gone up because of the style of basketball we play and also the joy and competitive spirit and love for one another that we play with," said All-American guard Caitlin Clark.
Iowa has a bona fide once-in-a-generation player in Clark and a terrific center in Czinano. It has a freshman, Hannah Stuelke, from just up the road who has captured the imagination of fans.
The team was ranked No. 4 in preseason and is No. 6 right now. Iowa sold more than 6,000 season tickets this year in anticipation of big things.
Clark is omnipresent in national discussions of women's basketball. Clips of her highlights are everywhere on TV and the internet. She is among only two or three players being touted as Player of the Year candidates. Bluder has referred to Clark as a rock star in her ability to attract young people.
"(Clark) is definitely a draw, and it's a lot more fun to see her in person," Bluder said.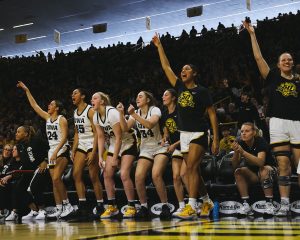 Bluder has pointed out several times that opponents have drawn bigger crowds when Iowa visits this year. Whether that is because of Clark and her teammates or because of promotions that coincide with Iowa's visit, that's impossible to say. But what better way to get a big crowd than combine an opponent with star power with a promotion.
"Wherever we go we have unbelievable crowds," Bluder continued. "People want to see our team play, and they want to see Caitlin play. She is the face of women's basketball.
"I think we started a trend. We made it cool. Attendance has increased around the Big Ten this year."
One problem women's basketball in general has had is attracting students. Iowa is no different. Iowa is providing incentives (food, transportation) to make sure students show up for GameDay on Sunday. But most of the time the only students in the house are in the pep band.
Maryland is second in the Big Ten, averaging 7,240 at home. Iowa State leads the Big 12, averaging 10,120. The Cyclones have been among the national leaders in attendance since Bill Fennelly arrived and had his successful teams in the late 1990s and early 2000s.
Louisville leads the ACC, averaging 9,070; Arizona tops the Pac-12 (7,413); South Carolina leads the SEC and the country (12,898).
Maybe the most important thing about Iowa's attendance is that it played a role in the return of Martin and Marshall for that extra season. "With Carver filled there's just no better place," Marshall said.
Big Ten Women's Basketball Home Attendance
(as of 2-18-23)
School             Average
Iowa                10,449
Maryland        7,240
Indiana            6,703
Ohio State       5,733
Nebraska         5,140
Michigan         4,149
Purdue            4,025
Michigan St     3,794
Wisconsin       3,603
Minnesota       3,311
Illinois              3,265
Penn State      2,143
Rutgers            1,734
Northwestern   1,251
Source: Big Ten Conference
Iowa Women's Basketball Home Attendance
Season                        Per game avg              Notable
2022-23                       10,738
2021-22                         8,224                         24-8, NCAA, Big Ten champs
2020-21                       COVID                         20-10, NCAA Sweet 16
2019-20                         7,102                         23-7, Doyle B10 POY; NCAA cancelled
2018-19                         6,797                         29-7, Elite 8; Gustafson POY, Won Big Ten
2017-18                         5,452                         NCAA
2016-17                         4,395                         20-14
2015-16                         4,688
2014-15                         5,301                         26-8, NCAA Sweet 16
2013-14                         4,395                         NCAA 2nd rd
2012-13                         4,567                         21-13, NCAA 2nd rd
2011-12                         4,846                         NCAA
2010-11                         5,823                         22-9, NCAA
2009-10                         3,488                         NCAA 2nd rd
2008-09                         3,543                         21-11, NCAA
2007-08                         2,987                         21-11; Big Ten champs, NCAA
2006-07                         4,132
2005-06                         3,920                         NCAA
2004-05                         3,920                         23-10, WNIT
2003-04                         4,134                         NCAA
2002-03                         3,861                         WNIT
2001-02                         4,457                         NCAA 2nd rd
2000-01                         5,014                         Bluder 1st season, NCAA 2nd rd
1999-00                         3,214                         9-18
1998-99                         4,007
1997-98                         5,806                         18-11, Big Ten champs, NCAA 2nd rd
1996-97                         5,395                         18-12, NCAA 2nd rd
1995-96                         5,265                         NCAA Sweet 16; 27-4; Angie Lee 1st season; Won BTen
1994-95                         6,147                         11-17, Coach Stringer last season, NCAA 2nd rd
1993-94                         6,457                         21-7, NCAA 2nd rd
1992-93                         5,073                         27-4, Final Four, Big Ten champs
1991-92                         4,429                         25-4, NCAA 1st rd
1990-91                         4,007                         21-9, NCAA 2nd rd
1989-90                         4,522                         23-6, NCAA, Big Ten champs
1988-89                         4,429                         27-5, NCAA Sweet 16, Big Ten champs
1987-88                         5,990                         29-2, Elite 8, Big Ten champs
1986-87                         3,110                         26-5, Elite 8, Big Ten champs
1985-86                         2,593                         22-7, NCAA
1984-85                         4,363                         20-8
1983-84                         3,382                         Vivian Stringer 1st season
1982-83                            380
Source: Iowa Sports Information Department