By Hawkeyesports.com
IOWA CITY, Iowa – Eight University of Iowa wrestlers are seeded fifth or better in the pre-seeds for the 2023 Big Ten Championships, it was announced Monday by the league office. The tournament is set to take place Saturday and Sunday in Ann Arbor, Michigan.
The Hawkeyes have two No. 1 seeds and two No. 3 seeds.  Spencer Lee is the No. 1 seed at 125 and Real Woods is the No. 1 seed at 141 pounds.  Patrick Kennedy (165) and Tony Cassioppi (285) enter the postseason both seeded third.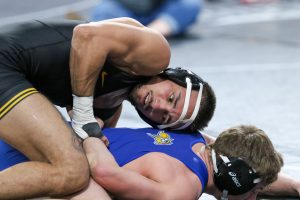 Max Murin is the No. 4 seed at 149 pounds and Iowa has three No. 5 seeds in Cobe Siebrecht (157), Abe Assad (184) and Jacob Warner (197).  Nelson Brands is the No. 7 seed at 174 and Brody Teske is the No. 8 seed at 133.
Siebrecht and Kennedy are both making their postseason debuts, while Woods and Teske are making their Big Ten postseason debuts.
The Hawkeyes have won 37 team conference titles, more than twice as many as the next school (Illinois, 17).  Lee is a two-time Big Ten champion, winning the 125-pound title in 2020 and 2021.
The complete tournament brackets and official seeds will be released Friday afternoon following the Big Ten Conference coaches meeting. For more information on the 2023 Big Ten Wrestling Championships visit bigten.org.
Iowa Pre-Seeds | 2023 Big Ten Championships
125         #1 Spencer Lee
133         #8 Brody Teske
141         #1 Real Woods
149         #4 Max Murin
157         #5 Cobe Siebrecht
165         #3 Patrick Kennedy
174         #7 Nelson Brands
184         #5 Abe Assad
197         #5 Jacob Warner
285         #3 Tony Cassioppi
2023 Big Ten Wrestling Championships – Pre-Seeds
125 lbs. (9 NCAA Qualifiers)
Spencer Lee (IOWA)
Liam Cronin (NEB)
Matt Ramos (PUR)
Eric Barnett (WIS)
Patrick McKee (MINN)
Michael DeAugustino (NU)
Malik Heinselman (OSU)
Braxton Brown (MD)
Dean Peterson (RU)
Jack Medley (MICH)
Gary Steen (PSU)
Tristan Lujan (MSU)
Jacob Moran (IND)
Maximo Renteria (ILL)
133 lbs. (9 NCAA Qualifiers)
Roman Bravo-Young (PSU)
Jesse Mendez (OSU)
Lucas Byrd (ILL)
Chris Cannon (NU)
Dylan Ragusin (MICH)
Aaron Nagao (MINN)
Joe Heilmann (RU)
Brody Teske (IOWA)
RayVon Foley (MSU)
Taylor LaMont (WIS)
Henry Porter (IND)
Kyle Burwick (NEB)
Dustin Norris (PUR)
Jackson Cockrell (MD)
141 lbs. (9 NCAA Qualifiers)
Real Woods (IOWA)
Beau Bartlett (PSU)
Brock Hardy (NEB)
Frankie Tal Shahar (NU)
Jakob Bergeland (MINN)
Danny Pucino (ILL)
Joseph Olivieri (RU)
Parker Filius (PUR)
Dylan D'Emilio (OSU)
Cole Mattin (MICH)
Joseph Zargo (WIS)
Jordan Hamdan (MSU)
Cayden Rooks (IND)
Kal Miller (MD)
149 lbs. (9 NCAA Qualifiers)
Sammy Sasso (OSU)
Austin Gomez (WIS)
Yahya Thomas (NU)
Max Murin (IOWA)
Shayne Van Ness (PSU)
Michael Blockhus (MINN)
Graham Rooks (IND)
Ethen Miller (MD)
Chance Lamer (MICH)
Tony White (RU)
Dayne Morton (NEB)
Jake Harrier (ILL)
Peyton Omania (MSU)
Jaden Reynolds (PUR)
157 lbs. (10 NCAA Qualifiers)
Peyton Robb (NEB)
Levi Haines (PSU)
Kendall Coleman (PUR)
Chase Saldate (MSU)
Cobe Siebrecht (IOWA)
Will Lewan (MICH)
Michael Carr (ILL)
Trevor Chumbley (NU)
Garrett Model (WIS)
Derek Gilcher (IND)
Brayton Lee (MINN)
Paddy Gallagher (OSU)
Andrew Clark (RU)
Michael North (MD)
165 lbs. (8 NCAA Qualifiers)
Dean Hamiti (WIS)
Cameron Amine (MICH)
Patrick Kennedy (IOWA)
Alex Facundo (PSU)
Carson Kharchla (OSU)
Caleb Fish (MSU)
Maxx Mayfield (NU)
Danny Braunagel (ILL)
Andrew Sparks
Bubba Wilson (NEB)
Nick South (IND)
Robert Kanniard (RU)
Stony Buell (PUR)
John Martin Best (MD)
174 lbs. (7 NCAA Qualifiers)
Carter Starocci (PSU)
Mikey Labriola (NEB)
Ethan Smith (OSU)
Bailee O'Reilly (MINN)
Edmond Ruth (ILL)
DJ Washington (IND)
Nelson Brands (IOWA)
Troy Fisher (NU)
Max Maylor (MICH)
Jackson Turley (RU)
Ceasar Garza (MSU)
Dominic Solis (MD)
Josh Otto (WIS)
Cooper Noehre (PUR)
184 lbs. (9 NCAA Qualifiers)
Aaron Brooks (PSU)
Kaleb Romero (OSU)
Isaiah Salazar (MINN)
Matt Finesilver (MICH)
Abe Assad (IOWA)
Layne Malczewski (MSU)
Lenny Pinto (NEB)
Brian Soldano (RU)
Dylan Connell (ILL)
Tyler Dow (WIS)
Evan Bates (NU)
Ben Vanadia (PUR)
Clayton Fielden (IND)
Kevin Makosy (MD)
197 lbs. (9 NCAA Qualifiers)
Max Dean (PSU)
Silas Allred (NEB)
Zac Braunagel (ILL)
Cameron Caffey (MSU)
Jacob Warner (IOWA)
Jaxon Smith (MD)
Gavin Hoffman (OSU)
Braxton Amos (WIS)
Michial Foy (MINN)
Nick Willham (IND)
Billy Janzer (RU)
Andrew Davison (NU)
Brendin Yatooma (MICH)
Hayden Filipovich (PUR)
285 lbs. (9 NCAA Qualifiers)
Mason Parris (MICH)
Greg Kerkvliet (PSU)
Tony Cassioppi (IOWA)
Lucas Davison (NU)
Trent Hillger (WIS)
Boone McDermott (RU)
Tate Orndoff (OSU)
Jacob Bullock (IND)
Jaron Smith (MD)
Hayden Copass (PUR)
Garrett Joles (MINN)
Ryan Vasbinder (MSU)
Matt Wroblewski (ILL)
Austin Emerson (NEB)