By Hawkeyesports.com
IOWA CITY, Iowa — University of Iowa junior Caitlin Clark was named Big Ten Player of the Year the conference office announced on Tuesday. Clark and Monika Czinano picked up first team accolades from the coaches and media.
Freshman Hannah Stuelke was named the Sixth Player of the Year by coaches and media. McKenna Warnock was tabbed honorable mention and Kate Martin was the recipient of Iowa's sportsmanship award.
This season, Clark is the only player in the nation with more than 750 points, 210 rebounds, 210 assists, and 30 steals. Clark was a unanimous selection from the coaches and media as an All-Big Ten first teamer. She is also the first Big Ten women's basketball player to be named player of the year in back-to-back years since Iowa's Megan Gustafson.
Iowa has earned five of the last six Big Ten Player of the Year awards. She is the 10th player in Big Ten history to earn honors in consecutive seasons.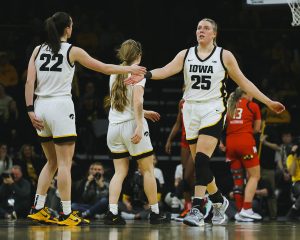 She has registered +25 points, +5 rebounds, and +5 assists in 15 games this year and 37 times in her career which is the most in NCAA women's basketball history. Clark is leading the Hawkeyes with 27.2 ppg, 8.1 rpg, and 7.4 apg. Since 2009-10, Clark joins the likes of Luka Doncic, LeBron James, Russel Westbrook, and James Harden as the only players to average 27 ppg, 8 apg, and 7 rpg in a single season.
She leads the country in assists and is second in scoring. Is one of two players to lead the conference in scoring in three straight seasons.
Czinano was a unanimous first team selection by the Big Ten coaches. Czinano has been top-5 in field goal percentage the last four seasons. She ended the regular season averaging 17.2 ppg and 6.5 rpg. Czinano has been a First Team selection in four consecutive seasons.
Warnock was Iowa's third leading scorer and second-best 3-point shooter this year. She averaged 10.9 ppg and 5.7 rpg. Stuelke netted Iowa's second-best field goal percentage at 61% behind Czinano and corralled 126 boards in limited action. Stuelke has the most total points among Big Ten players with fewer than 500 minutes played. Martin shot 41% from deep and was the fourth leading scorer for Iowa at 7.3 ppg.
Iowa's Big Ten Honors
Player of the Year: Caitlin Clark (Coaches/Media)
First Team: Caitlin Clark (Coaches**/Media**), Monika Czinano (Coaches**/Media)
Second Team: NA
Honorable Mention: McKenna Warnock (Coaches/Media)
Sixth Player of the Year: Hannah Stuelke (Coaches/Media)
All-Defensive Team: NA
All-Freshman Team: NA
Defensive Player of the Year: NA
Freshman of the Year: NA
Sportsmanship Award: Kate Martin
** denotes unanimous selection
The nationally ranked Hawkeyes are set to travel to the Big Ten Tournament on Friday where they will play the winner of 10-Seed Wisconsin/7-Seed Purdue inside the Target Center at 5:30 p.m. (CT) on BTN.