By Pat Harty
This was maybe even more improbable than the incredible comeback against Michigan State this past Saturday when the Iowa men's basketball team erased an 11-point deficit with less than a minute left in regulation and then would go on to win in overtime.
The Hawkeyes, who were just 2-7 in Big Ten road games this season, never trailed against Indiana on Tuesday and cruised to a 90-68 victory at Assembly Hall in Bloomington, Indiana where the Hoosiers were 14-1 at home this season.
The 112-106 victory against Michigan State came before a sellout crowd at Carver-Hawkeye Arena where Iowa is 8-1 against Big Ten opponents.
Tuesday's beat-down, on the other hand, came in one of the most hostile Big Ten environments against a team that already had swept Big Ten leader Purdue this season.
Iowa junior forward Kris Murray helped lead the way to victory with one of his best performances as a Hawkeye, which included 26 points and seven rebounds, but he also had plenty of help from junior guard and Indianapolis native Tony Perkins, who flirted with a triple double before finishing with 23 points, 10 rebounds and eight assists with his parents watching from the stands.
Iowa shot 55.6 percent from the field (30-54), made 13 shots from 3-point range and had a 39-27 advantage on the boards.
"I was mostly pleased with how we played as a team," Perkins said on the Learfield post-game radio show. "My stats were good, but I was more towards the team goal. Our goal was to come in and play good, follow the game plan and compete."
It was hard to find much wrong with Iowa's performance as it dominated on both ends of the court.
With the victory, Fran McCaffery tied Tom Davis for most Big Ten wins in program history with 126.
The Hawkeyes also completed the season sweep against Indiana and extended their winning streak to four games in the series.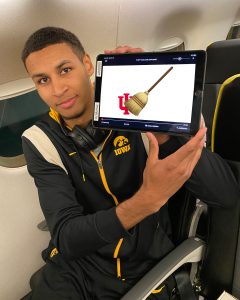 Iowa (19-11, 11-8) will now to look to stay on a roll when it faces Nebraska in the regular-season finale on Sunday at Carver-Hawkeye Arena.
Nebraska defeated Iowa 66-50 on Dec. 29th in Lincoln, Nebraska, so payback on Senior Day will be the goal on Sunday when Iowa honors seniors Connor McCaffery and Filip Rebraca are recognized before the game.
The 6-foot-9 Rebraca certainly did his part in Tuesday's game as he finished with 16 points and eight rebounds, while sophomore Payton Sandfort scored 16 points off the bench.
Iowa also kept alive its hopes for a double bye in the Big Ten Tournament, which will be held next Wednesday through Sunday at the United Center in Chicago.
The top four teams in the conference standings will earn a double bye.
Iowa set the tone from the very beginning in Tuesday's game and never let up.
Fran McCaffery stressed to his players the importance of getting off to a fast start and his message came through loud and clear.
"That was the most important thing," Fran McCaffery said. "You're on the road, a hostile environment against a team that is really playing well, getting off to a good start."
Sandfort put a cap on the rout by making a 3-point basket late in the second half and then blowing a kiss to the fans.
He was called for a technical foul, but it didn't matter with the outcome already decided.
Iowa made 13-of-23 shots from 3-point range, while the Hoosiers only made 2-of-11 shots from behind the arc.
That gave Iowa a 33-point advantage from 3-point range.
Iowa bolted to an 8-0 lead and never trailed in the first half and led by as many as 17 points.
The Hoosiers made a little run near the end of the first half, but still trailed 47-36 at the break.
Iowa shot 60.7 percent from the field in the first half (17-for-28) and made 7-of-11 shots from 3-point range.
Three Iowa players also reached double figures in scoring in the first half, led by Kris Murray's 15 points, while Tony Perkins and Filip Rebraca had 13 and 10 points, respectively.
The Hawkeyes also had 13 assists and just four turnovers in the first half, and had a 17-12 advantage on the boards.
The score was tied for just 31 seconds in the first half and that was at zero to start the game.
Indiana shot 51.6 percent in the first half (16-for-31), but also missed five of its six shots from 3-point range, giving Iowa 18-point advantage from behind the arc.
And while it was reasonable to think that the Hoosiers would make a run in the second half, it never happened as Kris Murray and his cohorts continued to pour it on.
The same team that only made 6-of-52 shots from 3-point range in its previous two road games at Northwestern and Wisconsin, both of which were double-digit losses, picked up where it left off in the final minute against Michigan State this past Sunday, torching the nets in both halves.
Highlights from the impressive 90-68 win at Indiana tonight…enjoy!https://t.co/4qNjh8OIeV

— HawkeyeRecap.com (@hawkeyerecap) March 1, 2023
https://twitter.com/IowaHoops/status/1630724619786125313?s=20