By Pat Harty
IOWA CITY, Iowa – A handful of Iowa football players, including quarterback Cade McNamara, were made available to the media Thursday afternoon.
It marked the first time that McNamara has met with the Iowa media since he transferred from Michigan.
The Reno, Nevada native answered a wide range of questions and handled himself quite well as to be expected from a veteran with his proven track record and experience.
McNamara avoided most of the questions about Michigan, saying that he was focused solely on his new role as a Hawkeye.
He also talked about having immersed himself in the Iowa culture and community, and one way he has done that is by attending as many Hawkeye sporting events as possible since arriving on campus.
McNamara was in Carver-Hawkeye Arena last Saturday when the Iowa men's basketball team erased an 11-point deficit with less than a minute left in regulation against Michigan State and would then go on to win 112-106 in overtime.
He was also in the arena last Sunday when Big Ten Player of the Year Caitlin Clark made a game-winning 3-point basket in the final seconds against second-ranked Indiana.
"For me to be able to experience both of those events in the same weekend, I mean anyone who was at those games knows that was an unbelievable experience," McNamara said while surrounded by reporters. "I'm really continually just trying to learn as much as I possibly can about this place.
"Something that has really stood out to me is the amount of pride that my teammates have in being from Iowa and playing for Iowa."
And while Michigan has one of the most storied college football programs in the country, and has also won back-to-back Big Ten titles, there is one thing that separates Iowa from Michigan, and McNamara noticed it right away.
"It's continually said that we don't have a professional team here in Iowa and the level of seriousness that comes with playing here at the university is really special to the guys," McNamara said. "We have a lot of guys from Iowa, and they take a lot of pride in it.
"And I think for me, it's pretty inspiring how much these guys care. A lot of my teammates they grew up being Iowa fans. They want to represent the black and gold just like they watched when they were kids and I think that's something that has completely stood out to me. And it's something that I'm really happy to be a part of."
One area where the Iowa football team falls way short of Michigan is on offense where the Hawkeyes finished ranked 130th out of 131 FBS teams this past season.
The hope is that McNamara will help to lift the offense to respectability and have the same impact that he had while leading Michigan to the 2021 Big Ten title, and to the college playoff.
He still is recovering from a leg injury, but is expected to be healthy by late spring, or in the summer.
McNamara started every game for Michigan during the 2021 season, but then he lost the starting job to J.J. McCarthy early last season, and that ultimately led to McNamara entering the portal.
He had an open mind when he entered the portal and he spoke to some other schools besides Iowa.
But the Hawkeyes became the clear favorite after McNamara had spoken with Iowa offensive analyst Jon Budmayr, who played quarterback for Wisconsin.
Budmayr was also a former Badger assistant coach and Wisconsin was the first school to offer McNamara a scholarship in high school.
"I would listen. I took a couple phone calls," McNamara said of his time in the portal. "But once I had a few conversations with coach Budmayr, I was pretty set."
McNamara was asked to compare how Iowa and Michigan are similar and different as programs, but he mostly declined.
"I think at any college program there are going to be similarities and differences," McNamara said. But really, I'm just focused on Iowa right now and I'm just happy to be here."
The Iowa offense, which is led by much-maligned offensive coordinator Brian Ferentz, became a laughingstock and a punchline last season for the critics and naysayers.
The fact that Brian Ferentz is the son of Iowa head coach Kirk Ferentz only made it worse.
McNamara is fully aware of the negativity surrounding the offense, but he seems to relish the challenge of proving the critics and naysayers wrong.
"They can keep doubting all they want," McNamara said. "That's fine with me, honestly. And I think overall, not just me, but this program what I've grown to realize is this is a chip-on-the shoulder type of program.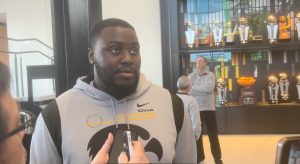 "I think that was also very intriguing to me, just the culture that coach Ferentz has created here is awesome and I think I'm just so happy to be a part of it. And I think I jell into it nicely and I'm just going to continually try and do everything I can to prove myself to my teammates and to my coaches."
McNamara was joined at Tuesday's press conference by offensive lineman Daijon Parker and receiver Seth Anderson, both of whom also came via the transfer portal.
Former Michigan tight end Erick All also showed up near the end of the press conference.
All four newcomers are expected to help jumpstart the sputtering offense.
Parker played his previous three seasons for Division II Saginaw State in his home state of Michigan, and was previously committed to Virginia in the portal before switching to Iowa.
He started to have doubts about Virginia after the offensive line coach left the program after he had committed.
"It was kind of difficult," Parker said. "I had a good relationship with the Virginia coaches. But a couple days after I committed the offensive line coach left. That was okay, but I didn't have an offensive line coach for a whole month. So, I was sitting there up and down, confused, I didn't know who was going to be my coach and I've got one year left. So, you don't want to have that doubt."
Parker credits former Iowa defensive back Kaevon Merriweather, who is also from Michigan and a close friend, for helping to steer him to Iowa.
"I talked to Kaevon, me and him have a great relationship," Parker said. "I know that Iowa has a good winning culture, and I would love to be a part of that.
"It was tough. But I believe in my decision and have no regrets."
As for Anderson, he also wanted to play on a bigger stage, and at the highest level in college, after having a standout freshman season for FCS Charleston Southern.
Iowa also needs help at receiver and is coming off a season in which it only had seven touchdown receptions as a team, and four of them were caught by tight end Luke Lachey.
"There's a lot of opportunity here for me and it's really one of the main reasons I came here because of the opportunity it holds," Anderson said. "I  just know we're going to be something special this season."