By Pat Harty
IOWA CITY, Iowa – Payton Sandfort probably won't be blowing any more kisses to opposing fans.
"Right after it happened, I called my grandpa and apologized because he doesn't like me getting T'd up," Sandfort said Friday. "And then I called my dad, and he didn't like it.
"I think a lot of other people liked it. I don't know if Indiana liked it, though."
Sandfort, a 6-foot-7 sophomore on the Iowa men's basketball team, had just made his fifth 3-point basket in last Tuesday's 90-68 victory at Indiana when he turned and blew a kiss to the Indiana student-section.
To his surprse, Sandfort was called for a technical foul, but the outcome was already decided with Iowa leading by double digits.
"The stuff they were saying, it kind of warrants it," Sandfort said of the Indiana fans. "But I wasn't mad. I would never do something like that in a close game.
"But it didn't matter, I guess. I was kind of surprised, and I think Fran (McCaffery) was, too."
Iowa coach Fran McCaffery didn't seem too upset with Sandfort's emotional outburst when it happened, and McCaffery didn't say anything about it at Friday's press conference.
Sandfort plays with a lot of emotion and confidence, but even he was surprised by what he did in the heat of the moment.
Junior forward Kris Murray reminded him right afterwards about winning the right way.
"I'm kind of surprised about myself," Sandfort said. "Kris was telling me right after it happened that we win with class, and usually, that's what I do. This one just boiled over. It's not really something that I've ever done before.
"I don't know if I liked that I did it. But at the moment, it felt right."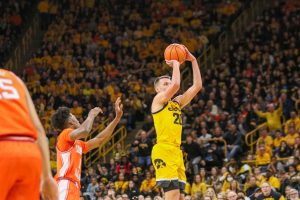 Sandfort also showed his emotion earlier in the game when Indiana was called for an offensive foul. He motioned that it was an offensive foul, and the Hoosier fans weren't pleased.
"I was just making the call for them," Sandfort said. "Somebody had to do it."
Iowa senior forward Filip Rebraca was asked Friday if he was surprised that Sandfort blew a kiss.
"Maybe I'm rubbing off on him with my antics at times," Rebraca joked. "But no, he's a competitor and sometimes emotions get the best of you. I don't think he should have gotten the technical foul."
Sandfort was told what Rebraca said about rubbing off on him.
"I think I've been hanging out with him too much," Sandfort said. "Might be good we get a little break from each other."
Sandfort, of course, was joking because he holds Rebraca and fellow senior Connor McCaffery in the the highest regard.
"They've been like older brothers to me," Sandfort said
Sandfort will play before supportive fans on Sunday when Iowa faces Nebraska in the regular-season finale at Carver-Hawkeye Arena.
His ability to make 3-point shots is a key part of Iowa's offense, and playing with emotion is a key part of Sandfort's mental toughness.
He believes every shot he takes is going in the basket, and sometimes, his emotion gets the best of him.
The risk with showing emotion, besides getting a technical foul, is that it makes you a target for opposing fans.
But Sandfort seems to relish being a target and he never backs down from taking big shots at pivotal times.
The same emotion that led Sandfort to blowing the kiss also helps him play with confidence.
However, his confidence was tested earlier in the season when Sandfort suffered through a prolonged shooting slump.
The Waukee native now thinks he benefitted from that experience.
"I think this one was probably one of the best things that has ever happened to me," Sandfort said. "I was just able to kind of find out a lot about myself, about the people around me, and kind of what I'm capable of.
"I think it was really important because it made me a heck of a lot stronger now. And I think that's continued to grow my confidence from where it was."
Sandfort is capable of getting hot and scoring points in a hurry for an Iowa team that leads the Big Ten in scoring.
Iowa, despite starting 0-3 in Big Ten play, has a chance to be a second seed in the Big Ten Tournament if it beats Nebraska on Sunday.
The Cornhuskers won the first game 66-50 in late December in Lincoln, Nebraska.
Iowa swept Indiana this season, winning the first game 91-89 on Jan. 5 at Carver-Hawkeye Arena despite having trailed by 21 points in the first half.
Sandfort and his cohorts also have bounced back from losing back-to-back road games at Northwestern and Indiana to win two games in a row.
The players held a team meeting after the Wisconsin loss in Madison, Wisconsin and it seems to have had a positive effect.
"We're just a band of brothers, that's what we've always been here through the tough times," Sandfort said. "We've been through everything together. Even after the Wisconsin loss we had a big team meeting, just kind of encouraged each other.
"Obviously, we're shooting the ball a lot better now, and hopefully, that continues. But no matter what, we've stuck together."