By Susan Harman
IOWA CITY, Iowa – The afterglow of winning the Big Ten Tournament has lasted at least another day for the Hawkeyes.
The Associated Press poll was released, and the Iowa women's basketball team has moved up from No. 7 to No. 2 in the country after beating Purdue, then-No. 5 Maryland and then-No. 14 (now No. 12) Ohio State.
This is Iowa's highest ranking since 1994 when the Hawkeyes were No. 2 for eight weeks during Vivian Stringer's tenure. That was the season following Iowa's Final Four appearance.
Undefeated South Carolina has been top-ranked all season and just won the SEC tournament to cap its pre-NCAA season. Ohio State was No. 2 in January when it was unbeaten, but it lost consecutive games to Iowa, Indiana and Purdue and slid down the rankings.
One of the casualties of the Big Ten Tournament was then-No. 2 Indiana, the Big Ten regular-season champ which lost in the semifinals after giving up a 20-point halftime lead to OSU. But the Hoosiers didn't fall far; they are at No. 3 in the poll.
Iowa (26-6) was ranked as high as fourth in preseason polling but has bounced around until sticking firmly in the top 10. Apparently voters put great stock in Iowa's performance at the Big Ten tournament. The tough victory over a Maryland team that had become a darling of voters and bracketologists, especially after pounding Iowa in College Park, impressed voters.
Then the Hawkeyes put on an offensive display for the ages in dismantling the Buckeyes 105-72.
Style points may have moved the needle. Not only did Iowa look terrific in Minneapolis, but the Hawkeyes were coming off the dramatic last-second victory over Indiana before a full house and a national ESPN audience.
Iowa star Caitlin Clark was the ESPN player of the week after her last-second, off-balance 3-pointer beat Indiana. She upped the ante by leading Iowa to the Big Ten tourney title and was named the most outstanding player for the event.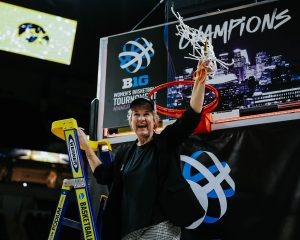 The rest of the AP top-10 is as follows: 4. Virginia Tech (ACC tourney champ), 5. Stanford (lost in Pac-12 semifinals but moved up a spot), 6. Maryland (fell one spot), 7. UConn (moved up two spots; playing Villanova in Big East title game Monday); 8. Utah (down 5 spots after losing in Pac-12 semifinals), 9. LSU (still only two losses; down five spots after losing to Tennessee in SEC semis), 10. Villanova (up one spot; has nation's leading scorer in Maddy Siegrist 29.2 ppg).
ESPN's calculation of the NCAA Tournament bracket still has Iowa as a 2 seed. Virginia Tech was elevated to a 1 seed after winning the ACC tournament and putting together an 11-game winning streak. ESPN has South Carolina, Indiana, Stanford and Virginia Tech as the four one seeds. Iowa, Maryland, Utah and LSU are the 2 seeds.
Clark was asked about NCAA seeding after Sunday's victory.
"I think this does earn us a 1 seed, but at the same time I don't know how much difference there is in a 1 seed, the fourth 1 seed, and the top 2 seed," she said. "You're technically in the same region. We beat two  (projected) 1 seeds in the past two weeks (IU, Maryland). I don't know how that wouldn't earn you a 1 seed, but I'm not the one that makes those decisions."
ESPN's Charlie Creme, the author of the bracket, said Virginia Tech's chief competitors for that final 1 seed are Maryland and Iowa. He wondered how the committee would view the Hokies' relatively weak non-conference schedule even though they navigated the ballyhooed ACC.
"At the end of the day, we don't have a lot of control over that," Iowa coach Lisa Bluder said Sunday. "We'll take what we have, and we'll make the best of what we have.
"Do I think we deserve it? We do. We just survived one of the hardest conference tournaments in the country. We beat two teams that were predicted to be a 1 seed in the last seven days, the last eight days. I don't know what else you can do to get this."
The NCAA NET rating, which is used by the selection committee looks like this: 1. South Carolina, 2. UConn, 3. LSU, 4. Stanford, 5. Indiana, 6. Iowa, 7. Utah, 8. Notre Dame, 9. Virginia Tech, 10. Duke. Maryland is 13 and Ohio State 16.