By Pat Harty
IOWA CITY, Iowa – Kris Murray was describing to the media how it felt to make first-team All-Big Ten when he thought about his teammates that were also honored by the conference.
Iowa had six players overall that received postseason recognition by the Big Ten on Tuesday.
"Just because I guess from all the expectations I had this year, just to be able to have that honor, it means a lot," Kris Murray said before practice on Tuesday. "It's also really cool to see just how many other people on our team got appreciated and got awards this season.
"It just shows the balance we had this year, and it took a team effort to get the wins we did this year."
That quote was vintage Kris Murray in that he made a point to include his teammates because that's just how he operates by always putting the team first.
Kris Murray, much like his twin brother and former Hawkeye teammate, Keegan Murray, is soft-spoken and humble, and neither has let stardom change that.
It's hard enough to play basketball at the Big Ten level, and yet, both of the Murray twins have played it at an exceptionally high level as 6-foot-8 forwards.
Their father, former Hawkeye Kenyon Murray, also played at the Big Ten level.
And though he wasn't as celebrated as his twin sons, Kenyon Murray was a three-year starter for Iowa and one of the top defenders in the conference.
"This firmly puts me as the third best Iowa basketball player in our house," Kenyon Murray said Tuesday via a text message.
Keegan Murray is now a key player for the Sacramento Kings after having been picked fourth overall in the 2022 NBA draft, while Kris Murray also projects as a first-round pick in the 2023 draft.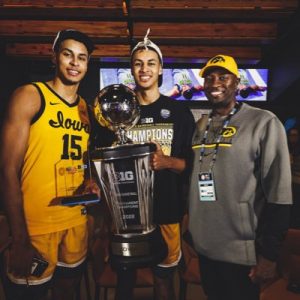 Kris Murray almost certainly has played his final game at Carver-Hawkeye Arena, and now all that's left for him is the postseason, beginning with a game on Thursday in the Big Ten Tournament.
He enters the conference tournament as Iowa's leading scorer and rebounder with averages of 20.5 points and eight rebounds per game.
Kris Murray is also the only Division I player to average at least 20 points, 8-plus rebounds, and have made 60-plus 3-pointers this season
Iowa (19-12, 11-9) is seeded fifth and will play the winner of Wednesday's game between Ohio State and Wisconsin at the United Center in Chicago.
The Hawkeyes are also considered a lock for the NCAA Tournament, so Kris Murray still has plenty on his plate.
Kris and Keegan are in rare company as brothers who have made first-team All-Big Ten.
They join Jay Vincent and Sam Vincent from Michigan State, Woody Austin and Chad Austin from Purdue and Talor Battle and Boo Buie from Penn State and Northwestern, respectively.
Buie was named first-team All-Big Ten this season.
"I think it's really special that it was in different seasons, too," Kris Murray said of making first-team All-Big Ten, along with his brother. "I think it's something pretty unique and cool that has happened with Keegan and I.
"But there's no more brothers, so we can't do it a third year."
That quote was also vintage Kris Murray in that he has a dry sense of humor. He and his brother also like to tease each other.
But they have a strong bond and share a mutual respect, and are so similar in how they treat people and handle stardom.
One moment that stands out from this season was when Kris Murray spent an extended time on the bench near the end of the first half against Michigan State. on Feb. 25 at Carver-Hawkeye Arena.
Some star players might have resented being benched and would sulk or by have bad body language.
Kris Murray, on the other hand, handled it with class and maturity, and then he came back in the second half to help lead one of the greatest comebacks in program history as Iowa trailed by 11 points with less than a minute left in regulation, but would go on to force overtime and ultimately prevail 112-106 at Carver-Hawkeye Arena.
Another moment that stands out is when Iowa sophomore forward Payton Sandfort made a 3-point basket near the end of a lopsided win at Indiana on Feb. 28 and then blew a kiss to the Indiana student section.
Sandfort was called for a technical foul, and he also had a brief conversation with Kris Murray right after blowing the kiss.
"Kris was telling me right after it happened that we win with class, and usually, that's what I do," Sandfort said. "This one just boiled over. It's not really something that I've ever done before.
"I don't know if I liked that I did it. But at the moment, it felt right."
Kris Murray was being a veteran leader when he pulled Sandfort aside and reminded him about winning with class.
Kris Murray does everything with class, much like his twin brother, and that's a testimony to have they both have been raised.
Stardom also didn't come easy for either brother as they both only had one scholarship offer coming out of Cedar Rapids Prairie High School, and that was from Western Illinois.
But instead of feeling sorry for themselves and making excuses, they both attended a prep school in Florida where they worked to get better.
Fran McCaffery eventually offered them both scholarships and the rest is history.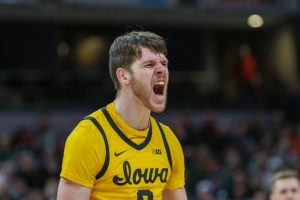 Kris Murray tested the NBA draft process last spring before deciding to return for what has been a rewarding junior season.
"I think you look at Kris, he decided to come back," Fran McCaffery said Tuesday. "He probably would have gone in the second round, and he came back to make a statement.
"It's hard to be first-team all-league in this conference, and he did that. So, really proud of him."
The other players for Iowa that were recognized by the Big Ten are senior forward Filip Rebraca, who made third-team, senior guard Connor McCaffery and junior guard Tony Perkins, both of whom made honorable mention, and Sandfort, who was chosen by the coaches as the conference's Sixth Man of the Year.
Junior forward Patrick McCaffery also earned the team's Sportsmanship Award for the second straight season.
"It's really nice, but that's not why I play basketball," Rebraca said.
Rebraca's sole focus is on winning championships, which he helped Iowa accomplish last season at the Big Ten Tournament.
He's now looking for a repeat.
"Last year, once I got a taste of it, you can't get enough," Rebraca said.
As for Sandfort, his season hasn't been without struggle as he suffered through a long shooting slump early in the season.
"Obviously, I've gone through a lot of tough times, so I'm really proud of myself for the perseverance," Sandfort said. "I've got a lot of people to thank."
Sandfort, who is from Waukee, joins Iowa freshman and Cedar Rapids native Hannah Stuelke, who won the same sixth-player of the year award on the women's side.