By Pat Harty
IOWA CITY, Iowa – No disrespect to her triple doubles, her incredible consistency and the logo threes that she makes look easy because what Caitlin Clark does on on the basketball court truly is spectacular.
She has made the unimaginable almost seem ordinary and a strong case already could be made for Clark being the greatest player in the history of the Iowa women's basketball program, and yet, she isn't even finished with her junior season.
Clark is a generational talent and the face of women's collegiate basketball as a dynamic 6-foot guard.
But what really distinguishes her from everybody else, perhaps even more than her statistics, is her appeal, and her overwhelming popularity.
That was never more apparent than Monday morning when it barely took one hour for the NCAA Tournament first and second round games at Carver-Hawkeye Arena to be sold out.
Fans started lining up for tickets more than an hour before they went on sale Monday morning, and unfortunately, some left disappointed because the demand far outweighed the supply.
Tickets are now being sold online for prices that just a few years ago would've been considered absurd for an Iowa women's basketball game in the NCAA Tournament, or for an Iowa men's game, for that matter.
Some ticket prices were as high as $800 depending on the seat location.
Just think about that.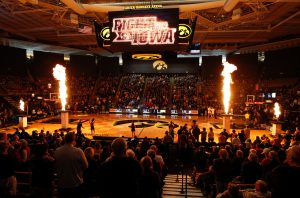 It wasn't that long ago when drapes were hung from the ceiling at Carver-Hawkeye Arena to block all the empty seats during women's games, and also so fans could sit closer to the court.
And now there aren't enough seats in an arena that holds nearly 15,000 to meet the enormous demand.
The Iowa women's basketball team has always drawn well by women's standards dating back to when C. Vivian Stringer built Iowa into a Big Ten power in the 1980s.
But it wasn't anything like the current situation where Carver-Hawkeye Arena is either full, or close to being full for most of the women's games.
This phenomenon started during Megan Gustafson's ascent to great greatness, and has now reached a new level during Clark's three seasons in the program.
Clark came from West Des Moines Dowling with a ton of hype and expectations as a five-star recruit, and she has exceeded those expectations, which is remarkable, because nobody outside of her maybe, could've have expected this kind of offensive brilliance.
Clark makes the difficult look so easy on offense.
She is the perfect combination of style and substance.
It's hard to think of another women's player at any level, or a men's player, besides maybe Stephen Curry and Damian Lillard, that has a shooting range equal to Clark's range.
Opponents have to guard Clark the moment she crosses mid-court because her range stretches beyond 30 feet.
She takes shots that for almost any other player, man or woman, would be considered a horrible shot.
But for Clark, draining a three from near the logo has become routine.
Combine her shooting range with her spectacular passing skills and Clark is must-see entertainment.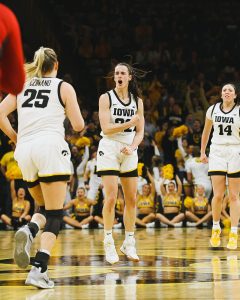 The attendance for Iowa's road games also has increased significantly because even fans from other schools want to see Clark play.
She now draws a crowd wherever she goes.
"It's been amazing how much she is growing this game. … She embraces that part of the game," Iowa head coach Lisa Bluder told reporters shortly after Iowa had won the Big Ten Tournament title eight days ago. "She understands her responsibility in that. To me, she's the face of women's basketball across the United States."
Clark would be the first to say that she's had plenty of help in creating this phenomenon because it's true, help from a talented supporting cast, and from a top-notch coaching staff.
All the assists that Clark has had as a Hawkeye have come as a result of her teammates making shots, especially All-Big Ten senior center Monika Czinano, who benefits greatly from Clark's uncanny ability to feed the post.
Clark also has benefitted from the fact that Lisa Bluder likes to play at a fast pace on offense.
It's hard to even imagine Clark playing in a slow and deliberate offense because that would be like having Led Zeppelin play top-40 love ballads.
Clark was built to play at a fast pace on offense, and Bluder's offense was built for Clark's style of play, a match made in Hawkeye Heaven.
Clark's fiery personality might rub some opposing players and fans the wrong way, but that same emotion is also what fuel's Clark's competitiveness, her drive for greatness, and her moxie.
Bluder is obviously bias when she says Clark deserves to be the National Player of the Year.
But there are times when someone can be bias and right at the same time, and this is one of those times.
All that's really left for Clark is to lead Iowa on a deep run in the NCAA Tournament, and it starts on Friday against Southeastern Louisiana in the first round.
Clark led Iowa to the Sweet 16 as a freshman, but then Iowa lost to Creighton in the second round last season.
Clark has one, or maybe two seasons left as a Hawkeye if she chooses to use her free Covid year, and just imagine the numbers she would accumulate over five seasons.
Her numbers already are staggering in just three seasons, including the number of fans in the seats.