By Susan Harman
IOWA CITY, Iowa – Iowa is coming off a Big Ten Tournament championship and consecutive victories over conference heavyweights Indiana, Purdue, Maryland and Ohio State. It has been awarded a No. 2 seed and plays host to three other NCAA hopefuls in Friday's opening round. It will be a prohibitive favorite in its first game against a 15 seed (Southeastern Louisiana).
 If that scenario sounds familiar, it should. It is eerily similar to the path the Hawkeyes traveled a year ago. As Iowa fans will recall the Hawkeyes defeated Illinois State with relative ease, 98-67, before moving to the second round to face 10th seed Creighton. Both days were sellouts as are this year's games.
No need to remind anyone what happened next, but perhaps some of the details of Creighton's 64-62 upset bear examination.
*Iowa shot poorly from the field making 25 of 70 shots. Monika Czinano was the team's saving grace, scoring 27 points on 12-of-20 shots. Caitlin Clark was 4-of-19; McKenna Warnock 3-of-9; Gabbie Marshall 2-of-7; Kate Martin 2-of-9.
*The Hawkeyes made just 5-of-22 3-point shots (.227).
*They shot only eight free throws despite the physical nature of the game.
*They didn't execute down the stretch. Leading by four with three minutes left Iowa scored only one time in six possessions and missed seven shots.
*Iowa was outrebounded by 15 and gave up 15 offensive rebounds that led to 19 second-chance points.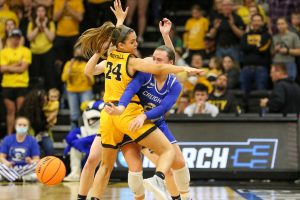 And yet Iowa lost by only two points. The game was a physical grinder. Clark was smothered all game but managed 11 assists. Creighton didn't shoot all that well either but made 10 threes to Iowa's five. Iowa's players have been motivated by the loss all season long.
"Obviously last year was heart breaking, and we don't want to feel that again," Marshall said.
"You can't take anything for granted that's for sure," Warnock said. "I'm sure a home crowd doesn't always mean you're going to win."
Marshall suggested there's been an internalization of the fickle nature of the NCAA Tournament.
"Before I was in college I actually liked March Madness," she said. "I was like, wow, anything really can happen. But when you're playing in it, anything can really happen. You've seen it.
"It's just the best time of the year. There's upsets; there are teams that can go on huge runs. I mean, literally anything can happen. So you really have to have that mindset that anyone can beat anyone on a given day, and that's the mindset we're going to have to have going into (the tournament). I feel like we all have a different mentality."
Clark said part of the preparation is being ready for different kinds of defenses. She and Czinano, in particular, have seen just about everything a coaching mind can devise this season. While Iowa's aim is to play its own style, run the offense and get the transition game going, the key might be the flexibility to adapt.
"I think understanding that to think that we're going to shoot the ball really well for every single game in back-to-back-to-back games to reach the Final Four is really kind of a crazy thought," Clark said. "There's going to be days when you don't shoot it good, so I think we're going to find other ways to win.
"I think defense, rebounding, O-boarding and creating second opportunities for ourselves will be really important. That's the biggest thing. Just being mentally tough. I think at times we weren't as mentally tough as we are this year. We have a group that, this is our third year of being together. So we want to send Mon (Czinano) and McKenna out in the right way.  We have an opportunity to redeem ourselves."
First up: Southeastern Louisiana Friday at 3 p.m. Waiting in the wings is either Georgia or Florida State, both Power-5 teams that played rugged schedules. Buckle up.