By Hawkeyesports.com
TULSA, Okla. – University of Iowa senior Real Woods advanced to the NCAA finals at 141 pounds and the Hawkeyes crowned three more All-Americans, going 6-for-6 on the consolation side of the bracket on Friday night at the NCAA Championships at the BOK Center.
Woods was on Nebraska's fourth-seeded Brock Hardy from the opening whistle, notching a takedown in the first 20 seconds then added a four-point near fall to take a 6-1 lead after one. In the third, the New Mexico native iced the win with a takedown and a two-point near fall en route to the major.
"It is another step in accomplishing a dream that I set out since I was a little kid," said Woods, who improves to 20-0 this season. "I like to score points and getting that done immediately is right on theme with what I'd like to do in my ideal match. I get out there and get right to it."
Woods advances to the NCAA final for the first time in his career and he extends Iowa's streak of having an NCAA finalist to 33 consecutive tournaments. Iowa has had at least one wrestler in the NCAA finals in every year since 1990 and in 47 of the last 48 tournaments dating back to 1975.
In four matches in Tulsa, Woods is 4-0 with three major decisions and is outscoring his opponents, 40-7. This season, Woods is 20-0 with 12 bonus point wins. He has allowed just 23 points in his 20 matches.
"Real is a fabulous competitor. He's honest with himself and is sometimes too honest when he's not feeling good," said Brands. "When you don't feel good, you make adjustments and honesty helps you make the right adjustments and quickly.
"That's what he did. It takes discipline and an open mind and he is a tough customer."
Woods will face Northern Colorado's Andrew Alirez in Saturday's final. Woods is 1-0 all-time against the Bear grappler, winning 5-4 during the Southern Scuffle in 2021 while competing for Stanford.
In the first semifinal of the evening, top-ranked Spencer Lee was upset by Purdue's fourth-seeded Matt Ramos, ending his bid for a fourth NCAA title. Ramos had a takedown and two-point near fall in the first, taking a 4-1 lead before Lee tilted Ramos for four points in the second, grabbing a 5-4 lead.
Ramos picked neutral in the third and Lee got a takedown (that was given via replay), pushing his lead to 7-4. Ramos escaped with less than a minute remaining and he took Lee feet to back before completing a fall in 6:59.
"He has a good support; his family is with him," said Brands. "The cliché and easy thing to say is he has to move on, but it's hard. This is really hard, but you still have to move on. As easy as it is to say, that is the next step… it seems cruel to say that. The next step is to take the next step."
Iowa also dropped a semifinal matchup at 285 when fourth-seeded Tony Cassioppi lost by a 16-1 technical fall to Michigan's top-seeded Mason Parris at the 5:12 mark. Cassioppi falls to the consolation side of the bracket where he can wrestle back to finish as high as third.
The Hawkeyes picked it up on the backside of the bracket, going 6-for-6 in the Blood Round and consolation quarterfinals with Max Murin (149), Nelson Brands (174) and Jacob Warner (197) winning to secure All-America honors. All three wrestlers can finish no lower than sixth place on Saturday morning.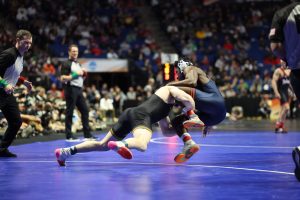 Murin went 2-0 during the session to secure his first career podium finish. He won a 3-2 decision over Michigan's Chance Lamer in the Round of 16 matchup before following with a 3-1 decision over Minnesota's Michael Blockhus in sudden victory.
Brands went 2-0 at 174 to clinch his first career All-America nod. In the blood round, Brands won a 4-1 decision over Illinois' Edmond Ruth and he followed with a 6-1 decision over Mizzou's seventh-seeded Peyton Mocco. The Iowa City, Iowa, native will finish in the top six after being seeded 11th.
Warner – seeded 14th — gutted out wins in both of his matches to secure his third career top six finish (and fifth All-America nod). He used a second-period escape and battled on his feet in the third to win a 1-0 decision over Nebraska's Silas Allred – the Big Ten champion – in the blood round. He followed with a 4-2 win over Cornell's Jacob Cardenas in the consolation quarterfinals.
Penn State is leading the team race with 116.5 points. Iowa is second in the standings with 77 points followed by Cornell (64) and Ohio State (62).
OF NOTE
– Murin, Brands and Warner's All-America honors are 361st, 362nd and 363rd in program history.
– Woods and Brands are the 162nd and 163rd All-Americans in school history.
– Iowa has had at least five All-Americans in 10 straight seasons and 15 times in head coach Tom Brands' 17 seasons.
– Iowa has crowned at least one All-American in 52 consecutive tournaments dating back to 1972.
QUOTING COACH BRANDS
"You have to look at Real Woods, got a win, did it for Spencer. We won six matches in a row on the back side; we did it for Spencer. Sometimes it is easy to fold up your tent when your leader goes down, but these guys are principled and awesome. It doesn't take the sting away — the sting is always there — there are just so many things going on."
SEMIFINAL RESULTS
125 – #4 Matt Ramos (PUR) pinned #1 Spencer Lee (UI), 6:59
141 – #1 Real Woods (UI) major dec. #4 Brock Hardy (NEB), 11-1
285 – #1 Mason Parris (MICH) tech fall #4 Tony Cassioppi (UI), 16-1 (5:12)
CONSOLATION RESULTS
149 – #9 Max Murin (UI) dec. #22 Chance Lamer (MICH), 3-2
149 – #9 Max Murin (UI) dec. #10 Michael Blockhus (MINN), 3-1 (SV1)
174 – #11 Nelson Brands (UI) dec. #9 Edmond Ruth (ILL), 4-1
174 – #11 Nelson Brands (UI) dec. #7 Peyton Mocco (MIZZ), 6-1
197 – #14 Jacob Warner (UI) dec. #8 Silas Allred (NEB), 1-0
197 – #14 Jacob Warner (UI) dec. #10 Jacob Cardenas (COR), 4-2
FINALS MATCHUPS
141 – #1 Real Woods (UI) vs. #2 Andrew Alirez (UNCO)
CONSOLATION MATCHUPS
125 – #1 Spencer Lee (UI) vs. #10 Brandon Courtney (ASU)
149 – #9 Max Murin (UI) vs. #3 Kyle Parco (ASU)
174 – #11 Nelson Brands (UI) vs. #4 Chris Foca (COR)
197 – #14 Jacob Warner (UI) vs. #3 Rocky Elam (MIZZ)
285 – #4 Tony Cassioppi (UI) vs. #10 Zach Elam (MIZZ)
UP NEXT
Session V will take place Saturday, beginning at 10 a.m. (CT). The session will consist of the consolation semifinals and placement matches for third, fifth and seventh place.
🗣️ from Coach Brands after Session IV. #Hawkeyes pic.twitter.com/IDFKubTO4s

— Iowa Hawkeye Wrestling (@Hawks_Wrestling) March 18, 2023