By Susan Harman
IOWA CITY, Iowa – Even though the game against Georgia was a tense, taut, physical affair the Hawkeye players seemed grateful for what they think will be a valuable experience during their tournament run.
After describing the rebounding situation against Georgia as "a battle" McKenna Warnock said she loved it.
"I think it's great for us to have right now," Warnock said. "I think that it definitely sets us up for down the stretch. We know we'll see the South Carolinas the Stanfords, all very tall and very defensive-oriented teams. So I think this was a great game for us."
Well, not Stanford. The Cardinal bit the dust, 54-49, at the hands of Mississippi. But see, there's an SEC team in the Sweet 16 in Iowa's region.
"I couldn't be happier with the kind of a draw we got," Monika Czinano said. "I keep saying it, but like having them be an SEC team, having this be a close game, I just think it's preparing us the best they can. Every conference has its own kind of style or flavor, if you will, but I'm just really happy with the way the game filtered out. I'm happy we had to rely on our defense and we proved to ourselves…  I mean we knew it ,but we proved it to ourselves again that our defense is good."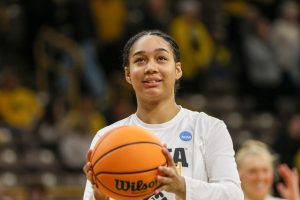 *Injury report. Hannah Stuelke was unavailable after hurting an ankle at Saturday's practice.
"It literally happened in the last three minutes of practice," Iowa coach Lisa Bluder said. "She just turned her ankle. They did treatments on it (Saturday) night until late and again this morning. I really thought she was going to be able to go today. When she came into the locker room after the first warm-up I knew it was going to be tough for her. I think she will be back, though, by next week, weekend."
Stuelke did not have any wrap on her ankle as she left the locker room after the game. Addie O'Grady was the first sub in the post and played only 2 minutes, 44 seconds, as Bluder kept her starters in most of the game.
*Iowa fans, take a bow. Iowa officials said Iowa City's 14,382 fans for both games led all the 16 sites in attendance. They weren't just sitting there with their Carver cones either. The noise was deafening.
"My mom gets so mad at me because I never hear her in the crowd during games," Monika Czinano said. "And I love our fans, I love you guys. You show up and you're sold out."
"It's hard for the other team when people are just screaming at the top of their lungs," Caitlin Clark said.
It can have its drawbacks.
"It's hard because I'm the one that has to call out screens," Czinano said. "Because I'm like, oh god, Gabbie's going to get labeled on this, but I'm trying to scream and nothing's coming out."
Iowa coach Lisa Bluder took to the public address system after the game to thank fans and urge them to think about season tickets for next year.
"The Hawk fans are amazing, and we needed every one of them today," she said.
*Not a pretty finish. The end of the game was marred by two intentional fouls. Gabbie Marshall's nose was the victim in the first and Clark's knees in the second when she was sent sprawling by Javyn Nicholson with one second left.
"It's frustrating, especially with three seconds left to have a cheap foul at that point, it's very frustrating as a coach because you don't want your player being hurt," Bluder said. "Gabbie had to come out of the game because of that."
Marshall was fouled by Jordan Isaacs with three seconds left. After two free throws Iowa still had possession and Clark was pushed to the floor with one second left. Her knees were scraped and raw after the game.
*Battles tested.  Georgia coach Katie Abrahamson-Henderson said her dynamic senior guard Diamond Battles was the best player on the floor Sunday. Battles, Georgia's leading scorer at 14 points per game, scored 21 points and made 3-of-7 3-pointers. But Iowa held her to five second-half points.
"Wasn't letting me catch it as much," Battles said of Iowa's adjustment in the second half. "When that happens you have to get your teammates open and create somewhere else, and I tried to do that. They kind of keyed in a lot on me in the second half, so that's why."
*Misc. records.  This is Iowa's ninth appearance in the Sweet 16, four of which have come during Bluder's tenure. Iowa has reached the national quarterfinals (Elite 8) four times, the last being 2019.
With 22 points Sunday Clark is the third player in Big Ten history to score 900 or more points in a season. She also eclipsed the Big Ten single-season assist record with 291. The record was held previously by Sammy Prahalis of Ohio State (289).
Marshall has made 19 of 33 3-point shots (.585) in five post-season tournament games.
Iowa improved to 28-6 this season. The 28 victories are second-most in program history.