By Susan Harman
Here we go again.
For the second NCAA Tournament game in a row Iowa faces a big, physical, defensive-oriented team from a Power-5 conference. Colorado runs a two-post offense, and its defense, with two strong 6-foot-3 players clogging the middle and a quick, experienced guard harassing perimeter shooters and eyeing the passing lanes, is its identity.
Georgia played a matchup zone that moved amoeba-like on the perimeter depending on its focus. The Buffaloes are a man-to-man team, although they used a zone to shut down Duke in the fourth quarter last Monday's victory. Iowa coach Lisa Bluder said the Buffs have a different style, but the result is sort of the same.
"I think what is so good about it is they just have really good ball pressure," she said. "They're very active. I mean, (senior Jaylyn) Sherrod is so fast. They have depth off the bench, and so they can keep coming at you.
Colorado (25-8) holds teams to 58.5 points per game and 38 percent shooting. The similarities with Georgia don't end there, and Iowa's Monika Czinano thinks last Sunday's game will help Iowa's post players.
"Having a lot of height down there in the paint, kind of clogging it up," Monika Czinano said. "I think that for me and McKenna (Warnock) having that under our belts, just the physicality of it more than anything (helps). When you play with two centers we both have to box out harder, crash harder, all these different things, and it kind of adjusts our game a little bit, adjusts our shots a little bit."
Colorado's posts are senior Quay Miller and sophomore Aaronette Vonleh. Miller, the team's leading scorer and rebounder (13 ppg, 9 rpg) has range and won't park under the basket, whereas Vonleh (12 ppg, 3.5 rpg) is a more traditional post. Czinano said that Hannah Stuelke gives Iowa that same versatility and a different presence close to the basket.
You can't talk about the Buffs without talking about Sherrod, who made the critical tying basket to force overtime against Duke.
"I think most of her life she sort of had this mindset of "will over skill,'" CU coach JR Payne said. "It's just in her DNA. I think as a group it's in our DNA. Jay came to Colorado—as she told everyone we were her only Power-5 offer—and she wanted to go somewhere and not just be a good player, not just play a lot of minutes, but she wanted to go somewhere and help establish a culture of excellence.
"She's helped establish a culture of toughness, of fearlessness, of overcoming any obstacle that's put in your path. She's everything you could want in a player. She works hard. She's an avid listener, avid learner, and really wants to be great."
Sherrod's 11-point average hardly scratches the surface of what she provides this team. She leads the team in assists and steals and defensively she's always on guard.
"She's really fast and quick," Iowa guard Gabbie Marshall said. "She loves defense. She's going to get up in your shorts. She's going to pressure the ball. She's going to try to get in your head. She's going to run through passing lanes. She plays with a lot of energy and passion, and she is the leader for their team.
"She's going to drive the paint hard, and she's going to find her posts."
While clearly respecting Sherrod, Marshall said Iowa has faced such guards before and just has to stick to its offensive and defensive principles.
It's a chicken or egg debate as to whether Payne and her staff recruit these kinds of players or whether Sherrod has helped to change the internal mindset of the team. It's probably both.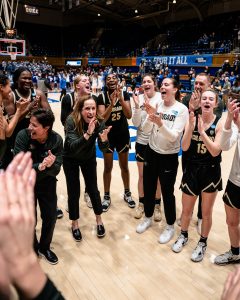 "She's just the heart of our team," shooting guard Frida Formann said. "She works super hard. She's always chasing down loose balls, always playing with super-high energy. She is one of those players that can really make you want to go the extra mile."
This year's Duke team, that Colorado defeated Monday, was not an offensive-minded team and struggled to score consistently most of the season. But on Friday the Buffaloes face Iowa, the highest-scoring team in the nation. The Buffs believe that having played a Pac-12 schedule with Stanford, Utah, UCLA and Arizona they're more than ready for the Hawkeyes.
"I think we've just talked a lot about our identity as being aggressive on defense, being disruptive," Formann said. "So whatever way we can do that against Iowa. We've talked about it already. But being aggressive, being disruptive, that's what we do on defense."
"We have to be locked in on personnel, make players do things that they're not comfortable doing and just be disruptive in general," Vonleh said.
Iowa (28-6) will be playing on a truly neutral court in Seattle for the first time in a long time. But Bluder thought her team was ready.
"I feel like our team is in a really good spot," she said. "We're healthy. We're feeling good. We know that Colorado is going to be a really tough challenge. Their defense is very, very good. I mean 58.5 points that they hold people to so a tremendous defensive team."
Game time is 6:30 p.m.