Susan Harman
DALLAS – Iowa is in the NCAA championship basketball game.
No foolin'.
Caitlin Clark continued her scorched-earth policy with 41 points and eight assists, and Monika Czinano was a somewhat surprising and crucial contributor in defeating top-ranked and undefeated South Carolina 77-73 Friday night at the American Airlines Center.
"It means the world. I'm so happy to do that with coach Bluder and all these girls," senior Kate Martin said. "This was our goal. We didn't just come to the Final Four just to get here; we wanted to win two more games."
"I don't think anybody else, unless you were in black and gold, believed that we were going to win that game," Iowa coach Lisa Bluder said. "The women in that circle, they believed, and we prepared all week as if we were going to win this game."
Clark threw the game ball high in the air as the buzzer sounded, and the celebration was on. University of Iowa President Barbara Wilson was on the floor hugging every Hawkeye she could find.
"I think just tonight showed how fun women's basketball is," Clark said. "Two really great teams that went at it."
The Iowa coaching staff put together a game plan that miraculously enabled the 6-foot-3 Czinano to thrive even though 6-5 Aliyah Boston and 6-7 Kamilla Cardoso of South Carolina were parked in the post. Despite Czinano's impressive resume as a post player most thought she would be overwhelmed by the Gamecocks' size and depth in the post.
"A lot of people did," Associate head coach Jan Jensen conceded.
Surprise! Czinano scored 18 points even though foul trouble limited her to 27 minutes.
"Those of us who know her didn't (believe she would be overwhelmed)," Jensen said. "The post game is all about angles and where you're delivering it."
Jensen pointed out that Czinano got blocked, but it didn't happen a second time because she and Clark connected in such a way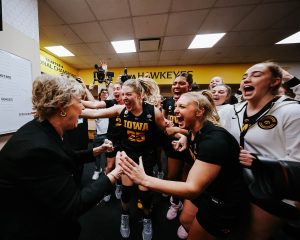 that Czinano had the right angle. Iowa's coaches figured mighty South Carolina was unlikely to double team Czinano.
"We've been talking about her being in that top five (posts) with Aliyah Boston for a couple years now," Jensen said. "I just liked the efficiency of Monika and doing what she does with what she has."
Addison O'Grady and Hannah Stuelke also played in the post for Czinano.
"They were a big team, and I don't think we played against anyone that's near the size of them," O'Grady said.
"I think it was really coming out of the paint," Czinano said. "I couldn't really do what I normally did and just post-up down there. I had to come out and set ball screens and try to expose the screen and roll, and I think that worked out pretty well."
The Hawkeyes were able to spread the floor with the high post action, and either Czinano rolled to the basket for a pass or Clark scooted on by her defender to the rim. Boston was lured out to defend Warnock, who is a 40 percent 3-point shooter.
"Czinano, I thought she had a great connection with her, and if we could have probably allowed Czinano to have a little less opportunities, it could have flipped the other way," South Carolina coach Dawn Staley said. "She was the one that put them over the top with her contributions, because we had everybody else in check. "
At the other end of the court Iowa packed its defense inside to cover the posts and left the guards to themselves on the perimeter.
"When you go into a game like this you game plan like this you don't want somebody else to beat you; 25 (Raven Johnson) almost did," Jensen said. "She had a couple threes in that fourth quarter and the end of the third because we're sagging off and we're trying to guard you and then we're not because we're trying not to let the bigs score. But then they did on rebounds.
"I think it was as good of a game plan as we could have going in."
Iowa started well, shooting 56 percent in the first quarter in taking a 22-13 lead. Fans who came ready to see the Gamecocks roll over yet another overmatched opponent could immediately see the Hawkeyes were not ready to assume that role. In fact Iowa led for 36 of the 40 minutes.
 "The first quarter, you couldn't ask for anything better," Martin said. "You knew they were going to come back and counter. But we got out early and set the tone right away. And I think that's what really carried us through the game."
Staley said Clark's performance was in line with what they expected.
"So like any time she's at the high post, we didn't want to play her at the high post," Staley said. "We wanted to clog the middle up a little bit and beat her to the spot of rolling deep on us. We found ourselves a little high on that at times."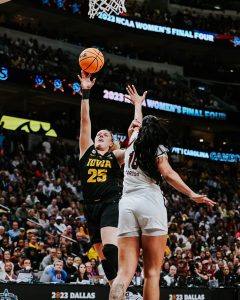 The game was close until the end. Iowa benefitted by making all 14 of the free throws it shot. Every time South Carolina scored to close within two points, Iowa answered. Leading 73-71 in the waning seconds Clark shot a three but missed, and Warnock leaped high to grab the offensive rebound with 14 seconds remaining.
Warnock said her first thought was 'just to get it to Caitlin, honestly.' "Obviously we always want to get those O-boards, and I'm glad I could come up with that one. It kind of fell into my lap."
"That was a long shot and a long rebound," Boston said. "Those can be really hard just based on how hard that came off the backboard, and that shot ricocheted off the backboard. It was really high, and we just weren't in the position to get it."
"I understand South Carolina had 25 O-boards, but there was one that mattered the most, and that was McKenna Warnock's, and that sealed the deal for us, and we were able to make free throws," Clark said.
Clark's two foul shots with 13.5 seconds left were answered by a quick South Carolina basket, but Clark drilled two more free throws with 8 seconds left to finish off the Gamecocks.
Iowa (31-6) will play LSU (33-2) in Sunday afternoon's championship game.
"We might not be — we're clearly not as tall as (South Carolina)," Clark said. "We're clearly not as athletic as them. But I think we're a very, very skilled basketball team that loves one another, and that's going to get you really, really far."
South Carolina (36-1) saw the end of its 42-game winning streak.
"When that buzzer went off, it was kind of just an end of an era, it feels like," Boston said. "We had a special group, and that's kind of what it felt like."