By Pat Harty
IOWA CITY, Iowa – When Erick All decided to transfer from Michigan after last season, there was little doubt where he was headed.
All had made a name for himself as a tight end for the Wolverines, but he was looking for a change, for a fresh start, and for a school where tight ends thrive.
"Before I actually entered the portal, I decided I was going to transfer and Iowa was definitely top on the list," All said Thursday. "I kind of wanted to come here from the beginning, but I just didn't want to make a quick decision. So, I kind went into it open minded."
All would go on to pick Iowa because he knew, even with Iowa's recent struggles on offense, that the tight end position was a key part of the offense, and he knew all about Iowa's tradition at tight end.
Iowa has earned the nickname Tight End U due to its long-standing success with developing tight ends under veteran head coach Kirk Ferentz, many of whom would go on to play in the NFL, a list that includes George Kittle and T.J. Hockenson, and with Sam LaPorta poised to join that distinguished list.
"It was a pretty big factor," All said. "There was a lot of stuff that fell into play like how they use their tight ends and blocking and stuff like that, the drills and just feeling the atmosphere for sure."
All was among a select number of Iowa players that met with the media on Thursday as part of the spring practice interview process.
All is expected to help fill the void created by LaPorta, who led Iowa in catches and receiving yards in each of the past two seasons.
LaPorta could have used his free Covid year and returned to Iowa for a fifth season, but he chose to pursue his dream of playing in the NFL.
His decision made All's decision to transfer to Iowa much easier because there is an opportunity for All to be a key contributor for the Hawkeyes.
LaPorta's success as a Hawkeye also made a strong impression.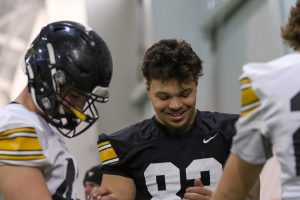 "I just had seen how they used Sam and they're known for putting tight ends (in the NFL) and just building them up throughout the system here," All said. "And I just love the coaches, I loved coach Ferentz before I ever even knew him. I just thought he was a great guy.
"And they play hard. There's a lot of similarities between them and Michigan, coaching, and how they play, their mentality going into a game."
The 6-foot-5, 255-pound All will join with fellow Ohio native Luke Lachey to give Iowa another experienced one-two punch at tight end.
Even though he played in LaPorta's shadow, Lachey still led the team with four of Iowa's seven touchdown catches last season.
Lachey and All have since become close friends, and their Ohio roots have helped to strengthen that bond.
"It helps out a lot, it really does because we have that chemistry already," All said. "He's one of my good friends and it's great to have somebody (from Ohio) around here."
All brings a proven track record after having caught 54 passes for 565 yards and two touchdowns as a Wolverine.
He was a key piece to Michigan's 2021 Big Ten championship team as he caught 38 passes for 437 yards and two touchdowns.
One of All's touchdown receptions came in the 42-3 victory over Iowa in the 2021 Big Ten championship game and was thrown by former Michigan quarterback Cade McNamara, who also has since transferred to Iowa.
Lachey appreciates the experience and knowledge that All brings to the tight end position, and Lachey has even learned a few things from his new teammate.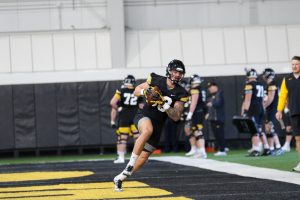 "It's been good to get with him and just try to learn," Lachey said. "There was a bubble screen type thing and he taught me one way to block it. He's taught me a lot."
All and Lachey are part of an Ohio connection that also includes running back Kaleb Johnson, who led Iowa in rushing last season with 779 yards.
Iowa will also add graduate transfer offensive lineman and Ohio native Rusty Feth to the roster this summer.
Feth played previously for Miami (Ohio) where he made second-team All-Mid-American Conference last season.
"It's nice to have another Ohio guy in here," Lachey said. "It's cool to have a lot of Ohio guys here at Iowa and we connect on that. It's been fun."
Iowa tried to recruit All in high school, but his mind was set on Michigan, partly because All didn't like Ohio State despite being from Fairfield, Ohio.
"Coming out of high school, I had my head set on Michigan," All said. "I'm from Ohio, but I didn't really like Ohio State that much because I was actually a fan of Alabama. All the kids were Ohio State fans and were just constantly nagging at me, this and that, so I just pretty much grew to hate Ohio State because of the people I grew up with and that's why I wanted to go to Michigan so bad."
All said his transition from being a Wolverine to a Hawkeye has gone smoothly.
He's had to learn a new offense and new terminology, and he now also has to walk farther to class because of how the Iowa campus is set up compared to Michigan's campus.
But All has no regrets about his decision to be a Hawkeye.
"It just feels like natural since I got here," All said. "Everybody is so nice and you get to meet people. It's just been so welcoming."
The fact that McNamara also transferred to Iowa is another bonus for All.
"It helps out a lot, it really does because we have that chemistry already," All said. "He's one of my good friends and it's great to have somebody around here."