By Pat Harty
IOWA CITY, Iowa – After having ruled over college athletics with an iron fist for decades, the NCAA has chosen to basically run away from the fallout caused by the combined forces of the transfer portal and name, image and likeness.
And now veteran head coaches such as Iowa men's basketball coach Fran McCaffery are left to deal with this new landscape as best as they can, but it isn't easy.
"It's a mess, and it's going to stay a mess," Fran McCaffery said Thursday and just prior to Iowa's annual awards banquet at Carver-Hawkeye Arena. "So, I look at it like this; you just deal with the rules that are out there. You deal with the situation. It might be harder for a coach, for a program than another.
'For example, if you have a billionaire that's going to help you, you can have a pretty good team. You don't have to be a very good coach and you can have a real good team. You're going to see it."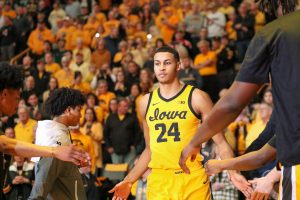 Fran McCaffery met with reporters for about 10 minutes on Thursday and addressed several topics, including Kris Murray's NBA draft status.
Murray, a 6-foot-8 junior forward, announced earlier this week that he plans to enter the 2023 NBA draft.
"I've talked to a lot of NBA teams in the last couple of weeks, and obviously, they're very interested and I feel confident he'll go in the first round," Fran McCaffery said of Kris Murray, who led Iowa in scoring this past season. "I'm thrilled for him.
"He's as complete a player and not just in terms of ability and skill set, but character, maturity. I think he's going to be a consistent player for a long time."
Fran McCaffery spent most of the interview talking about the changing landscape in college athletics.
And while he has many concerns with how the transfer portal and NIL are impacting the sport he loves. Fran McCaffery also knows that he has to play the game.
Fran McCaffery knows that he has to use the portal to fill key holes, and he did that this week by receiving a verbal commitment from 6-9 Valparaiso forward Ben Krikke, who led the Missouri Valley Conference in scoring this past season.
Krikke is expected to help fill the hole left by 6-9 departed senior Filip Rebraca.
Iowa also has to replace Fran McCaffery's son, Connor McCaffery, a 6-5 combo guard who has used up his eligibility, and Iowa also has lost two players to the transfer portal in junior point guard Ahron Ulis and junior center Josh Ogundele.
"There is no offseason calendar," Fran McCaffery said. "There just isn't one. You just keep going. Recruiting never ends and you're hopeful that you don't have a lot of turnover on your own roster, so you don't have to go in and get a ton of guys.
"We had two guys leave and we're going to sign one or two and be thrilled with the guys that are still here."
Iowa will also add four incoming freshmen to the roster next season in 6-10 forward Owen Freeman, 6-0 point guard Brock Harding, 6-7 small forward Pryce Sandfort and 6-8 forward Ladji Dembele.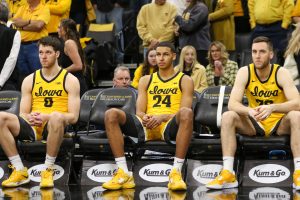 Freeman and Harding helped lead Moline High School to an Illinois state title this past season, while Pryce Sandfort is the younger brother of current Iowa forward Payton Sandfort, who was named the Big Ten's Sixth Man of the Year this past season.
Fran McCaffery was asked about the growing challenge that mid-major head coaches now face because of larger schools raiding the rosters of mid-major programs for talent.
Fran McCaffery doesn't have to worry about that as a Big Ten head coach, but he used to coach at three mid-major programs before coming to Iowa, so, he sympathizes with the mid-major head coaches and he despises some of the stuff that is reportedly happening behind the scenes.
"You have to change how you do business," Fran McCaffery said of mid-major coaches. "You build for two years as if you're a junior college coach. And they're going to leave if they're good.
"The thing that I think is really bad is that there are agents actually shopping mid-major players before they go into the portal, convincing them to go into the portal, and that's disgraceful. And that should have been seen by the NCAA. They just screwed this thing up completely, and now they have to try to fix it and they're not going to be able to."
Fran McCaffery thinks it's too late for the NCAA to fix things, especially with NIL gaining so much popularity and influence.
"I don't think you can cap one's ability to make money off name, image and likeness," Fran McCaffery said. "So, I think that's a problem. How they money is generated might change."
Compared to a lot of other programs, Iowa relies very little on the portal, and Fran McCaffery would prefer that it stays that way.
However, there are some programs that have benefited from overhauling their rosters via the portal and that was evident in the 2023 NCAA Tournament as the Final Four didn't have a team seeded higher than fourth.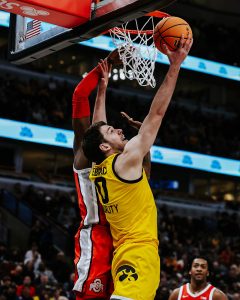 "When I look at the NCAA Tournament, anything that happens is, okay, that's what happened," Fran McCaffery said "You can't predict it. You have more and more teams now that are signing guys that are 22 and 23 years old. You have rosters that are being completely rebuilt. And when I say that, it doesn't mean you bring in three guys and then three guys leave. It's eight guys leave and nine guys come in.
"So, it's just completely changed college basketball. You look at some programs that have a rather large salary cap essentially. They can buy a team. So, it's just completely different how you view how teams have success and how coaches have success."
Iowa is coming off a season in which it made the NCAA Tournament for the third time in a row, and for the seventh time in 13 seasons under Fran McCaffery.
However, the Hawkeyes lost to Auburn in the first round and no Big Ten team advanced past the Sweet 16.
The focus now has shifted back solely on recruiting, although, the recruiting season never really ends in this new age of the portal and NIL.
Fran McCaffery shared with the media his approach in how he deals with the portal and with the NIL when recruiting a player.
"You address it directly," he said. "A lot of the guys you talk to, they'll say NIL is not a big part of his decision and most the time they're telling the truth. But they have an expectation that it's going to be a part of the decision. You try to determine, okay, who's doing this for one reason and one reason only, and that's money, and who is hoping to get some money as a result of if I've picked the right place and I have the perfect fit. Those are the guys we're recruiting.
"You just keep doing business as usual and try to get who you can get. And if somebody is going to out-spend you, they're going to out-spend you."
Kris Murray, meanwhile, is expected join his twin brother, Keegan Murray, in the NBA next season.
Keegan Murray was a consensus All-American at Iowa in the 2021-22 season and was selected fourth overall in the 2022 NBA draft by the now playoff-bound  Sacramento Kings.
Keegan Murray, a 6-8 forward, has certainly lived up the hype as he set a record for the most 3-point baskets by an NBA rookie during the regular season.
Keegan Murray is among three former Hawkeyes currently in the NBA, along with center Luka Garza and shooting guard Joe Wieskamp, who play for the Minnesota Timberwolves and Toronto Raptors, respectively.
Fran McCaffery was asked Thursday if having former players in the NBA helps with recruiting.
"It helps a great deal and it should help immeasurably," Fran McCaffery said. "But there are certain things that will trump all the things that would typically go into making a sound decision."