By Hawkeyesports.com
IOWA CITY, Iowa — Kris Murray and Filip Rebraca are co-winners of the Chris Street Award for the 2023 University of Iowa men's basketball season. The duo are two of eight players who garnered recognition at the team's award ceremony held Thursday evening at Carver-Hawkeye Arena.
The Chris Street Award is presented annually to a Hawkeye player, or players, who best exemplify the spirit, enthusiasm, and intensity of Chris Street. Street was an Iowa basketball player who died in an auto accident in 1993, midway through his junior year.
Murray was a consensus third-team All-American after being voted third team All-America by Sporting News, United States Basketball Writers Association (USBWA) and the Associated Press. The 6-foot-8 forward was also a Naismith, Wooden and Lute Olson Award semifinalist, and was a finalist for the Karl Malone Power Forward of the Year. He also earned National Association of Basketball Coaches and USBWA All-District accolades and was a unanimous all-conference selection. Murray, who also shared the team's Top Rebounder Award with Rebraca, averaged a team-best 20.2 points and 7.9 rebounds as a junior. He was the only Division I player to average 20+ points, 7+ rebounds, one block, and have made 65+ 3-pointers in 2023. The Cedar Rapids, Iowa, native scored 30+ points four times this season, 25+ points nine times and 20+ points 15 times.
Rebraca ranked second on the squad in points (14.1) and rebounds (7.5) per game, while ranking first in field goal percentage (.571), and free throws made (108) and attempted (161). The native of Sombor, Serbia, netted double figures a team-best 28 times and posted a team-best nine double-doubles in 2023. He was one of only five Division I players to average 14+ points, 7.5+ rebounds and 2+ assists, while shooting 57 percent or better from the field this season. A third-team all-league honoree, Rebraca averaged 2.9 offensive rebounds, third best in the Big Ten and 53rd-best nationally. His 57.1 field-goal percentage was 35th-best in the country.
Rebraca and Payton Sandfort, who were co-winners of the Most Improved Award, were the only Hawkeyes to play all 33 games in 2023. Sandfort became the fourth Hawkeye to earn Sixth Man of the Year accolades after averaging 10.3 points, 4.1 rebounds and 1.5 assists. His 59 triples, second most on the squad this season, rank sixth best in a season by a Hawkeye sophomore. He drained four or more triples in five games in 2023. The native of Waukee, Iowa, scored in double figures 14 times as a sophomore. Sandfort scored Iowa's final seven points, including a four-point play, to force overtime in a win over Michigan and netted 22 points, including a game-tying triple to force overtime, in the home victory over Michigan State. Sandfort also was the recipient of the team's Academic Excellence Award. The business major excelled in the classroom earning 2023 Academic All-District and All-Big Ten honors and Fall Semester Dean's List distinction in 2022.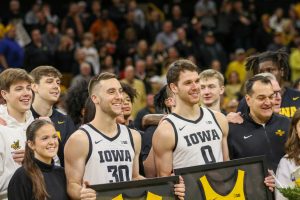 Connor McCaffery and Tony Perkins were co-winners of the team's Top Playmaker Award. Both guards were recognized as honorable mention all-conference this season. Perkins ranked third on the team in points per game (12.3) and free throws made (87), first in steals (46), second in total assists (88). He reached double figures in scoring 20 times this year. Perkins shot 50 percent or better from the field in 11 games in 2023, including 72 percent or better in four contests. He scored a career-best 32 points, bolstered by 15-of-16 makes from the free throw line, in Iowa's win over Illinois on Feb. 4. The Indianapolis native made his first 15 free throw attempts, tying the school record for most consecutive free throw makes in a single game (Andre Woolridge vs. Northwestern on March 8, 1997).
McCaffery led the country in assist-to-turnover ratio (3.9) and finished his career second in NCAA history with a 3.59 assist-to-turnover ratio. He played in 111 games that Iowa has won, tying former teammate Jordan Bohannon for most in program history. McCaffery averaged 6.5 points, 4.1 rebounds and a team-best 3.7 assists per game this year. He made a single-season best 38 triples, third most on the team. McCaffery had zero turnovers in 13 of 32 games this season. He made 19 consecutive free throws from Nov. 29 to Dec. 29, 2022, and missed only seven attempts (45-of-52) from the charity stripe in 2023.
McCaffery and his brother, Patrick McCaffery, were the recipients of the Kenny Arnold Hawkeye Spirit Award. This award is presented to the Hawkeye(s) who exemplifies Arnold's spirit of leadership, character, courage, determination and poise. This player(s) inspires his teammates to be their very best in spite of the odds.
Patrick averaged 9.8 points, 3.5 rebounds, 1.0 assists and 0.8 steals in 27 contests. He earned the team's Big Ten Sportsmanship award for the second straight year and was voted to the Emerald Coast Classic All-Tournament Team. McCaffery tallied double figures in scoring 11 times this season, including reaching 20 points five times. His 1.3 3-pointers per game was third best on the team. McCaffery netted 23 points, bolstered by a personal-best 6-of-10 shooting from 3-point territory, in the regular season finale against Nebraska.
Dasonte Bowen and Josh Dix were honored as the Newcomers of the Year. Bowen saw action in 26 games, including one start in his rookie campaign. The Boston native totaled 81 points, 26 assists and 23 rebounds. He netted a season-best 12 points against No. 15 Duke at Madison Square Garden in New York.
Dix played in 31 games, totaling 62 points, 28 assists, 28 rebounds and 14 3-pointers. He shot the long ball at a 40 percent clip, sixth best for a freshman in program history. The native of Council Bluffs, Iowa, had a season-high 10 points in Iowa's overtime victory over Michigan and distributed a season-best five assists in back-to-back wins over the Wolverines and Maryland in January.
The Hawkeyes finished the 2022-23 season 19-14 overall, tied for fifth place in the Big Ten standings with an 11-9 league record, and qualified for the NCAA Tournament for the fourth straight year.
2023 IOWA MEN'S BASKETBALL TEAM AWARDS
CHRIS STREET AWARD: Kris Murray & Filip Rebraca
TOP PLAYMAKER(S): Connor McCaffery & Tony Perkins
NEWCOMER(S) OF THE YEAR: Dasonte Bowen & Josh Dix
MOST IMPROVED: Filip Rebraca & Payton Sandfort
TOP REBOUNDER(S): Kris Murray & Filip Rebraca
ACADEMIC EXCELLENCE AWARD: Payton Sandfort
KENNY ARNOLD HAWKEYE SPIRIT AWARD: Connor McCaffery & Patrick McCaffery