By Pat Harty
IOWA CITY, Iowa – The transfer portal has been criticized for turning college athletics, especially football and men's basketball, into pay for play in some cases, and for making it too easy for student-athletes to give up at the first sign of disappointment.
If at first you don't succeed, then try somewhere else is how a growing number of student-athletes apparently feel these days as they search for instant gratification via the transfer portal.
Brennen Dorighi, on the other hand, entered the portal last summer after having played baseball for four seasons at Wofford College in Spartanburg, South Carolina.
He gave his heart and soul to Wofford baseball, and he performed at a high level, making first-team All-Southern Conference last season.
Dorighi combined to start 81 games for Wofford in the 2021 and 2022 seasons.
So, it wasn't a case of Dorighi bailing at the first sign of disappointment, or bailing on his teammates and coaches at Wofford when he entered the portal as a graduate transfer.
He had one season of eligibility remaining due to the free Covid year, and he wanted to take advantage of it by playing on a bigger stage.
Iowa offered that opportunity, but so did a lot of other Power Five programs.
Dorighi had plenty of options, but he ultimately picked Rick Heller and the Hawkeyes, and both sides are benefitting greatly from that decision.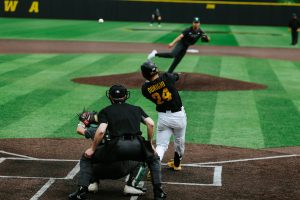 Dorighi, who starts at first base for Iowa, hit his 11th and 12th home runs of the season in Saturday's 8-6 series-clinching victory over Michigan State at Duane Banks Field.
His second home run was a two-run blast in the bottom of the eighth inning that gave Iowa an 8-5 lead.
"The biggest thing was just trying to drive the run in, and then once I hit it, I think it was down for sure as a hit, and then, obviously, the home run was a bonus," Dorighi said.
Dorighi has been one of Iowa's most consistent players this season.
The Colorado native can hit with power, as he showed Saturday, and for average as evidenced by his .352 batting average. He also can play multiple positions, and he is a respected team leader who was voted a team captain after having spent just one semester in the Iowa program.
Rick Heller raved about Dorighi at media day in February, saying he would help fill the massive void left by former star first baseman Peyton Williams.
"It's even better than what I expected," Heller said of Dorighi's impact. "He's a really good hitter, and to me, he's a guy that can play professional baseball for a long time. He gives you a really good at bat. He doesn't chase a lot, and he hits all pitches.
"He hits good velocity. He can go both directions. He's just a pro hitter. It's just amazing to me that he didn't get drafted last year."
Heller and the Hawkeyes are fortunate that Dorighi didn't get drafted last year because Dorighi is now one of the key players for an Iowa team that is peaking at the right time, winning four of its last five Big Ten games.
Dorighi also has caught the attention of Major League Baseball scouts.
"I know it should pay dividends for him on draft day this year because I've had a bunch of calls from scouts that are just like, it seemed like it took them a while, but they're like, man, he is a real good hitter," Heller said. "And I was like, yeah, no kidding.
"There's a lot of guys that are really paying a lot of attention to Brennen now. And he runs decent, and he can play multiple positions."
Heller has paid close attention to the Wofford baseball program because he shares many of the same philosophies as the Wofford coaches about hitting, and about baseball as a whole.
That familiarity has made the transition easier for Dorighi, and for Heller.
"We're just super happy he chose us because he had a lot of options," Heller said of the 6-foot-2, 225-pound Dorighi. "It was refreshing to have a kid pick us, pick the baseball program, for the right reasons. The academics were important to him. Those guys in the program were important to him. Being with guys that are development type guys, that was important to him.
"And I give his program, Wofford and their coaching staff a lot of credit. We've been impressed with them for years listening to them speak at clinics and conventions. We do a lot of the same stuff. We have the same values on the strike zone discipline. So, getting a guy that knew it all that before he got here is pretty rare, and it's really paid dividends."
Dorighi's leadership and maturity has stood out this week as the Iowa players have dealt with all sorts of distractions.
In addition to this having been finals week, the Iowa baseball team is also the focus of a widespread gambling investigation in which 26 UI student-athletes are reportedly being investigated.
Iowa has been without Keaton Anthony, one of its top hitters for five straight games, but are 4-1 in those games.
The players have been able to overcome the distractions off the field to play winning baseball.
They also had to withstand a weather delay on Saturday that lasted for nearly one hour, and they had to respond after Michigan State scored two runs to even the score at 5-5 in the seventh inning.
Dorighi and his cohorts responded by scoring three runs in the eighth.
"To be able to put a group of guys out there that's willing to compete and we had some adversity with the weather as well, just shows the kind of group that we have in that clubhouse and how people are willing to put the team in front of themselves and give everything they've got," Dorighi said.
Iowa improved to 36-12 overall and 12-7 in the Big Ten with Saturday's victory and will try to sweep the Spartans (29-18, 10-10) on Sunday.
Sophomore Brody Brecht will start for Iowa on the mound Sunday.
Brecht had been the Friday starter throughout the Big Ten season, but he has struggled with his control in recent starts, causing Heller to go deep into his bullpen.
Sophomore Marcus Morgan was inserted as the new Friday starter, and he seized the opportunity by throwing six no-hit innings during Friday's 9-0 victory over Michigan State.
Heller hopes that Brecht will benefit from the few extra days of rest.
"I think Brody needed a couple days rest to be honest with you, a couple extra days to get ready for this stretch run," Heller said. "I think that could be as good for him as anything. Hopefully, Brody will just go out and compete real hard and try to pound the strike zone and just let the chips fall where they may.
"I know he's looking forward to it. He's fired up and he's ready to go. We're all kind of anxious to see how it goes tomorrow."
This has been a hectic week for Heller, who also had surgery this past Monday to repair a torn meniscus in his left knee.
But through it all, his team has stayed together and has stayed focused.
"It says a lot," Heller said. "It just shows how process focused they are and how close-knit they are and how they play for each other. It doesn't matter who's in the lineup day to day. Whoever is in the lineup is going to get the job done and everybody believes in them and believes in themselves."
𝐁𝐈𝐆 𝐑𝐈𝐆, 𝐁𝐈𝐆 𝐅𝐋𝐘 @bdorighi x #Hawkeyes pic.twitter.com/Iv91cR5djS

— Iowa Baseball (@UIBaseball) May 13, 2023