The Iowa baseball team continues to surge at the right time as it crushed Northwestern 15-3 in the series opener on Thursday in Evanston, Illinois.
Iowa bolted to a 10-0 lead after four innings and then cruised to victory.
Iowa has won six of its last seven Big Ten games and improved to 38-12 overall and 14-7 in conference play despite being without star hitter Keaton Anthony for all seven games.
Anthony and teammates Jacob Henderson, Ben Tallman and Gehrig Christensen have all missed the last seven games as an investigation into sports wagering is conducted.
The four players are believed to be among 26 UI student-athletes, and 15 Iowa State student-athletes, that are part of the investigation, but little else is known at this point.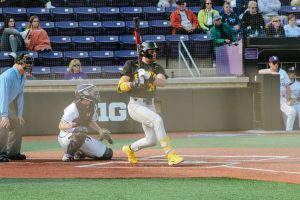 What is certain, though, is that the Iowa baseball team is on a roll.
Sophomore Marcus Morgan looked impressive in his second performance as the Friday starter on a Thursday, allowing just three hits over four innings and recording five strikeouts.
A Big Ten series usually starts on Friday, except for the final series of the regular season in case of threatening weather.
Iowa head coach Rick Heller had the luxury of turning to his bullpen early, and saving Morgan for the Big Ten Tournament, thanks to the lopsided score in the final Big Ten series of the season.
Northwestern is last in the Big Ten standings, but it also has shown a knack for beating the Hawkeyes in recent seasons.
Heller almost certainly reminded his players of that as they jumped all over the struggling Wildcats.
Iowa was leading 7-0 in the fourth when Brayden Frazier cleared the bases with a double to the left-centerfield gap.
The drubbing was well underway.
Iowa not only strengthened its NCAA Tournament hopes with Thursday's victory, but also stayed in the race to win the Big Ten regular-season title.
The Hawkeyes entered Thursday's game one game behind Big Ten leader Maryland in the loss column.
Iowa will look to win the series against Northwestern in game two on Friday.