By Pat Harty
The thrill of playing baseball in June is a rare experience for the Iowa baseball program, so when it happens, the team that's making history already ranks among the best in program history.
That is certainly the case with the current Iowa team, which was on the verge of adding to its legacy against regional host Indiana State in an NCAA second-round game on Saturday in Terre Haute, Indiana.
But then disaster struck in the eighth inning when the Iowa bullpen allowed five runs, turning a 4-2 lead into a 7-4 deficit, and that score would hold up as the top-seed Sycamores pulled off the dramatic come-from-behind win before its home crowd.
Iowa sophomore Brody Brecht showed why Major League scouts love his potential on the mound as he threw seven solid innings, allowing just two runs, two hits and recording eight strikeouts.
Iowa was leading 4-2 when Rick Heller turned to his bullpen in the eighth inning after Brecht had thrown 108 pitches.
The bullpen has been reliable throughout the season, but it just wasn't meant to be in this case as Indiana State immediately took advantage of Brecht being out of the game.
Iowa had a runner on first in the ninth inning when Brayden Frazier hit a ball to deep left field that Indiana State left fielder Adam Pottinger leaped and caught at the fence, robbing Frazier of a two-run homer.
"We rallied a little in the ninth, but their left fielder made an awesome play," said Heller. "We gave them a few things in the eighth and they took advantage of the opportunities, and you have to tip the hat to them on that."
Iowa (43-15) will now face North Carolina in an elimination game at 11 a.m. on Sunday at Bob Warn Field, and with a somewhat rested Indiana State squad waiting for the winner.
"Brody went out and did everything he could do to give us a chance," said Rick Heller. "Offensively, we battled all game and finally broke through with a couple runs to give us a two-run lead in the eighth. Unfortunately, it didn't go well when we went to the bullpen with a couple free bases and some bad luck on a few plays."
Iowa, which is making its third appearance in the NCAA Tournament under Rick Heller, but just its sixth in program history, would tie the program record for wins at 44 with a victory over the Tar Heels.
North Carolina bounced back from a 5-4 loss to Iowa in the first round on Friday to defeat Wright State 5-0 in an elimination game on Saturday.
Brecht was touched for a solo homer early in Saturday's game, but he stayed composed and kept throwing strikes.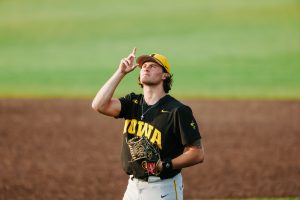 And when Brecht throws strikes, he is close to unhittable at times.
But baseball is also highly unpredictable, and often filled with shifts in momentum, and Saturday's game was a painful example of that in how quickly the momentum and the lead changed.
Relief pitchers Jared Simpson and Luke Llewellyn both struggled in Saturday's game, and it proved costly.
Simpson allowed four runs and recorded just one out before being replaced by Llewellyn in the eighth.
"Luke came in in a tough situation where he had to pound the strike zone and they made us pay with two big hits to break the game open," Heller said.
You feel for Brecht, but you also feel for the two relievers that struggled because imagine how they feel.
Some of the hits that caused damage in the eighth inning really weren't hit that hard, but that's baseball, a sport that sometimes leaves you scratching your head and feeling miserable.
Iowa was so close, only to fall short in the end in gut-wrenching fashion.
This Iowa team is certainly capable of winning two games on Sunday.
But to have been so close to being in control of the regional, Iowa now faces an elimination game, and the usually rock-solid bullpen is to blame for it.
In fairness to the bullpen, it also has rescued Iowa from some precarious situations this season.
The challenge is to move on from this deflating and costly loss because there is a lot of baseball to be played on Sunday by the winner of the Iowa-North Carolina game.
The sidebar to Saturday's game was the unique circumstance surrounding Rick Heller, who had previously been the head coach for Indiana State from 2010-13 before moving to Iowa.
Heller's success with the Sycamores, which included an NCAA Tournament berth in 2012, helped to make him an obvious choice for the Iowa job when it became available after the 2013 season.
Heller was so close to making it 2-0 against his former team, with Iowa having defeated Indiana State 6-2 in the season opener.
But the game that he loves also has a cruel side, and that side rose up at a bad time, and with so much on the line.
As was the case against North Carolina in Friday's game, Iowa started quickly on offense against the Sycamores, scoring the game's first run on Raider Tello's RBI single in the top of the first inning.
Brecht then cruised through the bottom of the first, retiring the side on just nine pitches.
Iowa was 27-9 in games in which it has scored first this season, so to grab the early lead was encouraging.
The lead didn't last long, however, as Brecht gave up a solo home run with no outs in the second inning.
The Ankeny native limited the damage to just one run by recording two strikeouts, and by getting a 1-3 groundout to end the frame.
Iowa fell behind 2-1 in the third as the Sycamores scored against Brecht on a sacrifice fly.
Indiana State's lead didn't last long, though, as Tello scored on a single by Iowa shortstop Michael Seegers in the fourth, evening the score at 2-2.
Neither team scored in the fifth inning, so what appeared to be a great matchup on paper was playing out that way on the field.
Iowa's offense then came alive in the sixth as Brennen Dorighi scored on a double by Sam Hojnar to give Iowa a 3-2 lead.
Tello then scored on a sacrifice by centerfielder Kyle Huckstorf, giving Iowa a 4-2 lead.
Iowa seemed to be in control of the game, but Indiana State is hosting a regional for a reason, and it showed a no-quit mentality against a good Iowa team.
Saturday's game was the second between Iowa and Indiana State this season.
The first came in the season opener on Feb. 17 in Port Charlotte, Florida when Kyle Huckstorf smacked a walk-off grand slam in the 11th inning to give Iowa a 6-2 victory.
Iowa also played its 14th straight game without star hitter Keaton Anthony, and without pitcher Jacob Henderson and catchers Ben Tallman and Gehrig Christensen as they are all being withheld from games as an investigation into sports wagering is conducted.
Hawkeyesports.com contributed to this report
A robbery reported in Terredise!! #RoadToOmaha x 🎥 ESPN+ / @IndStBaseball pic.twitter.com/xgu3zUfyhj

— NCAA Baseball (@NCAABaseball) June 4, 2023