By Pat Harty
IOWA CITY, Iowa – One of the greatest seasons in the history of the Iowa baseball program ended this past Sunday evening in disappointment.
The season will end that way for all but one of the 64 teams that made the NCAA Tournament this season because only one team will win its final game.
That's the downside to making the NCAA Tournament, and the only downside.
The sting from losing to Indiana State 11-8 in the regional title game will hurt for a while because losing is supposed to hurt.
But with some time to reflect, the Iowa players should come to realize and appreciate what they have accomplished under difficult and unusual circumstances, if they haven't already.
Iowa tied the program record with 44 victories this season and was one of just six teams in program history to make the NCAA Tournament.
Iowa also set single season records in three categories. Iowa pitchers set the single season record for strikeouts with 630, while Iowa batters set program records in walks with 326 and hit by pitches with 105.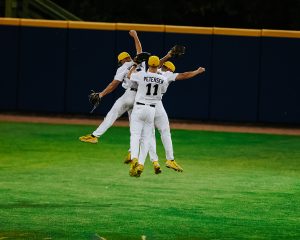 This Iowa team also had the best start to a season in program history, winning 19 of its first 22 games. One of those wins came against then top-ranked Louisiana State, and another, the first of the season, in fact, came against Indiana State.
The baseball schedule is a long grind that challenges players, physically and mentally.
Iowa had some brief skids this season, but the team always stayed on track.
It was resilient, optimistic and close-knit, and it never stopped competing as shown in the loss to Indiana State on Sunday.
"We fought until the end," said Heller. "That really shows the character of this team. We all really believed that we were going to find a way to score more runs tonight regardless of what happened."
Iowa's bullpen was pretty solid throughout the regular season, and in the Big Ten Tournament, but that was not the case in the regional as Indiana State scored five runs in the eighth inning of the first game against Iowa, turning a 4-2 deficit into a 7-4 lead that would hold up.
Iowa was playing uphill from that point on in the regional, and it ultimately was too much to overcome for a team that had plenty to overcome on and off the field.
Iowa played the final month of the season, a total of 17 straight games, without Keaton Anthony, who is arguably the best hitter on the team.
Anthony and teammates Jacob Henderson, Ben Tallman and Gehrig Christensen were all withheld from games as an investigation into sports wagering is conducted.
Heller said prior to postseason play that he was hearing that a decision about the status of the four players could be made soon, but that never happened.
What Iowa accomplished this season would be impressive under any circumstance. But to achieve what this team did despite all the obstacles and distractions just takes it to another level.
This might have been Heller's best coaching job as the head Hawk, and that's saying a lot.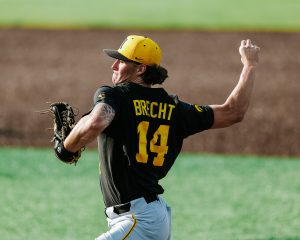 From how he handled his three talented, but sometimes inconsistent starting pitchers to keeping the team focused after losing a star player, Heller rose to the challenge as a leader.
Some of his pitching decisions in the regional have been questioned, or even criticized, including his decision to replace Brody Brecht after Brecht had thrown 108 pitches over seven innings in the first game against Indiana State.
Brecht was cruising along, but his pitch count was high, and Heller trusted his bullpen.
That decision would backfire, however, and those now criticizing Heller for not leaving Brecht in the game have hindsight on their side.
But if Heller had left Brecht in the game, and if Brecht had struggled, Heller would be criticized for having stuck with Brecht for too long, and for not trusting his bullpen.
Hindsight can work both ways.
This past weekend had to be gut-wrenching for Heller.
Because to lose under any circumstance is just awful, but to have it happen in the NCAA Tournament, and against a team that you used to coach, and a program that you helped to build, makes it even worse, or so you would think.
Heller just finished his 10th season as the Iowa head coach, and it now ranks as one of the best decades in the history of the program.
Iowa now consistently finishes in the upper half of the conference and wins more than 30 games on a regular basis.
Next year's team on paper looks strong, but it's hard to know for sure with college baseball because of the uncertainty surrounding the Major League draft, and because of the impact caused by the transfer portal and name, image and likeness.
Assuming all three starting pitchers return next season, Iowa could have one of the best starting rotations in college baseball.
Brecht and fellow junior-to-be Marcus Morgan both have electric stuff, but they also both struggle to throw strikes at times.
That was probably the biggest problem with this Iowa team in that the pitchers, both the starters and relievers, allowed too many free bases.
Iowa walked six batters and hit a record 10 batters in the loss to Indiana State on Sunday. That adds up to 16 free bases, which is just unacceptable.
But on the positive side, shortstop Michael Seegers, third baseman Raider Tello, second baseman Sam Hojnar, infielder/designated hitter Ben Wilmes, left fielder Sam Petersen, centerfielder Kyle Huckstorf, right fielder Brayden Frazier and catcher Cade Moss all have eligibility remaining, as do relief pitchers Jack Whitlock, Will Christopherson and Luke Llewellyn.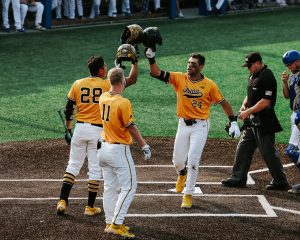 The one big hole to fill is at first base where graduate transfer Brennen Dorighi played such a significant role on the field, and as a leader in his only season as a Hawkeye.
Dorighi, who transferred from Wofford, combined for six hits, in the two games on Sunday, including two home runs.
He also was voted a team captain despite having spent just one semester as a Hawkeye.
He will be greatly missed.
It's also reasonable to assume that Keaton Anthony, a third-year sophomore, has played his final game as a Hawkeye with the Major League draft waiting.
You can't help but feel a little sorry for Anthony because he has sort of become the face of the gambling investigation since it happened in season.
The Georgia native was having a spectacular season at the plate, until his season ended abruptly.
Anthony incredibly made third-team All-America this season despite missing the final 17 games.
And yes, rules are rules, but for Anthony to have missed the final month of the season seems severe punishment, especially since an Iowa student-athlete only serves a one-game suspension for driving under the influence, and since it was announced early in the investigation that there was no suspicious activity connected to any Hawkeye sporting events.
Teams have to prepare and be ready for obstacles and distractions because it goes with the territory.
But there was no way to prepare for what happened to Iowa this season in regard to the sports gambling investigation because it's uncharted territory.
Other players had to step up, and that's what happened, the Iowa baseball version of the next man in.
The Iowa baseball program is in about as good a shape as it ever has been.
Heller has recruited well, but not just from a talent standpoint. He also has recruited players that fit the Iowa culture and that are willing to sacrifice for the benefit of the team.
With Heller, it comes down to understanding and accepting your role, and doing your part.
This season didn't end the way fans had hoped, but the good still far outweighes the bad.
And that has become common under Rick Heller.