By Pat Harty
IOWA CITY, Iowa – Upon seeing the Iowa football team's 2024 and 2025 conference schedules for the first time, my initial thought was that Kirk Ferentz had better take advantage of the 2023 schedule because he will never see another one like it.
Penn State is the only opponent on Iowa's 2023 schedule that finished last season ranked in the Associated Press top 25, and Penn State is the only opponent that Iowa plays on the road in 2023 that isn't from either instate or from a state that borders Iowa.
Iowa and Penn State will meet in the 2023 Big Ten opener on Sept. 23 in State College, Pennsylvania.
Iowa's other four road games are against Iowa State on Sept. 9, Wisconsin on Oct. 14, Northwestern on Nov. 4 at Wrigley Field in Chicago, and Nebraska on Nov. 24.
All four of those road trips are about five hours or less one way from Iowa City, and from a competitive standpoint, all four of those games seem winnable for Iowa.
Now turn the calendar ahead to 2024 and Iowa's 2024 schedule doesn't look nearly as favorable from a competitive standpoint, from a convenience standpoint, or from a travel expense standpoint.
In 2024, Iowa will host conference opponents Maryland, Nebraska, UCLA and Wisconsin. The Hawkeyes travel coast to coast, playing at Illinois, Minnesota, Ohio State, Rutgers and USC. In nonconference play Iowa hosts Illinois State, Iowa State in the Iowa Corn Cy-Hawk Series and Troy.
The Hawkeyes are one of three teams to face both UCLA and USC in 2024.
Iowa's five 2023 road football games are a combined 1,610 miles from Iowa City. Its five 2024 road games are a combined 3,866 miles from home, and thanks to Mike Hlas from the Cedar Rapids Gazette for doing the math.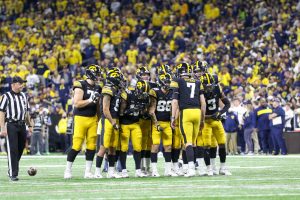 So, for those who prefer the path of least resistance, it would be wise to savor every second of Iowa's 2023 season because the level of resistance will increase significantly when UCLA and USC join the conference in 2024, along with the cost of following the team on the road.
Iowa's 2025 schedule looks slightly less daunting since USC, UCLA and Ohio State aren't on it, but Michigan also returns to the schedule, while Penn State stays on the schedule.
In 2025, Iowa's five league home games include Michigan, Michigan State, Minnesota, Northwestern and Penn State. The Hawkeyes travel to Indiana, Nebraska, Purdue and Wisconsin. Nonconference contests include Florida Atlantic and Massachusetts visiting Kinnick Stadium and the Iowa Corn Cy-Hawk Series game at Iowa State.
The Big Ten also announced that Iowa's three protected opponents would be Minnesota, Nebraska and Wisconsin as was expected.
So, there was an attempt to honor tradition up to a point.
But it seems safe in saying that starting in 2024 Iowa will almost always have either Michigan, Ohio State or USC on the football schedule, or in some cases, two of those three teams as in 2024 with Ohio State and USC on Iowa's schedule.
Those elite teams combined with the usual grind against the Big Ten border rivals makes Iowa's path to a Big Ten championship far more challenging, or so it would seem.
Illinois is also ascending under Bret Bielema, while Nebraska fans are convinced once again that they finally have the right guy to restore the program to greatness in Matt Rhule.
P.J. Fleck has also turned Minnesota into a solid program, and that only makes Kirk Ferentz's job that much tougher, although, Fleck is winless against the Hawkeyes.
With USC, Ohio State and Michigan, the Big Ten will have three of the top programs in the country, with Penn State just a notch below.
Kirk Ferentz is entering his 25th season as the Iowa head coach, and so much has changed since he took over for Hayden Fry in 1999.
The Big Ten only had 11 teams in 1999, while the possibility of having name, image and likeness and the transfer portal both impacting college athletics as they are now seemed about as realistic as landing on Pluto.
But here we are nearly a quarter century later and NIL is thriving, the transfer portal is rocking and UCLA and Rutgers are soon to be protected opponents in football.
Welcome to the new world of Big Ten football where anything seems possible if the money is right.