By John Bohnenkamp
IOWA CITY, Iowa – Cooper DeJean's 54-yard punt return for a touchdown that wasn't left plenty of questions after Iowa's 12-10 loss to Minnesota on Saturday at Kinnick Stadium.
The Hawkeyes appeared to have taken the lead with 1:21 to play when DeJean fielded a punt near the Minnesota sideline, then cut across the field, outrunning one defender to the end zone for an apparent touchdown.
But after a replay review, it was ruled that DeJean had made what referee Tim O'Dey said was an invalid fair-catch signal, and the touchdown was waved off.
O'Dey's explanation, through a pool reporter:
"Let's start with definitions that surround the play. With regard to it there are valued and invalid signals that can be given during any kick play. An invalid signal is any waving motion by a receiving team member that happens throughout the kickdown. That's the first piece of information you have to apply here. 
"The second piece that comes from rule 6, is that any catch or recovery of a kick after an invalid signal is given causes the ball to become dead upon recovery or catch. Those are the basis for what we made a decision on after seeing the play. 
"Going back to the play. The receiver makes a pointing gesture with his right hand and he makes multiple waving gestures with his left hand. If you look at the video you'll see that. That waving motion of the left hand constitutes an invalid fair catch signal. So when the receiving team recovers the ball, by rule it becomes dead. So that is a reviewable element of the game. We let the play run out and then when we went to review, review shows with indisputable evidence that there is a waving motion with the left hand. And that is when these rules are applied.
"It's legal to point but any waving motion of the hands during a kick play is considered an invalid signal."
That explanation wasn't good enough for Iowa coach Kirk Ferentz, who thought the review was originally about whether DeJean had stepped out of bounds along the sideline.
"Clearly, he didn't," Ferentz said. "I appreciate the replay on that. That's fine, they're doing their homework, make sure they're correct on that. But then somehow we went from there to a whole different series of topics. It's really hard to accept the explanation we got."
"I assumed they would blow the whistle if it was a fair catch," DeJean said. "I didn't hear a whistle, though, so I just kept going."
DeJean said he held out his left hand to balance himself.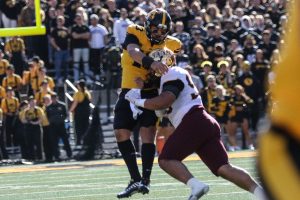 "I didn't think I got it over my head for a fair-catch signal, I don't think anybody on the field thought that," DeJean said. "It's tough to lose like that, yeah."
"I was told that he was waving," Ferentz said. "What they tell us in pre-game, a wave is up here, above the head. Most people when they run, their arms do wave."
Ferentz was unhappy that there were six replay reviews during the game, including one that led to the ejection of Iowa's Karson Sharar for targeting.
"I guess I'm still not — fuzzy, maybe I slept through the meeting when they covered that," Ferentz said about who makes the decision on replay reviews. "I'm still not sure who makes the final decision. I know we go to Pittsburgh for analysis, and my theory there is the more people get involved, probably the more screwed up things are.
"If it was up to me, if you want my opinion, it ought to go back to the official who is on the field, talking to the coaches. He should have the final say. That might clean things up. It might not make it right but it might make it easier to understand. Whoever the wizard is behind the curtain, it is what it is."
**********
ENDING A STREAK: Minnesota ended an eight-game losing streak, taking the Floyd of Rosedale trophy home for the first time since losing it in 2015.
Minnesota did it by playing what coach P.J. Fleck termed, "the long game," which was essentially playing Iowa's game and hoping for the Hawkeyes to make a mistake.
Fleck brought up a conversation he had with Illinois coach Bret Bielema, in which the two discussed how to play the Hawkeyes.
"He's like, 'There's a strategic way to beat Iowa. And you've got to commit to it,'" Fleck said. "As tempting as it is, as frustrating as it is at times, you've got to stick with it."
**********
BYE WEEK: Iowa is off until the November 4 game at Northwestern.
Ferentz said there is much work to be done with the time off.
"We are just trying to win games," he said. "That's all we're trying to do. We have been doing a pretty good job up until today. That's what we are trying to do. You know, if we had gotten a little different interpretation on that last one, the call, we would have won today."