By Pat Harty
IOWA CITY, Iowa – Nobody loved being a Hawkeye football player more than Bret Bielema.
He loved it so much that he had it permanently painted on his body in the form of a tiger hawk tattoo on his calf.
He loved it so much that he came to Iowa as a walk-on and would go on to become a highly respected team captain.
He loved it so much that he became a Hawkeye assistant coach under both Hayden Fry and Kirk Ferentz.
He loved it so much that he raced to midfield after Iowa had defeated Iowa State in his senior season in 1992 just so he could tell Iowa State head coach Jim Walden how much he enjoyed kicking his you know what over the past four seasons.
Bret Bielema will forever be a Hawkeye, but right now he's the head football coach at Illinois and he would like nothing more than to defeat his beloved alma mater for the second year in a row.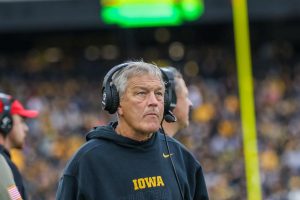 Who could forget last season's game in Champaign in which Illinois prevailed 9-6 in an epic battle of field goals?
Saturday's game could be more of the same, although, Iowa is coming off a 22-0 victory over Rutgers last Saturday at Kinnick Stadium in which it had a season-high 402 yards, while Illinois is coming off a 48-45 victory over Indiana in which its backup quarterback John Paddock passed for 507 yards and four touchdowns.
"Obviously, I know coach Bielema, know him very well, known him for a long, long time," said Iowa head coach Kirk Ferentz. "He was a player here at the tail end of my time as an assistant. He's done a great job as an assistant, and now he's had three coaching jobs, head coaching jobs, and been successful everywhere, and he's doing a great job at Illinois, too.
"They had a good football team last year, and they come in here right now with a lot of momentum. They've won three out of their last four games, playing really well. It's an interesting situation where not only have they won, but they have two quarterbacks that are playing well. Their team has great confidence in both those guys.:"
Bielema announced earlier this week that Luke Altmyer would get the start at quarterback on Saturday despite Paddock's performance last Saturday.
But should Altmyer struggle, Bielema has the luxury of knowing that he could switch back to Paddock, while Kirk Ferentz doesn't have that luxury since sophomore Deacon Hill is the only healthy quarterback who has played in a game for Iowa this season.
Hill is coming off his best game as Hawkeye as he passed for 223 yards and one touchdown against Rutgers.
Bielema facing his alma mater is always an interesting storyline, but Saturday's game will be decided by what happens on the field with things like turnovers, explosive plays, penalties and lucky bounces.
A win would give Iowa (8-2, 5-2) the Big Ten West Division title outright, while a win by Illinois (5-5, 3-4) would make it bowl eligible for the second consecutive season under Bielema, who was previously the head coach for Wisconsin and Arkansas.
Iowa will be without one of its best players, however, with junior cornerback Cooper DeJean out for the rest of the season due to a lower leg injury.
Here is a look at which team has the advantage at each position:
Quarterback: One week after passing for a whopping 506 yards and four touchdowns in a 48-45 victory over Illinois, John Paddock apparently is headed back to the bench.
That should tell you how much Bret Bielema believes in starting quarterback Luke Altmyer, who transferred from Mississippi before the season.
Altmyer is expected to start against Iowa on Saturday after having missed last Saturday's game against Indiana because of an injury.
Altmyer has passed for 1,883 yards and 13 touchdowns this season while completing 64.8 percent of his passes. However, he also has thrown 10 interceptions, while Paddock has only been intercepted once in 62 attempts.
Altmyer is also a threat to run as he has rushed for 282 yards and three touchdowns this season.
Deacon Hill will make his sixth consecutive start for Iowa, but it's been a struggle since he replaced Cade McNamara, who suffered a season-ending knee injury in the first quarter against Michigan State in the fifth game. Hill is only completing 46.5 percent of his passes for 715 yards, four touchdowns and five interceptions.
The hope is that he has turned the corner with his performance against Rutgers because neither of Iowa's backup quarterbacks, junior Joe Labas and true freshman Marco Lainez, have played this season.
Advantage: Illinois
 **********
Running back: Iowa's top three running backs – Leshon Williams, Kaleb Johnson and Jaziun Patterson – have combined for 1,126 rushing yards and five touchdowns this season, while Illinois' top three running backs – Kaden Feagin, Reggie Love III and Josh McCray – have combined for 991 rushing yards and seven touchdowns.
Williams leads Iowa with 614 rushing yards and is averaging 5.0 yards per carry.
Feagin leads Illinois with 438 rushing yards and is averaging 4.6 yards per carry.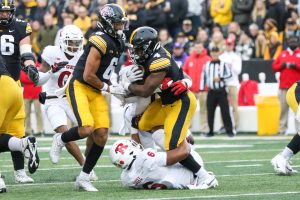 Both backfields have been hampered by injuries as Kaleb Johnson and Jaziun Patterson have both missed three games for Iowa, while Love returned to the lineup in week 11 after having missed three straight games.
McCray is out for the season with a neck injury that he suffered in the 44-19 loss against Purdue on Sept. 30 in West Lafayette, Indiana.
Iowa has a slight advantage in total rushing yards and is healthier than Illinois right now.
Advantage: Iowa
**********
Wide receiver:  No disrespect to Iowa's wide receivers, but this isn't even close.
Illinois has three wide receivers that have combined for 1,802 receiving yards and 12 touchdowns, led by junior Isaiah Williams, who has 68 catches for 893 yards and five touchdowns.
Williams, a former quarterback, leads the Big Ten, and is ranked 12th nationally, with an average of 6.8 catches per game. He has at least one catch in all 35 games since switching from quarterback.
He is hardly a solo act, though, as Pat Bryant, a 6-foot-3, 200-pound junior, has 36 catches for 515 yards and and team-leading six touchdown grabs.
Senior Casey Washington has 32 catches for 394 yards and one touchdown, giving Illinois a third threat at wide receiver.
Iowa, on the other hand, doesn't have a wide receiver with more than 19 catches or more than 167 receiving yards.
Those two totals belong to sixth-year senior Nico Ragaini.
Four wide receivers have caught passes for Iowa this season, totaling 43 receptions for 466 yards and three touchdowns.
The recent emergence of Kaleb Brown has provided a boost for Iowa at this position, but again, this is a no-brainer.
Advantage: Illinois
**********
Tight end: This would have been an easy choice if Iowa were healthy at tight end.
But that is hardly the case with Iowa's top two tight ends – Luke Lachey and Erick All – both out with injuries.
Lachey hasn't played since the third game, but his 131 receiving yards still ranks fourth on the team, while All hasn't played since the seventh game, and yet, he still leads the team with 21 receptions, 299 receiving yards and three touchdown catches.
Addison Ostrenga leads the healthy Iowa tight ends with 14 catches and 92 receiving yards, followed by Steve Stilianos with five grabs for 54 yards.
True freshman Zach Ortwerth only has one catch in four games this season. But his catch gained 54 yards against Rutgers and is Iowa's longest pass play this season.
Junior Tip Reiman leads the Illinois tight end with 15 catches for 173 yards and three touchdowns.
Fellow junior Griffin Moore, a former high school quarterback, has 11 catches for 148 yards and one touchdown.
Advantage: Illinois
**********
Offensive line: Illinois has three offensive linemen that have started at least 21 games and seven that have started at least one game.
Isaiah Adams, who transferred from junior college prior to last season, has started 23 straight games to open his Illinois career. He also has started at every position except center. He moved to right tackle in week three after starting the first two games at left guard.
Senior Julian Pearl has started 21 consecutive games at left tackle, while junior Zy Crisler has made 22 career starts at three different positions.
Adams, Pearl and Crisler all stand at east 6-5 and weigh at least 315 pounds.
Iowa also has a load of experience on the offensive line as its five listed starters for this week have combined for 117 career starts.
Junior Mason Richman has made 32 starts at left tackle, while graduate transfer Rusty Feth has started four games at left guard after having made 39 starts for Miami (Ohio) at both guard and center.
Junior Tyler Elsbury is listed as the starting center in place of injured starter Logan Jones. Elsbury has made two career stars and played in 34 games overall.
This was another tough choice because neither of these units are great, but they're both getting better and have plenty of veteran experience.
Advantage: Illinois
 **********
Defensive line: Illinois might have the best set of defensive tackles in college football in juniors Jer'Zhan Newton and Keith Randolph.
Newton is tied for first in the nation among interior defensive linemen with 33 quarterback pressures according to PFF. He also led all Power 5 interior defensive linemen with 59 quarterback pressures last season.
Newton is third in FBS in snaps among defensive tackles with 531. That is 46 more snaps than any other Big Ten interior lineman.
Newton is also a semifinalist for the Bednarik Award, which recognizes the best defensive player in college, and a semifinalist for the Lombardi Award, which goes to the best lineman on the offensive or defensive side in college football.
The 6-5, 300-pound Randolph leads the nation in tackles per game among defensive tackles at 5.6. He has 39 tackles while appearing in seven games this season, and four tackles for loss.
Nose guard Denzel Daxon and defensive end Bryce Barnes have 17 and 16 tackles, respectively.
Iowa's defensive line doesn't have the same individual star power as Illinois, but Iowa's four starters on the defensive have combined for 80 career starts, led by senior tackle Logan Lee with 37 starts.
Junior defensive end Ethan Hurkett and sophomore tackle Aaron Graves both provide quality depth as reserves. Hurkett has 39 tackles and four tackles for loss, while Graves 29 tackles, three tackles for loss, one sack and one forced fumble.
Junior defensive end Deontae Craig leads the Iowa defensive linemen with 45 tackles and is second on the team with six quarterback hurries.
Sixth-year senior defensive end Joe Evans, a former high school quarterback, leads Iowa with nine quarterback hurries, 8.5 tackles and 4.5 sacks.
This was another tough choice as Illinois probably has the two best defensive linemen, while Iowa has an edge in depth.
Advantage: Illinois
 **********
Linebacker: This is sort of the opposite of the defensive line situation in that Iowa has the individual star power at linebacker, while Illinois has five linebackers that have made at least 25 tackles this season.
Sophomore Dylan Rosiek leads Illinois with 62 tackles, while outside linebacker Seth Coleman with 43 stops and six tackles for loss.
Iowa will counter with arguably the best linebacker tandem in the nation in seniors Jay Higgins and Nick Jackson, a graduate transfer from Virginia.
Higgins, a semifinalist for the Butkus Award, leads the Big Ten and ranks third in the NCAA with an average of 12.1 tackles per game. He and Jackson have combined for 200 tackles this season, the highest by a Power 5 tandem in the nation.
Iowa often plays with just two linebackers and five defensive backs, but when Iowa shifts to a 4-3 alignment, senior Kyler Fisher becomes the third linebacker. He has 23 tackles this season and has appeared in 43 games overall.
Advantage: Iowa
 **********
Defensive backfield: Few teams were hit harder by personnel losses in the secondary from last season than Illinois.
Former All-Big Ten cornerback Devon Witherspoon is now a rising star in the NFL, but the secondary he left behind is struggling as opponents are averaging 233.6 passing yards per game against Illinois and have thrown 19 touchdown passes and just five interceptions.
Sophomore Miles Scott is second on the team with 57 tackles, but that isn't necessarily a good thing when a defensive back is your second leading tackler. He also has one interception and three passes defended.
Illinois has six defensive backs that have made at least 31 tackles.
Iowa was dealt a massive blow when All-Big Ten junior cornerback Cooper DeJean suffered a season-ending lower leg injury in practice on Wednesday. DeJean was having a spectacular season with 41 tackles, two interceptions and five pass breakups.
He will likely be replaced by redshirt freshman Deshaun Lee, who started the first two games this season when junior cornerback Jermari Harris was serving a two-game suspension.
Even without DeJean, Iowa still has plenty of experience and playmakers in the secondary.
Senior safeties Quinn Schulte and Sebastian Castro rank third and fourth on the team with 51 and 45 tackles, respectively.
Castro, who mostly plays the cash position, also leads the team with three interceptions, including a pick-six against Iowa State, and he is tied with DeJean for the most pass breakups with five.
Sophomore strong safety Xavier Nwankpa, a former five-star recruit from Southeast Polk, has 37 tackles, two tackles for loss, two pass breakups and one interception.
Advantage: Iowa
 **********
Special teams: The current trend in which more teams are recruiting punters from Australia will be on full display in this game.
Iowa is represented by 26-year-old senior Troy Taylor, who is from Melbourne, Australia. Taylor has been a force since he joined the team in 2020.
He leads the nation with 63 punts and is averaging 47.6 yards per punt. He has had 24 punts travel at least 50 yards and 24 downed inside the 20-yard line.
Taylor's ability to flip field position has helped to offset Iowa's struggles on offense. He earned Mid-Season All-America honors and is a semifinalist for the Ray Guy Award, which goes to the nation's top collegiate punter.
Taylor has punted 265 times in his career for a 45.9 average.
Illinois punter Hugh Robertson, who is also from Melbourne, Australia, has punted 45 times this season for a 42.6 average.
Iowa sophomore kicker Drew Stevens has made 17-of-22 field-goal attempts, including a 53-yarder with 14 seconds remaining that lifted Iowa to a 10-7 victory over Northwestern at Wrigley Field.
Illinois kicker Caleb Griffin has made 9-of-13 field-goal attempts this season, with the longest from 53 yards.
Iowa's return game also suffered a blow with the loss of DeJean as he is leading the Big Ten with an 11.5 punt return average.
Advantage: Iowa
Prediction: Iowa 15, Illinois 6
Illinois vs. Iowa
When: Saturday, 2:35 p.m.
Where: Kinnick Stadium
TV:FS1
Radio: Hawkeye Radio Network
Series: Illinois leads, 39-37-2.
Last meeting: Illinois won 9-6 on Oct. 8, 2022 in Champaign, Illinois