By Pat Harty
IOWA CITY, Iowa – As far as career highlights go, voting for the 2020 Heisman Trophy was not a high point for me.
It was actually sort of embarrassing, but my parents taught me at a very young age to laugh at myself. I'm not exactly sure why, unless maybe they saw me coming and knew there would be plenty to laugh about.
I've been voting for the Heisman Trophy since the mid-1990s and will always remember special moments such as 2002 when I picked Iowa quarterback Brad Banks to win the award, and deservedly so.
I also remember picking former Iowa State running back Troy Davis as my winner in 1996, picking Tim Dwight third in 1997, which was probably a reach, and I remember picking Josey Jewell for third place in 2017, which drew the ire of Iowa State fans on Twitter.
But what I'll remember the most about picking the 2020 Heisman winner is how it actually happened.
I have bad habit of procrastinating, and waited until the day it was due to cast my ballot. It was about four hours before the final deadline when I clicked on the link to make my three picks.
Everything was going fine until I inadvertently skipped a step. I tried to start over, but with no success.
Frustrated and running short on time, I sent an e-mail to a link that was provided. I explained what had happened, and said that I didn't have all day to figure out how to cast my vote.
So in other words, I was being sort of baby about a problem that I had created.
It barely took one minute for somebody from the Heisman foundation to respond to my e-mail. I was given a number to call, and a person answered right away.
I explained my problem and the person then volunteered to take my information over the phone after having verified that it was me.
That's when my mind went blank as I couldn't remember DeVonta Smith's last name.
He was my pick for first place, and had been for a while, but his last named in that moment had escaped me.
I briefly thought of the name, Devonte Young, in reference to the former Iowa receiver and special teams standout, but that obviously didn't solve the matter.
So finally, I just said "the receiver from Alabama, DeVonta, what's his last name? And the person on the phone, thankfully, took it from there.
I then picked Iowa State sophomore running back Breece Hall for second place and Iowa junior defensive tackle Daviyon Nixon for third place.
And yes, I remembered both their first and last names.
I then tried to explain my unconventional second- and third-place picks, but the person on the phone didn't seem too interested.
In fact, he seemed eager to get off the phone, probably because he wanted to tell somebody about what he had just experienced.
You know, sort of like, 'hey, I just took the votes over the phone from some clown in Iowa City who couldn't even remember DeVonta Smith's last name, and that was his winner. Can you believe it?"
It would've made for a good story over dinner at my expense, and that's okay, because remember, sometimes you just have to laugh at yourself.
Some would accuse me of being biased with my second and third picks since I live in Iowa and cover the Iowa football team.
And maybe so.
But until somebody tells me that the Heisman Trophy is for quarterbacks only, I prefer to think outside the box.
It might have made more sense to have had Clemson quarterback Trevor Lawrence and Alabama quarterback Mac Jones in my top three, along with DeVonta Smith, because quarterbacks certainly have a hold on the award, and play a huge role in a team's success.
Lawrence, who finished runner-up in the Heisman voting, had entered the season as the favorite to win the Heisman Trophy and he completed nearly 70 percent of his passes for 2,753 yards, 22 touchdowns and four interceptions. He also had seven rushing touchdowns and led Clemson to the college playoff.
But Lawrence also missed two games in the regular season due to COVID-19 health concerns, including a loss to Notre Dame.
To me, that was significant.
As for Mac Jones, who finished third in the voting, he threw for 3,739 yards and 32 touchdowns in the regular season, but missed out on the highest placing for an Alabama quarterback. AJ McCarron and Tua Tagovailoa both were runner-ups.
Jones certainly has impressive numbers, but he also has impressive teammates, including DeVonta Smith, who had 1,511 receiving yards and 17 touchdown catches in the regular season. Smith is just the seventh player that did not primarily play quarterback or running back to win the award and the first this century. The last receiver to win the award was Desmond Howard of Michigan in 1991.
To me, it came down to believing that Smith's receiving yards were more impressive than Lawrence's and Jones' passing yards.
Smith had entered the season with Mac Jones and Alabama running back Najee Harris both getting more attention. It wasn't even certain if Smith was Alabama's top receiver because Jaylen Waddle was pretty good, too.
But Waddle was injured Oct. 24 against Tennessee and hasn't played since. His absence made it easier for defenses to focus on Smith, and yet, Smith still caught 27 passes for 518 yards and eight touchdowns in his next three games.
A strong case also could've been made for Florida quarterback Kyle Trask, who finished fourth in the voting. He set a Southeastern Conference record with at least four touchdown passes in his first six games and led the nation with 4,125 passing yards and 43 touchdowns during the regular season. He was considered perhaps the favorite for the Heisman Trophy until consecutive losses to end the regular season damaged his candidacy.
But I just felt that Breece Hall and Daviyon Nixon had statistics that were equally impressive, and shouldn't be penalized for playing a position other than quarterback.
Hall, a consensus All-American, led the nation in rushing yards and finished the regular season with 1,572 rushing yards and 23 touchdowns. He also finished sixth in the voting for the Heisman Trophy, so his support went way beyond my second-place vote.
Some will say that picking Nixon for third was a reach, and a case of me showing my Hawkeye biased.
But I will counter by saying that Nixon played his position as well or better than any player in the country this season. I saw it with my own two eyes over a period of eight weeks.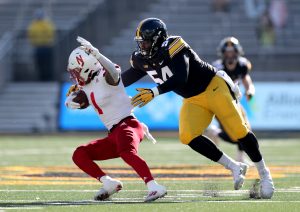 The fourth-year junior was a disruptive force in the trenches as he led the conference in tackles for loss (33), tied for the conference lead in sacks (5.5), and had the most tackles by a Big Ten defensive lineman (41).
You could argue that to have compiled 33 tackles for loss in eight games is as impressive, or more impressive, than what any quarterback accomplished this season.
Nixon was impossible to block at times, his combination of power and speed too much for opponents to contain.
He led a defense that performed well throughout the season, and was part of a team that won its final six regular-season games.
So I just figured that Daviyon Nixon deserved my third-place vote, and proud to say that I remembered his last name.
The year 2020 was strange and surreal, and there is so much that we'd like to forget about it.
I just wish that I hadn't forgotten DeVonta Smith's last name.