Pat Harty
Born and raised in Des Moines, Pat Harty has lived in Iowa City since 1991. He has covered University of Iowa athletics throughout that time, including for 23 years as a beat reporter/columnist for the Iowa City Press-Citizen newspaper from 1991 to 2014. He grew up playing sports and is the younger brother of former Iowa linebacker Frank Harty. His twitter is @PatHarty.
Tyler Devine
Tyler Devine is an Iowa City native and a journalism student at the University of Iowa. He has been working with Pat Harty for the past four years. Tyler's great, great uncle is Iowa football legend Aubrey Devine and his great grandfather, Glenn Devine, also played football at Iowa. Both were a part of Iowa's first Big Ten Championship team in 1921.
Tyler currently lives in Iowa City with his wife, two dogs and cat. When he is not writing or studying, Tyler enjoys playing video games, listening to records and having a couple beers with friends at George's Buffet.
---

VORTEX Digital Business Solutions Inc is an Iowa City based, full stack, digital marketing agency with the creative of the West coast, the moxie of the East coast and the values of the Midwest.
As a dedicated business accelerator, VORTEX Digital Business Solutions helps our clients in all aspects of digital business including business marketing and social media strategy, traffic (including SEO), customer-facing communications, web and graphic design, social media implementation, commercial photography and video, short film production and analog and digital advertising.
Since the launch of our first business focused, customer driven website in 1996, VORTEX has applied the principles of benefit-driven, attraction-based advertising and direct response marketing accumulated over more than four decades of in-the-trenches experience as a small business owner/operator.

We've assisted hundreds of businesses, locally and across North American, tell their stories strategically to attract and retain more clients and help them cost-effectively and efficiently achieve their revenue and related business objectives.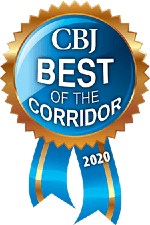 This year, Vortex Digital Business Solutions has been chosen as Best of the Corridor Website/App Developer, first runner up for Best Business Consulting, and second runner up for Best PR/Marketing/Creative Agency. Jonathan David Sabin – Infinity Photographic was also selected as Best Photographer/Videographer in the corridor.
Team VORTEX is honored to design and develop HawkFanatic.com and work with the amazing crew at HawkFanatic, who, true-to-name, are deeply devoted Hawkeye sports fanatics and an absolute pleasure to work with!