By Pat Harty
IOWA CITY, Iowa – If you were to pick one thing that has surprised you the most about the 3-0 Iowa football team right now, what would it be?
For me, the answer is easy: the amount of quality depth on the defensive line.
Tory Taylor has been spectacular as a punter, but he was also a force last season as a freshman, so it was easy to assume that he would perform at a high level this season.
But in all my years covering the Iowa football team, which goes back to 1992, it's hard to think of a time when Iowa has had more quality depth on the defensive line than it has now.
Iowa has had better defensive lines than the current one, most notably the 2004 defensive line, which was led by All-America defensive end Matt Roth and star tackle Jonathon Babineaux.
But even the 2004 defensive line couldn't match the current line's overall depth.
Iowa also had a star-studded defensive line last season with 2020 Big Ten Defensive Player of the Year Daviyon Nixon and first-team All-Big Ten defensive end Chauncey Golston leading the way.
So, it was easy to assume that the 2021 defensive line would experience growing pains from having to replace three starters.
But so far, the pain has been limited.
Iowa has used 10 defensive linemen this season, and almost all of them have played in critical moments rather than just in mop-up duty.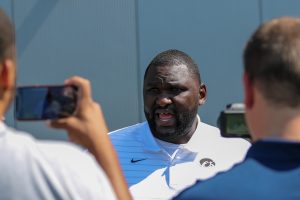 That not only speaks well about the players, but also about defensive line coach Kelvin Bell and assistant defensive line coach Jay Niemann.
Quality depth is what often separates Iowa from elite teams and building quality depth on the defensive line has been a struggle at times.
Former Iowa head coach Hayden Fry used to say that building depth on the defensive line was one of the hardest things to do at Iowa.
And while Iowa has had some rock-solid defensive tackles and defensive ends under both Fry and current head coach Kirk Ferentz, there usually has been a dramatic decline once you get past the top four or five defensive linemen.
But that hasn't been the case so far this season, which has fifth-ranked Iowa preparing to face Colorado State on Saturday at Kinnick Stadium.
What Iowa lacks in star power on the defensive line, it makes up for with quality depth.
Sixth-year senior defensive end Zach VanValkenburg is probably the closest Iowa has to a star on the defensive line. He made second-team All-Big Ten last season and tied for first nationally with four recovered fumbles in 2020.
VanValkenburg has continued to play well this season, but his supporting cast has also risen to the occasion.
From Noah Shannon to Logan Lee to Yahya Black to John Waggoner to Deontae Craig to Joe Evans to Lukas Van Ness to Ethan Hurkett to Louie Stec, defensive line might be Iowa's deepest position. And with that many players rotating in and out of the lineup, fatigue never should be a problem.
Iowa had seven sacks in this past Saturday's 30-7 victory over Kent State at Kinnick Stadium, and much of it was due to the relentless pressure applied by the defensive linemen.
It's easier for a well-rested defensive lineman to rush the quarterback, and that's what we're seeing with Iowa this season.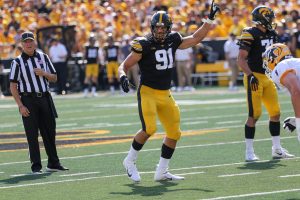 The veteran players have met the challenge, but so, too, have the younger players such as Van Ness and Black, both of whom are redshirt freshmen.
"Every snap is important, especially for these younger guys," Kirk Ferentz said after the Kent State game. "That's what I've been trying to say the last two weeks. On both sides of the ball. We've got a lot of guys that haven't played much, and Lukas is one of those guys. We've liked him. He works hard in practice, and you like what you see. There wasn't room for him last year. We didn't have openings for him to get involved. But all those guys, he's doing a good job, Deontae Craig, Yahya Black got his hands on a ball. So that second-year group of guys. And really Logan Lee in my opinion is in that group as a year older chronologically, but he's missed so much time."
Another benefit to having quality depth is that it makes practice more competitive because there is no time to let up or breath easy because somebody might be gaining on you.
And though three games hardly qualifies as a large body of work, Iowa already has defeated two ranked opponents, and did so with a lot of help from the defensive line.
Iowa's secondary was considered perhaps the biggest strength on defense heading into the season, and that could ultimately prove to be case.
Iowa's top three linebackers also have played well so far this season, but that really isn't a big surprise because a lot was expected from starters Jack Campbell and Seth Benson.
The defensive line, on the other hand, was considered suspect due to having to replace three starters, including Nixon and Golston, and yet, there hasn't been much of a decline, if any.
One mark of a stable program is the ability to reload rather than rebuild at positions hit hard by personnel losses.
It seems clear at this point that Iowa has reloaded on the defensive line.