By Pat Harty
IOWA CITY, Iowa – What transpired on Saturday at Kinnick Stadium, besides the Iowa football team defeating Minnesota for the seventh time in a row, was a changing of the guard at quarterback.
Or, at least that's what should happen.
As much as I respect and admire Spencer Petras for being fully invested in the Iowa football team, for being the ultimate teammate, for leading Iowa to 12 straight wins, and for being a Grateful Dead fan, Alex Padilla deserves to be the starting quarterback right now.
Only time and performance will determine how long Padilla deserves to be the starter. But at this moment, the job should be his moving forward.
Padilla, a third-year sophomore from Greenwood Village, Colorado, did enough positive things during Saturday's 27-22 victory over Minnesota to stay on top of the depth chart, even if Petras is healthy enough to play against Illinois next Saturday.
Padilla only completed 11-of-24 passes for 206 yards, and the Iowa offense was only on the field for 19 minutes and 40 seconds.
But Padilla also threw two touchdown passes and scored another touchdown on a quarterback sneak ,and that proved to be the difference in the game. He also didn't commit a turnover or get sacked.
And then afterwards, Padilla showed his humility and his appreciation for the moment while speaking to the media.
"I've been dreaming of this moment since I was a little kid, and being able to play with my brothers, that's the biggest reason why I love playing this game," Padilla said. "It's the ultimate team sport. And to get a win like this in front of our home crowd, the blackout, it was an awesome atmosphere. I'm really thankful for all of my teammates. They helped me all the way."
Iowa head coach Kirk Ferentz, not surprisingly, refused to say for certain that Padilla would start against Illinois next Saturday.
Ferentz has been one of Petras' biggest fans, and Ferentz also can keep opponents guessing about who will start at quarterback moving forward.
"We'll see what happens in practice. I don't know," Ferentz said. "Spencer couldn't have thrown today. We would have maybe used him in a four-minute situation, that type of thing, just to manage things. But we'll see what happens next week.
"Again, I feel good. We have two good quarterbacks. I think all of us trust, at least everybody internally, we all trust both of them."
And though Padilla was far from spectacular in Saturday's game, he was steady, and he played with moxie. He also protected the football and his mobility seemed to make the passing attack more versatile and flexible.
And he took some shots down field.
"We thought there would be some favorable coverages for us to take some shots on," Padilla said. "They loaded up the box a little bit with those safeties. Their corners were playing outside. Stuff down the middle of the field was open. Our guys ran well, then offensive line block really well and made my job super easy."
Story continues below
Padilla completed a 72-yard touchdown pass to a wide-open Charlie Jones early in the third quarter, and he also completed a 27-yard touchdown pass to freshman receiver Keagan Johnson early in the fourth quarter.
Johnson caught the pass near the line of scrimmage and then spun away from two defenders before racing to the end zone.
"I don't even know how to explain that one," Padilla said. "That is credit to what he can do with the ball in his hands. He is a special player.
"There are not too many guys in the country that can probably break out of two tackles from defensive linemen. Awesome play."
The Iowa offensive line, even with All-America center Tyler Linderbaum, has struggled with pass protection throughout the season.
So, it would make sense to play the 6-foot-1, 197-pound Padilla because he moves better in the pocket than Petras does, and because Padilla throws so well on the run.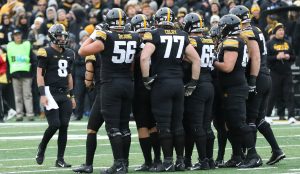 But the biggest reason that Padilla deserves to start is that he has led Iowa to back-to-back wins, and that is ultimately how a quarterback is judged.
Padilla replaced an ailing Petras in the first quarter of last Saturday's 17-12 win at Northwestern and would go on to lead three scoring drives.
Petras, a fourth-year junior, had kept the starting position for 1 1/2 seasons mostly because he won games and protected the football. His statistics were average to below average.
If Iowa had lost to Minnesota on Saturday, and if Padilla had struggled, then it would make sense to switch back to Petras, assuming he is healthy enough to play.
But that didn't happen in either case.
Padilla rose to the occasion and his team picked up a key win that keeps Iowa (8-2, 5-2) on pace with Wisconsin (7-3, 5-2) in the race for the Big Ten West Division title, although, the Badgers have the tie-breaker based on having defeated Iowa this season.
The offense still is a work in progress, even with Padilla starting at quarterback, but there is no denying that Padilla has provided a much-needed spark.
Kirk Ferentz said it was business as usual in the days leading up to Saturday's game.
"I don't think anybody on the staff made it a big deal. We just all acted like it's his turn. It's his time. He is the starter this week," Kirk Ferentz said of Padilla. "He's a pretty even-keel guy as you can probably see.
"So, I thought he did a really good job and made some really good throws. Good decisions on the ball security part and he played clean football."
Petras also has played well at times since becoming the starter last season, but the offense performed woefully in back-to-back losses to Purdue and Wisconsin by a combined score of 51-14, and the offense was dreadful during the three possessions that Petras played against Northwestern.
There is nobody on the team that works harder or cares more about preparing and winning than Petras does. The California native is a class act in every sense of the word.
Petras instead of disengaging from Padilla has tried to help him handle the challenge of being the starter. There were numerous times in Saturday's game when Petras could be seen advising Padilla on the bench and providing encouragement.
That's huge from a team chemistry standpoint.
This switch doesn't have to be permanent, either.
Should Padilla struggle against Illinois, or against Nebraska in the regular-season finale, Kirk Ferentz would have the luxury of switching back to a quarterback with 17 starts under his belt.
The offense still is very much a work in progress, even with Padilla starting at quarterback, but there is no denying that Padilla has provided a much-needed spark.
Fans had been clamoring for a change at quarterback, and while that shouldn't determine who starts, it is a factor.
Imagine how some fans would've reacted if Petras had started against Minnesota. And now imagine how some would react if Padilla doesn't start against Illinois next Saturday.
It would look horrible and would be unfair if Petras took the field to a chorus of boos because he deserves better than that.
But again, Padilla deserves another opportunity to start under the circumstances, and that's not just me saying that, but also the fans.
"Alex is a young guy and he has done a really good job of stepping up while Spencer is hurt," Charlie Jones said. "Everyone around Alex is helping and encouraging him as much as they can. So he's doing a good job."
Padilla now deserves a chance to keep doing his job.