By Pat Harty
IOWA CITY, Iowa – Iowa tight end Sam LaPorta was walking off the field at Kinnick Stadium after last Saturday's open practice when a group of young fans tried to get his attention.
They shouted, "hey, eighty-four" in reference to LaPorta's jersey number and he then turned and flashed a huge smile and waved.
"My freshman year I was nobody and now they're like 'hey, eighty-four, eighty-four.' It's just a cool feeling," LaPorta said.
It's also a feeling that LaPorta wasn't ready to give up.
He flirted with the idea of declaring for the 2022 NFL Draft as a third-year junior before deciding that returning to Iowa for his senior season would be in his best interest.
"Of course, I had to think about the opportunity it presented for my family as well," LaPorta said. "But being able to come back and finish my degree and play my senior year with my boys, I don't know how I could have passed that up
"There's no place like the University of Iowa, and I truly believe that."
LaPorta said he received feedback from the NFL on his draft status, but he declined to share any of the specifics with the media.
"I got some stuff back, but I don't feel comfortable sharing that if you don't mind," LaPorta said. "But I put my name in and just saw what it was looking like for me.
"So, that was a decision, I guess, as well."
While LaPorta's draft status might be uncertain, his value to the Iowa offense can't be overstated.
A native of Highland, Illinois, LaPorta led Iowa with 53 catches for 670 receiving yards and three touchdowns last season.
He will enter his senior season with
LaPorta has a knack for getting open, has a knack for making tough catches in traffic, and has the trust of Iowa quarterback Spencer Petras.
LaPorta also has high expectations for himself, and for his team, heading into next season.
"I hope it's an amazing year for myself and for my teammates alike," he said. "I think we all have high expectations and high goals set for ourselves and we're really excited for the season.
"I'm so glad every day that I came back and made that decision."
Iowa lost three juniors to the 2022 NFL Draft as center Tyler Linderbaum, running back Tyler Goodson and defensive back Dane Belton all chose to skip their senior season to enter the draft.
LaPorta could've been the fourth junior on the team to leave early, but he has no regrets about staying in college for one more year.
He loves being an Iowa football player and the responsibility that comes with it.
He also loves his teammates and coaches and being a part of something that is much bigger than him.
The Iowa players have been on an emotional roller coaster over the past two years due to the global pandemic and to the racial unrest from the summer of 2020.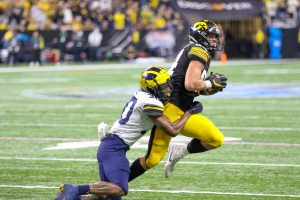 The adversity has caused the players to lean on each other for support and to grow even closer.
"The guys in the locker room are amazing just like every year," LaPorta said. "We support each other through the ups and downs. We're here for each other in the best of times and the worst of times. It's just great to put in the work with these guys these last 15 practices.
"I'm really excited for the new guys coming in in the summertime. I'm just really excited for the season and for the opportunity."
LaPorta is almost like having a security blanket for Petras with the way LaPorta so often gets open when other receivers are covered.
With 94 career receptions and 1,118 receiving yards, the 6-foot-4, 249-pound LaPorta is the latest in a long and distinguished line of star tight ends at Iowa.
His productivity has increased with each season as LaPorta had 15 receptions as a true freshman in 2019 and 26 catches as a sophomore in 2020 when Iowa only played eight games due to the pandemic.
"I can always count on Sam getting open," Petras said early in spring practice. "He just has a knack for finding the holes and gaps in a defense.
"And he catches everything, a quarterback's best friend."
LaPorta played receiver in high school, so maybe that's paying dividends now as a tight end because from the moment he joined the team in 2019, he has been a playmaker.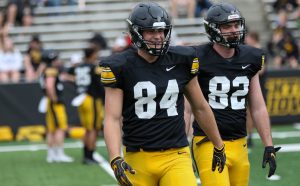 "Some guys just have a certain knack or air about them," said Iowa coach Kirk Ferentz. "He's had that. It's a little bit ironic because he was not a five-star recruit. Took us a while to figure it out. Thank goodness we did. Since the day he walked in here, he acts like a football player. I hate to use the word 'natural' because it suggests guys haven't worked at it. He makes decisions, has a knack for doing things the right way. That's good to see.
"He's got a confidence about him, an air about him, just the way he is naturally. He's one of those guys that people gravitate towards."
LaPorta was lightly recruited in high school, but so were former Iowa tight ends Dallas Clark and George Kittle, while T.J. Hockenson was far from being a mega recruit.
Kittle is now considered one of the top tight ends in the NFL, while Hockenson is emerging as an NFL star.
Clark played 11 seasons in the NFL and won a Super Bowl with the Indianapolis Colts before retiring after the 2013 season.
He and Hockenson also won the John Mackey Award, which goes to the nation's top collegiate tight end, in their final seasons at Iowa in 2002 and 2018, respectively.
LaPorta in many ways fits the description of an Iowa player under Kirk Ferentz in that he has defied the odds and shown that he was under-valued by most Power 5 programs in high school.
He uses it as motivation.
"It's a chip that we have on our shoulder," LaPorta said. "But I try not to let it affect anything that I do. I just keep my head down and keep working."
LaPorta is working this offseason on becoming a more well-rounded tight end. He already has shown over the course of three seasons that he can make difficult catches.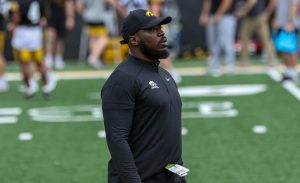 He now wants to improve as a blocker.
"Definitely my first step in the run game especially," LaPorta said. "That just creates the room to bring your step, your knee and your pad and deliver a blow with your pad and move guys off the ball with good run blocking."
LaPorta had a chance this spring to work under new tight ends coach Abdul Hodge, who was hired in February.
Iowa offensive coordinator Brian Ferentz had previously coached the tight ends before switching to quarterbacks in February.
The switch was made after former quarterback Ken O'Keefe decided to step away from coaching on the field.
And though Hodge never had coached tight ends before, the former star linebacker for Iowa has made a strong early impression.
LaPorta and fellow tight end Luke Lachey already have developed a strong bond with Hodge.
"He's great," LaPorta said. "He's a vocal leader. He's analyzing things all the time. Luke and I pick his brain a lot as well. He's a guy that sets his ego aside and never lets his pride get in the way."