By Pat Harty
INDIANAPOLIS – Kirk Ferentz is optimistic about the Iowa offense being better this season.
Iowa's veteran head coach is optimistic about his top two quarterbacks performing well this season because they both have played winning football for him.
Ferentz is optimistic about the return game being solid despite the loss of 2021 Big Ten Return Specialist of the Year Charlie Jones, who transferred to Purdue in June.
Ferentz is also optimistic about the running game being improved, about the offensive line taking a step forward, and about sophomore receivers Keagan Johnson and Arland Bruce taking their performance to a new level.
Ferentz's glass wasn't just half full at Big Ten Media Day on Tuesday at Lucas Oil Stadium, it was overflowing with optimism as he talked about Iowa's much-maligned offense.
The same offense that finished ranked 121st nationally in the country last season, and that averaged just 123.6 rushing yards per game, is poised to meet the challenge this season, according to the head Hawk.
Ferentz didn't make any bold predictions, but he seems optimistic that Iowa has what it takes to be successful at quarterback with either Spencer Petras or Alex Padilla behind center.
"I think we have two pretty good quarterbacks," Kirk Ferentz said. "And selfishly, I look at it, there's some teams in our conference or in college football that struggled when their number one guy went out and we kept winning. We found a way to get back on our feet and win those last four games.
"So, I think it's a healthy situation to have two guys that have led us to victory and two guys that have played well. Again, consistency is going to be the biggest part."
Ferentz was referring to when Padilla became the starter for three games last season after Petras was injured and Iowa then responded by winning all three games.
"Somebody has to go in with the ones, and right now that would be Spencer," Ferentz said. "But right now, I consider it an open competition."
Kirk Ferentz is no different than any head coach at media day where hope and optimism is the prevailing narrative.
Every head coach that spoke on Tuesday was optimistic and excited about the upcoming season because that's what this event is all about – building your brand and building confidence.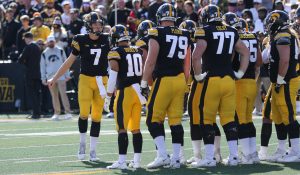 Even if Kirk Ferentz has concerns about the Iowa offense, which would certainly be justified, he wouldn't share them with the media at Big Ten Media Day.
Media day is a feel-good event where every head coach feels good about his team.
Ferentz knows that Iowa fans are frustrated with the offense, and with his son Brian Ferentz's performance as the offensive coordinator, and that many blame the offense, and Brian Ferentz, for the team's inability to perform at an elite level.
But Kirk Ferentz also knows how to control a narrative, and it became abundantly clear on Tuesday that he was doing all he could to promote his offense in a positive light, and the 2022 team as a whole.
He went as far as to say that the 2022 team already has shown signs of being different in a good way.
"I think I said this in the spring, it felt like our team has a little bit more personality in April than some of the teams," Kirk Ferentz said. "Usually, it's more through the summer. But the experiences I've had with them, we've done some off-the-field stuff together, and I can't say enough about those guys, especially those top 25 or 30 guys.
"We've got some guys that just model the right things. They really have a great attitude. They work hard. So, that's a pretty good starting point, and that's good for the younger guys that haven't really been around as much or done as much to have them exposed to that and see things done the right way. It can be really powerful, but we still have to do it."
Fans certainly would be justified in taking a wait-and-see attitude about the offense because actions speak louder than even Kirk Ferentz's words.
The only thing left to do at this point for Brian Ferentz, for Petras, and for the other players on offense, is take what Kirk Ferentz said on Tuesday and make it happen.
Fans are tired of waiting for the offense to do its part, and they're reluctant to embrace the optimism because they've seen the offense struggle so many times before under Brian Ferentz.
"It must be bad out there," Kirk Ferentz said of the criticism "I just watch the plays on film and I see a lot of makable plays. If we can't make some of the plays that we missed last year, then we're not going to be very good. I'll tell you right now, that's going to be part of my message during camp. But I think there's a lot of makable plays out there."
Kirk Ferentz pointed out that Iowa was young on the offensive line last season, with exception to All-America junior center Tyler Linderbaum, who is now in the NFL.
Ferentz also mentioned that the offense was impacted by the injuries to offensive linemen Kyler Schott and Cody Ince last season.
It wasn't until the Citrus Bowl when the offensive line became mostly healthy and Kirk Ferentz was encouraged by what he saw in the 23-20 loss to Kentucky.
"I think it's a combination of things," Kirk Ferentz said. "We were really young at receiver. We were really young up front outside of Tyler and Schott, who had a broken football, and Cody (Ince), who was perpetually injured. So, I'm really optimistic. I saw the growth that we made last year.
"To me, if you were at our bowl game, that's something to be optimistic about. But that's if we make the plays that we leave out there. And that's what we've got to quit doing. Execution is a big part of football. But execution, it goes deep than that. It's guys being able to handle things a little bit better. That's the hill that we've got to climb. But I'm optimistic."
The problem is that it might be hard for some fans to truly believe that the offensive line will be better without Linderbaum leading the way at center.
Whether you agree with Kirk Ferentz or not about his offense, time and performance will ultimately prove if what he said on Tuesday was valid.
Kirk Ferentz certainly has a right to push the positive and to say that his offense is taking the necessary steps to get better because he's building confidence and trying to control a narrative.
But on the other hand, fans have a right to be frustrated with the offense, and to question whether it can do its part because they've seen it struggle in so many big games.
For some fans, it's reached the put-up or shut-up point with the offense.
They're not necessarily saying that Kirk Ferentz should shut up about his offense.
It seems more a case of what he said on Tuesday falling on deaf ears.