By Pat Harty
IOWA CITY, Iowa – Late in the second quarter of Saturday's season opener between Iowa and South Dakota State, I posted on Twitter that it was time to give Iowa backup quarterback Alex Padilla a chance to play.
Starting quarterback Spencer Petras was performing woefully at the time, and he wasn't getting much help from his depleted supporting cast on offense.
The score was 3-3 when I tweeted about switching quarterbacks and Petras was having one of his worst games as a Hawkeye, and that's saying a lot because he has history of struggling.
I wasn't suggesting that Petras should be benched permanently, but it just seemed painfully clear at the time that the Iowa offense needed a spark.
Iowa head coach Kirk Ferentz, however, felt otherwise as he stuck with Petras and the end result was a 7-3 victory over what is supposed to be one of the top FCS teams in the country.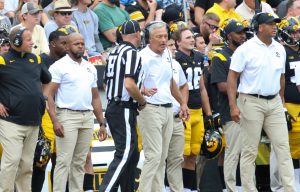 Petras did complete a couple nice passes to Arland Bruce in the second half, but that was about the extent of what went well for Petras in his 20th career start as a Hawkeye.
His record improved to a respectable 14-6 as the starter, but in this case, that record is deceiving because some of those wins happened despite the offense.
Iowa used a familiar script to win on Saturday in which a rock-solid defense combined with the punting of Tory Taylor were enough to avoid what would've been an embarrassing defeat against a team that competes at a lower level.
Some fans started booing in the second quarter as the offense continued to struggle.
Kirk Ferentz was asked after the game what caused him to still have enough faith in Petras to play him for the entire second half.
"It would probably be the same category as a lot of stuff I saw last year," Kirk Ferentz said. "I just think it's more multiple than one player. Spencer has practiced well. I thought he was doing a good job out there, but we didn't support him enough. We weren't clean enough, and that's something we're going to have to be better at next week."
Kirk Ferentz obviously has forgotten more about football than I'll ever know, but to say that Petras was doing a good job seems a little disingenuous.
There were at least five plays by my count in which Petras missed open receivers.
That shouldn't happen to any Big Ten quarterback, but especially one making his 20th career start.
Petras didn't look any better on Saturday than he did in his first career start in 2020.
He looked worst actually, and that's a major concern heading into this coming Saturday's game against Iowa State at Kinnick Stadium.
Petras only completed 11-of-25 passes for 109 yards and one interception in Saturday's game. He was also sacked twice.
At some point, defense and punting won't be enough to rescue Iowa from defeat.
Iowa lost four games last season, and in three of the losses, the offense was largely to blame.
Kirk Ferentz doesn't like to switch quarterbacks during a game because he apparently thinks it'll disrupt the rhythm and cohesion on offense.
So, while fans were clamoring for a quarterback change on Saturday, Kirk Ferentz didn't even give it a thought despite the lack of rhythm and cohesion on offense.
"I still have a lot of confidence in him," Ferentz said when asked how much confidence he has in Petras. "I think the noise on the outside is probably a lot louder than it is inside. I have total confidence. He practices well. He's a great young guy. We'll be better next week."
Kirk Ferentz has been accused of being loyal to a fault to some players, and of being too stubborn, and that was certainly the narrative after Saturday's game.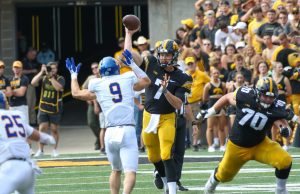 Fans are tired of hearing that Petras practices well and that he's a great guy.
They don't understand why Kirk Ferentz is so unwilling to give Padilla a chance, especially since Padilla led Iowa to three wins as a starter last season when Petras was injured.
Padilla struggled at times last season as he completed less than 50 percent of his passes.
But he also showed an ability to move the pocket with his mobility, unlike Petras who lacks mobility.
To have given Padilla a series or two in Saturday's game might have not only provided a spark,  but it also might have motivated Petras to play better.
But we'll never know.
It was tough hearing Petras get booed because he is a great guy and a great teammate, and because he wasn't the only player on offense that performed poorly.
There also comes a point, however, when a quarterback has to deliver, and Saturday's game was yet another case of Petras failing to meet that expectation.
"Obviously, we need to grow offensively, and I think we will," Petras said. "That was not a representation of our offense."
Unfortunately, for Iowa fans, what happened Saturday was a representation of the offense.
The offense was depleted due to injuries, especially at receiver, but there still were times in Saturday's game when a receiver was open and Petras missed his target.
Iowa only had 57 rushing yards while facing a loaded box. But the reason the box was loaded is because the South Dakota State defensive players didn't respect the Iowa passing game.
And why should they have?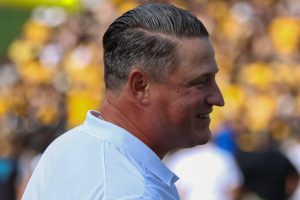 Brian Ferentz, who is Kirk Ferentz's son, is in his sixth season as the Iowa offensive coordinator. He also now coaches the quarterbacks, a responsibility that he added during the offseason, and he has help from a new offensive analyst named Jon Budmayr, a former Wisconsin quarterback.
The hope was that making Brian Ferentz the quarterback coach, and adding Budmayr as an analyst, would make Petras better and would help bring stability on offense because it's rare for an offensive coordinator to not coach the quarterbacks.
But hope quickly turned into anger and frustration for fans on Saturday.
One sign of good coaching is that players get better over time, but there are few signs of that happening with Petras.
He certainly deserves part of the blame, but so do his coaches.
Kirk Ferentz has dug a hole by hooking his saddle to his son, and to Petras, and that hole appears to have gotten deeper on Saturday.
I've defended Kirk Ferentz many times before when fans wanted him to make a position change.
But it's getting harder and harder to defend his handling of the quarterbacks.
The fact that Padilla didn't even get a series or two on Saturday to hopefully provide a spark just doesn't make sense under the circumstances.