By Pat Harty
IOWA CITY, Iowa – Kaevon Merriweather still sometimes wonders almost five years later how he got to where he is today as the starting strong safety for the Iowa football team.
"Even to this day, I still don't know how I got here," Merriweather said Tuesday. "It's crazy to think about the path. My whole senior year (of high school) was a crazy turn of events. It was just wild."
Merriweather is what Iowa coach Kirk Ferentz often refers to as a great story, a story in which Merriweather has defied the odds and shown that anything is possible if you believe in yourself, and if others believe in you.
There have been countless stories under Kirk Ferentz in which players have achieved stardom under the unlikeliest of circumstances.
Merriweather was known more for his basketball prowess in high school, and deservedly so, because he was a talented guard who could dunk with the best of them.
The Belleville, Michigan native figured that basketball would be his path to college, but that started to change late in his senior season of high school football.
Merriweather started to think about a future in football at the advice of his former high school football coach, Jermain Crowell.
"My coach kind of told me early on, you've got size," Merriweather said. "You've got the speed. You're powerful and you can hit. You can cover. And he was like, you might have a couple schools come and look at you."
Crowell's prediction came true as Iowa defensive coordinator Phil Parker saw the same potential in Merriweather.
Phil Parker finds another hidden gem
Parker started recruiting Merriweather near the end of Merriweather's senior season of high school football, and all it takes is for one school to like you.
And it just so happens the school that liked Merriweather was known for turning lightly recruited defensive backs into stars in college, with some even going on to play in the NFL.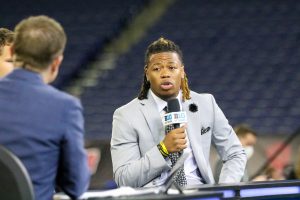 Merriweather didn't even play football as a freshman and sophomore in high school because he was more interested in seeing where basketball might take him.
But then he decided to give football another try at the advice of his mother.
"My junior year, me and my mom we talked about not missing out on opportunities and looking back and wishing you had done something different," Merriweather said. "So, I was like, I'm just going to go out there and just play football and just have fun with it and not really anything I want to take serious."
Merriweather might not have been serious about football when he started playing again as high school junior, but his attitude would eventually change after he realized that football could be his best path to college.
Merriweather saw what Detroit native Desmond King accomplished as an Iowa defensive back despite having also been lightly recruited.
Iowa was the only Power Five program to offer King a scholarship coming out of high school in Detroit.
King appeared destined to play for a team in the Mid-American Conference until Iowa offered him a scholarship.
King would go on to win the Jim Thorpe Award as the nation's top defensive back as a junior in 2015 and he now plays in the NFL.
A respected and outspoken team leader
Merriweather hasn't reached the level of stardom that King achieved as a Hawkeye.
But Merriweather has been a valuable member of the team, on and off the field.
He emerged as a vocal leader during the summer of 2020 after multiple former black players accused the Iowa program of racial discrimination and bullying.
Merriweather was outspoken about why he chose to kneel for the National Anthem, but he also made the team closer by helping to create more awareness and better lines of communication between his teammates and coaches.
The summer of 2020 was also during the peak of the Covid-19 global pandemic, and yet, Merriweather and his teammates still became more unified.
Iowa would go on to finish with a 6-2 record during the Covid-shortened 2020 season, which was impressive under the difficult circumstances.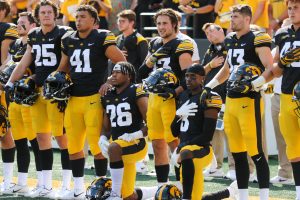 "That 2020 team, that was probably one of the most close-knit teams that I've been on since I've been here," Merriweather said. "I think with everything that happened, I think everybody was willing to come together for a common cause and for a common purpose."
Merriweather has been equally impactful on the field where he will make his 17th career start in Saturday's game against Michigan.
He also has appeared in 37 games overall as a Hawkeye, and on Monday, Merriweather was named the Big Ten Co-Defensive Player of the Week for his performance in last Saturday's 27-10 victory at Rutgers in the Big Ten opener.
He returned a fumble 33 yards against Rutgers, and he also had one interception.
Merriweather could've had a second interception late in the game, but he intentionally dropped the ball to save Iowa field position.
Iowa head coach Kirk Ferentz was asked at his weekly press conference to summarize Merriweather's career as a Hawkeye, and the head Hawk talked about how Merriweather fits the Iowa mold.
"He's, I don't want to say a typical Iowa guy," Kirk Ferentz said. "That's a pretty broad description of players. But he does represent a little bit of some of the successful guys we've had, in that maybe he wasn't necessarily a big recruit.
"I tease the NFL guys and say, Phil tends to have somebody kind of laying in the weeds a little bit, and he didn't say much about Kaevon until late in the recruiting process because Kaevon was really probably more accomplished as a high school basketball player."
Parker trusted his instincts during Iowa's brief recruitment of Merriweather.
"Phil had a feeling about him and we made the offer to him, and he luckily accepted it," Kirk Ferentz said. "But the point I'm going at is he's just kind of gradually gotten better every year, every phase. That's what a lot of our good players have done.
"He was a prospect, a good prospect who became a good football player and certainly had a big night the other night, but he's been one of our leaders and respected by everybody, not just the defensive guys but everybody on our football team."
Michigan wasn't interested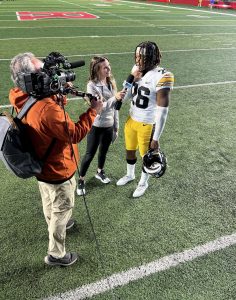 Michigan didn't offer Merriweather a scholarship, or even recruit him for that matter, but he seems to harbor no bitterness.
"I wouldn't have expected them to recruit me," Merriweather said. "I was what, a zero-star recruit. I was a basketball player. They weren't going to look at me for football."
Asked if he would use that as motivation for Saturday's game, Merriweather said:
"It's not motivation now. But just getting the opportunity to play my home state school and just having all my family watching, so, it's definitely always been a big game for me."
Even though he loved playing basketball in high school, and was pretty good at it, Merriweather is all about football these days.
"I used to (miss basketball) when I was younger, but now I love the game of football," Merriweather said. "I love the challenge of it. I love the physicality of it. I love it way more than basketball. So, I definitely think I made the right decision. Looking back, I was questioning it, but now I love it."
Michigan crushed Iowa 42-3 the last time the teams met in the 2021 Big Ten championship game.
The Wolverines burned the vaunted Iowa defense with a couple trick plays in the first quarter that helped to set the tone.
Merriweather was asked Tuesday what the takeaway was from that game.
"I think one think that coach Parker kind of talked about was there's always like six or seven plays that make a game and you never know what those six are seven plays are," Merriweather said. "But when those plays came our eyes weren't pointing in the right spot. We weren't where we needed to be, and they kind of hit us on a lot of big plays that we try to limit. I think we gave up probably like seven or eight big plays and those plays really put them in good field position.
"So, I think just making sure our eyes are always in the right spot, just limiting those big plays when they try to hit the trick plays and make sure our eyes are in the right spots every single time."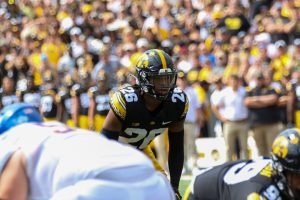 Merriweather was reminded that Michigan attempted three consecutive passes despite leading 35-3 late in the game.
He was asked on Tuesday if he resented that.
"No, not really, " Merriweather said. "You just continue to play the game and making sure that you're in the right spot."
From a family of Michigan fans
Merriweather grew up as a Michigan fan mostly because his family members were Michigan fans.
"My uncle was a Michigan fan, so I just gradually started liking Michigan," Merriweather said.
The love for Michigan still is strong in the Merriweather family.
In fact, Kaevon said Tuesday that most of his relatives will be cheering for Michigan on Saturday.
"I love playing my home-state school," Merriweather said. "A lot of my family cheers for Michigan, so, just getting the opportunity to play them and kind of upset some of my family members is definitely an opportunity I love."
Merriweather also talked on Tuesday about the love that he feels for his mother, LaTanya Franklin. She made a lot of personal sacrifices to help him reach this point.
"My mom she means everything," Merriweather said. "I wouldn't be here without her. She sacrificed so much for me from the time I was younger, whether it was training or she was working a 12-hour shift, get off work and pick me up and take me to basketball practice and take me to training. She'd be tired, sleepy, probably didn't want to do it, but she did anyway.
"If even there wasn't a way, she found a way just to make sure that me and my little brother had everything we needed to be successful."