By Pat Harty
IOWA CITY, Iowa – When recently pressed about his struggling offense, and his refusal to switch quarterbacks, Kirk Ferentz shifted to the big picture, because right now, it's on his side.
The big picture is Kirk Ferentz's 66-28 record since the start of the 2015 season.
The big picture is Iowa having won 10 games in two of the last three seasons, and two Big Ten West Division titles since 2015, including last season's crown.
The big picture is a contract for Kirk Ferentz that runs through the 2029 season, and that has a buyout worth more than $40 million.
The big picture is also having an athletic director who is totally committed to your cause, and who believes strongly that whatever you believe as head coach is what's best for Hawkeye football.
All of that still doesn't excuse the sorry situation on offense, where his son, Iowa offensive coordinator Brian Ferentz, is now a national punchline due to how poorly the Iowa offense has performed this season.
But it explains why the big picture still favors Kirk Ferentz, and why he is so determined to stay his course.
While fans and the media try to make sense of the unfolding disaster on offense, Kirk Ferentz and his son are just business as usual.
Or, so it seems.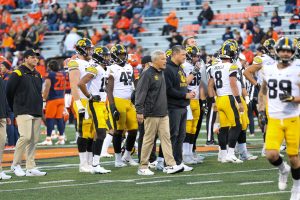 Brian Ferentz has been known to speak his mind publicly much more than his father does, and that was certainly the case this past Wednesday when Brian Ferentz was asked at a press conference featuring Iowa's three coordinators what would be the downside to switching quarterbacks.
"What's the upside," Brian Ferentz said in a three-word answer that left so much to be desired from an optics, and from public relations standpoint.
That answer, in addition to being a clear knock against backup quarterback Alex Padilla, shows somebody who is very comfortable in his job, perhaps too comfortable, and the aforementioned big picture is helping to fuel that comfort.
Brian Ferentz reports to Iowa Athletic Director Gary Barta to help avoid the perception of nepotism, but that arrangement seems more about appearance than substance.
Kirk Ferentz has won enough games over more than two decades as the Iowa head coach to have built leverage, good will and security for himself, and for his son.
Brian Ferentz didn't sound like a coach on the hot seat during Wednesday's press conference because he is fully aware of the power and leverage that his father has built, and the benefits that come with it for him.
The racial unrest from the summer of 2020 tested that leverage, but Kirk Ferentz admitted to having a blind spot and vowed to fix the culture, and the current players say the culture is much better now and more inclusive and understanding.
Iowa also has a 19-9 record since the start of the 2020 season with all those games having been played after the racial unrest and many during a global pandemic.
So, as woeful as the offense has been, Kirk Ferentz still feels no need to make any significant changes because he feels no threat to take action due to the numbers/circumstances still being on his side.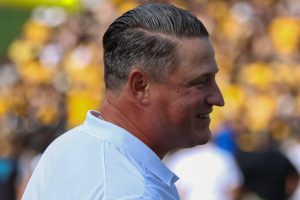 And if that's how Kirk Ferentz feels, then that's how his boss feels.
The only way this would change is if Iowa (3-3, 1-2 Big Ten) starts losing games at an unacceptable rate.
Iowa, which is currently in a bye week, is in danger of falling to 3-4 overall with undefeated Ohio State the next opponent on Oct. 22 in Columbus, Ohio.
Should that happen, Iowa would have to win three of its last five games against Northwestern, Purdue, Wisconsin, Minnesota and Nebraska just to finish 6-6 and to qualify for a bowl game.
This season is in danger of slipping away and that's how the big picture would start to change.
Should Iowa finish with six or fewer wins this season, Kirk Ferentz would lose from a leverage standpoint, and the pressure to make some changes on offense would increase.
Those saying that Iowa needs to clean house and just fire everyone aren't being fair and reasonable, or realistic, while those saying that Kirk Ferentz needs to fire Brian Ferentz aren't being realistic.
Iowa is totally committed to Kirk Ferentz, for better or for worse, and that won't change until the big picture starts to change.
Could this season be the start of that change?
Possibly.
The answer, either way, is coming.