By Pat Harty
IOWA CITY, Iowa – As she enters her 23rd season as the Iowa women's basketball coach, Lisa Bluder is on a roll you could say.
Iowa's all-time winningest women's basketball coach has been successful throughout her time as the head Hawk, but Bluder seems to be getting better with age.
Her current team is ranked fourth in the Associated Press preseason poll, which is Iowa's highest preseason ranking since 1994, and returns all five starters from a team that won the Big Ten regular season and Big Ten Tournament championships last season.
Iowa has had four of the last five Big Ten Women's Basketball Player of the Year honorees dating back to 2017, and has been a No. 2 seed in two of the last three NCAA Tournament appearances.
Iowa also has one of the most dynamic players in women's collegiate basketball in junior point guard Caitlin Clark, who led the nation in scoring and assists last season.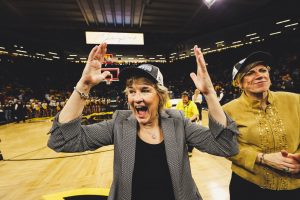 Clark and fifth-year senior center Monika Czinano form one of the top inside-outside combinations in the country, and they're also surrounded by a talented and well-connected supporting cast.
"I'm the same coach and mostly have the same staff since we got here," Bluder said Thursday at Iowa's annual media day event. "So, I would say, I think as you get older and more experienced, you learn more lessons.
"So, I think your coaching does change. But at the same time, it's all about the athletes. I mean it really is. You can be a great coach, and if you don't have good athletes, it's going to be trouble. But you could be a bad coach and really mess up some athletes, too."
Iowa associate head coach Jan Jensen played for Bluder at Drake and has been a member of Bluder's coaching staff since before Bluder came to Iowa from Drake in 1999.
Jenni Fitzgerald also played for Bluder at Drake and has been at Bluder's side pretty much since Fitzgerald graduated from college, with her current role as special assistant to the head coach.
That kind of stability and continuity is rare in college sports these days, and it's one of the key factors in Iowa's recent run of unprecedented success under Bluder.
But as Bluder pointed out, it ultimately comes down to the athletes, and she has been fortunate to coach two of the greatest players in program history in Clark, and former All-America center Megan Gustafson.
Iowa was a solid program when Gustafson joined the team in the fall of 2015. But by the time she was through playing in 2019, Iowa had become a Big Ten power and has sustained that level ever since.
Gustafson was a top-100 recruit from a tiny town in Wisconsin, but there was no reason to think that she would become a superstar who currently holds 16 Iowa records.
Gustafson was named the National Player of the Year as a senior in 2019 and she is Iowa's all-time leading scorer and leading rebounder.
"It was like a dream for us as coaches to see her progress like that," Bluder said of Gustafson.
Bluder is different from some head coaches who stay in one place for a long time in that her greatest success is happening well beyond her first decade on the job.
That wasn't the case for former Iowa football coach Hayden Fry, nor has it been the case for current Iowa football coach Kirk Ferentz.
Fry achieved his greatest success during his first of two decades in Iowa City, while Ferentz won both of his Big Ten titles in his first decade as head coach.
Bluder is married and has three children, but none of them live at home anymore, and she thinks that has allowed her to focus even more on coaching and recruiting.
Her youngest child, David Bluder, is a sophomore at Grinnell College.
"We are empty nesters now," Bluder said. "It is different because now you don't feel as guilty when you go home if you've got to make a recruiting call at eight o'clock at night when you're supposed to be putting people to bed.
"You just have more flexibility in your schedule. You're not as busy with their activities, so it gives you a lot more freedom and it gives you a lot more energy because you're not running around after kids all the time."
But it still comes down to knowing how to coach and how to recruit, and Bluder is currently thriving in both areas.
She has lifted the program to a level that hadn't been reached since the days of C. Vivian Stringer in the late 1980s and early 1990s.
Bluder has done it with a fast-paced style of play that appeals to recruits.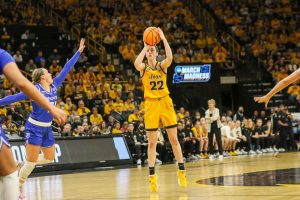 Defense, of course, is important, but Bluder considers herself more of an offensive coach, and that's one of the reasons Caitlin Clark decided to be a Hawkeye.
Clark graduated from West Des Moines Dowling Catholic and she had her pick of colleges as one of the top recruits in the country.
"That was one-hundred percent a huge reason why I came here, and that's what she preached to me in the recruiting process," Clark said Thursday. "That you're going to have the ball in your hands a lot, and I think a lot of my final schools kind of had that same look. But I think the read and react offense that we run was super important for myself.
"You're making basketball reads. It's not a set. You're not being told what to do every single time you come down the floor. You're just playing the game you love. You're flowing freely, and you're playing off your teammates. And that was super important for myself, and I think also the past success of what they've done. It was proven that it was very successful. They were proven that they were a great offensive team."
As for the hype and the pressure that comes with it, Bluder says bring it on because she considers pressure to be a privilege, something she learned from tennis legend Billie Jean King.
"Why would you not?" Bluder said. "Some people, I guess are worried about what happens if you don't live up to people's expectations. But you know, very rarely do we live up to people's expectations. People have unrealistic expectations, sometimes.
"And so, we are just loving this that people are talking about Iowa's women's basketball on a national scale. At the end of the day, if we do our very best, that's what we have to be happy with."
The fact that Iowa lost to Creighton in the second round of the NCAA Tournament last season is helping to inspire the current team, but it doesn't take away from what was accomplished last season.
"We were thrilled with last year, even though it didn't end the way we wanted it to," Bluder said. "We were thrilled. We did something historic, and we were thrilled."