By Pat Harty
IOWA CITY, Iowa – Chuck Long was right.
The former Iowa All-America quarterback and 1985 Heisman Trophy runner-up said shortly after Brian Ferentz was named the Iowa quarterbacks coach last March that it was a missed opportunity by Brian Ferentz's father, Iowa head coach Kirk Ferentz, to help jumpstart the offense.
Long was concerned about Brian Ferentz's lack of experience with coaching quarterbacks since Brian Ferentz was a former offensive lineman who had never coached quarterbacks when his father handed him that responsbility in addition to being the Iowa offensive coordinator.
"I thought it was a missed opportunity for Kirk, and for Iowa football," Long said on KCJJ radio in a March 23rd interview. "Quarterback coaching is such a different animal, and I was in it for twenty years. I don't know anybody with an offensive line background who played offensive line like Brian Ferentz did, who grew up in that offensive line arena and then tight ends, which I believe offensive line and tight ends coaching kind of goes hand-in-hand; I don't anyone with that background that has gone on to coach quarterbacks."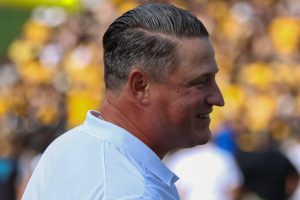 Long would go on to accuse Kirk Ferentz of violating basic rules about nepotism with the decision to promote his son.
And while his statements were controversial back then, it's hard to argue with what Long said based on the current circumstances.
Iowa is 3-4 overall and 1-3 in the Big Ten and its offense is ranked at, or near the bottom nationally in multiple statistical catergories, while the quarterback play has been woeful to say the least.
Iowa only has two passing touchdowns in seven games this season, while the Iowa defense has scored three touchdowns.
Three-year starting quarterback Spencer Petras, who has started 26 games, performed so poorly in Saturday's 54-10 loss at Ohio State that Kirk Ferentz finally had seen enough and switched to Alex Padilla in the second half.
Padilla didn't perform any better, however, as he mishandled his first snap from center, which led to a turnover, and he also threw an interception on his second series.
Kirk Ferentz declined to say which quarterback would start in this coming Saturday's game against Northwestern at Kinnick Stadium.
Long certainly has credibility as a former star player, and as a former coach, when talking about quarterbacks.
He was the first Big Ten quarterback to surpass 10,000 career passing yards and he led Iowa to the Big Ten title as a senior in 1985 under Hayden Fry.
He also finished second to Auburn running back Bo Jackson for the 1985 Heisman Trophy in the closest vote ever for college football most prestigous award.
Long played quarterback in the NFL and he would go on to coach quarterbacks for Iowa, and for Oklahoma. He was also the co-offensive coordinator for Oklahoma under Bob Stoops and was the offensive coordinator for Kansas in 2010 and 2011.
So, when Chuck Long talks about coaching quarterbacks, it might be worth listening.
He just felt that Brian Ferentz's lack of experience with coaching quarterbacks would create obstacles that easily could've been avoided, and now his concerns make a lot of sense with Iowa having lost three games in a row due mostly to the deficiencies on offense.
Long was hoping that Kirk Ferentz would make an effort to hire a coach whose area of expertise was the quarterbacks.
But instead, Kirk Ferentz basically handed the job to his son after Ken O'Keefe announced that he was stepping away from coaching on the field.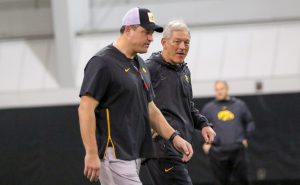 O'Keefe coached the Iowa quarterbacks from 2017 to 2021 while Brian Ferentz coached the running backs and then the tight ends in addition to being the offensive coordinator.
The quarterbacks struggled at times with O'Keefe coaching the position, but nothing like the current situation.
"It's just different than everything else," Long said of coaching quarterbacks in the March interview. "There is so much more preparation and so many little nuances and intricacies that you have to be able to know and coach.
"I knew a lot just by playing the game. So when I coached, there was a lot of carry over. I just had a great knowledge and base on it just based on where I had been."
Some would argue that Brian Ferentz wasn't qualified when his father promoted him to offensive coordinator shortly after Greg Davis retired after the 2016 season.
Brian Ferentz was only 34 years old at the time, and he had only worked for two head coaches – his father, and his father's close friend, New England Patriots head coach Bill Belichick.
Kirk Ferentz said when explaining why he made Brian Ferentz the quarterbacks coach that he wanted his offensive coordinator and play caller to also coach the quarterbacks because that's how most programs operate.
Kirk Ferentz's decision made sense from that standpoint, but it made less sense when factoring in Brian Ferentz's lack of experience with coaching quarterbacks.
Iowa also hired former Wisconsin quarterback and assistant coach Jon Budmayr as an offensive analyst during the offseason, and he is being paid approximately $95,000 over six months for his services.
It seemed pretty clear that Budmayr was hired to help Brian Ferentz coach the quarterbacks.
Unfortunately, for Brian Ferentz, the extra help hasn't had a positive effect, at least during games it hasn't.
Kirk Ferentz took a huge gamble when he made Brian Ferentz the quarterbacks coach, and right now, it looks like the wrong decision.
Everything that Chuck Long said back in March is turning out to be true, much to the dismay of Iowa fans.