By Pat Harty
IOWA CITY, Iowa – As far as apologies go, what Kirk Ferentz said on Wednesday left something to be desired, but at least he said something.
If he was acting on the advice of his PR firm when he apologized to the Iowa media, or if he was ordered to apologize, as has been suggested, then so be it.
That's why Kirk Ferentz hired his own PR firm in 2014 and why he pays for its services out of his own pocket, to help navigate through difficult times like now, and to help him interact with the media.
Kirk Ferentz released the following statement early Wednesday evening, and barely 24 hours after he called out an Ohio reporter at his weekly press conference on Tuesday.
"I had hoped to join the zoom call this morning, but practice lasted longer than anticipated. I wanted to take a moment to apologize for my comments during the news conference yesterday. I should not have been dismissive of one of your colleagues – his questions were fair. I have a high respect for the work that you do, and I am appreciative of how you cover our team. You ask tough and pointed questions but do so with a high degree of professionalism. I tell our players to take the high road and yesterday, I did not do the same thing.
"I look forward to seeing you on Saturday."
Kirk Ferentz didn't look good when near the end of his press conference on Tuesday he complained about an Ohio reporter who had sort called him out three days earlier during the post-game press conference after Iowa's 54-10 loss at Ohio State last Saturday.
The reporter, Doug Lesmerises from Cleveland.com, asked a few tough questions near the end of Ferentz's post-game press conference, and then would go on to write a scathing column in which he criticized Kirk Ferentz for nepotism and for running the Iowa football program like a family business filled with privilege and entitlement.
Lesmerises also asked Kirk Ferentz if he would consider firing his son, Iowa offensive coordinator Brian Ferentz, during the season.
Three days later at his weekly press conference, Kirk Ferentz referred to the line of questions as an interrogation.
He never mentioned Lesmerises's name, but it was obvious to whom he was referring when made the following statement.
"I complimented the guys on Sunday because during the questioning, in some cases interrogation, on Saturday that I experienced and the one good thing about that it dawned on me coming home," Kirk Ferentz said. "I said as bad as today was, it could have been worse because I could have been that guy. I could have been that guy. Had his job and had to act like he did.
"Yeah, it could be a hell of a lot worse. All things aren't that bad. But one thing I did on Sunday was compliment our players, the way they handled it. It's not easy to stand up to tough questions after a loss like we did. Our guys handled it with class. Stand up for each other. It's worth complimenting our guys. I think it's genuine, it's who they are."
Kirk Ferentz seemed to be playing the victim, but that's a horrible look under the current circumstances with the Iowa offense performing at a historically low level, and with his son running the offense and being paid $900,000 annually.
Kirk Ferentz also seemed to be saying that he was a better person than the reporter, and that was a bad look, and petty.
Iowa fans are frustrated with the lack of development on offense, and it now looks obvious to them that Brian Ferentz is in over his head, and that he doesn't deserve to be the offensive coordinator, or the quarterback coach.
Kirk Ferentz talked more about his apology during his weekly radio show on Wednesday, and while he didn't necessarily backtrack, he still said he didn't like the tone that Lesmerises had taken while asking the questions.
Kirk Ferentz also didn't apologize to Lesmerises, but rather just to the Iowa media, which seemed a little odd.
But again, it was better than nothing.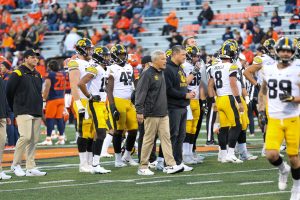 However, Kirk Ferentz should realize that the tone might be a little offensive or combative when he gets asked about his struggling offense and why his son still is the offensive coordinator.
Because those aren't easy questions to ask.
This is a unique and sensitive storyline because it's rare for a head coach at a Powet Five program to have his son as his offensive coordinatory, and it's rare for the head coach to be in his 24th season as is the case with Kirk Ferentz at Iowa.
The Iowa media has moved on from asking Kirk Ferentz about Brian Ferentz's job status because Kirk Ferentz has made it clear that he won't make any coaching changes during the season.
But to the opposing media, and to the national media, this story is a drive-by hot topic, and Kirk Ferentz has to be prepared to answer some more tough questions down the road.
Should Iowa lose to 1-6 Northwestern on Saturday, and if the offense continues to struggle, the tone of some questions will only get worse, as will the booing.
Kirk Ferentz has created this mess on offense, and now the fear is that he won't be capable of cleaning it up because he will refuse to part ways with his son.
That remains to be seen with five games left in the regular season.
So, let the season play out and then go from there.
As for Brian Ferentz, it would make no sense to fire him during the season because then who with any credibility would take over under the current circumstances?
It would be more disruptive than productive, and there is already enough disruption, much of it self-inflicted.