Pat Harty
IOWA CITY, Iowa – In the span of just two weeks, the Iowa football team has gone from being on what many felt was the verge of collapse to now having a chance to win the Big Ten West Division for the second year in a row.
All it took was back-to-back wins against Northwestern and Purdue by a combined score of 57-16 for Iowa's position to change dramatically.
That probably says more about the Big Ten West Division than about Iowa, but that shouldn't matter.
Yes, the Big Ten West Division leaves much to be desired from a team strength standpoint., which is a nicer way of saying that it's just not very good.
All seven teams in the division have at least two losses in conference play and four of them have 3-3 records in conference play, including both Iowa and Wisconsin, which will play on Saturday at Kinnick Stadium.
Whichever team wins the West Division would likely face either Ohio State or Michigan in the Big Ten Championship game, and would be a massive underdog.
One narrative that emerged in the wake of the Purdue win last Saturday is questioning whether it would be worth being embarrassed in the Big Ten Championship game for the second year in a row.
The answer is a resounding yes, it would be worth it no matter how the game should play out.
Iowa lost to Michigan 42-3 in the 2021 Big Ten Championship game, and while it was a huge disappointment, just to have made the title game for the first time since 2015 was a significant achievement.
If you were to list the biggest reasons why Iowa's 10-4 season in 2021 was a success, representing the West Division in the Big Ten Championship game would be near the top of the list.
The only thing worse then getting crushed in the Big Ten Championship game would be to not make the Big Ten Championship game.
Iowa shouldn't have to apologize for winning a mediocre division, nor should any team from the West Division.
All a team can do is play the games on its schedule, and hope for the best.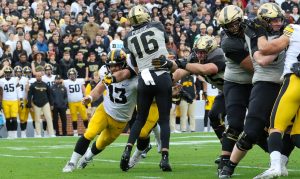 To say that there isn't such a thing as a bad bowl game is certainly open for debate in this age in which some bowls have to use teams with losing records just to fill all the spots.
Conference championship games are different, especially at the Power Five level where winning a conference title carries a lot of weight and influence, on and off the field.
Here's how Iowa (5-4, 3-3) could win the West:
It would have to win out against the Badgers, at Minnesota and at home against Nebraska, while Illinois (7-2, 4-2) would have to lose two of its final three games against Purdue, Michigan and Northwestern, with Purdue the only game at home.
Stranger things have happened.
Illinois lost 23-15 at home last Saturday to a 4-5 Michigan State squad that was decimated by player suspensions, and that had been playing poorly.
Illinois also lost to last-place Indiana in the Big Ten opener back on Sept. 3 in Bloomington, Indiana.
So, Illinois certainly would seem capable of losing to a hot-and-cold Purdue team this Saturday at home, and will probably lose to Michigan on Nov. 19 in Ann Arbor, Michigan.
Should Illinois lose both of those games, and should Iowa win out, the outcome between Illinois and Northwestern wouldn't matter.
Illinois has the head-to-head tiebreaker over Iowa based on its 9-6 win against the Hawkeyes on Oct. 8 in Champaign, Illinois.
But that tiebreaker wouldn't matter if Iowa wins out and Illinois loses two of its final three games.
Iowa would also have the head-to-head tiebreaker over Purdue should that become a factor.
Teams have faced much steeper climbs to a division title than the one Iowa faces with three games remaining.
Iowa has lost eight of its last 10 games against Wisconsin, but Iowa has defeated both Minnesota and Nebraska seven times in a row.
Perhaps Iowa will make the law of averages work against Wisconsin, and then keep them from working against the Gophers and Cornhuskers.
The Iowa players and coaches deserve credit and praise for righting what some thought was a sinking ship.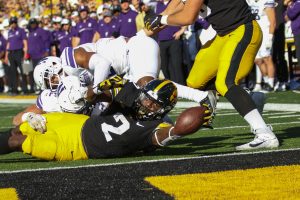 The offense finally has showed a pulse and is doing its part for a change.
"These past two weeks we've been playing good and putting the ball in the end zone for them in a team effort more, that's definitely a lot more fun," said senior receiver Nico Ragaini. "You see more guys smiling around here, so it's definitely a lot more enjoyable."
But it's also important to not get carried away because Iowa could easily lose its next two games, and then imagine how much the narrative would change heading into the Black Friday game against Nebraska, with Iowa having to win just to qualify for a bowl game.
There still is plenty of work to do, but there is also some hope and optimism, which wasn't the case after the 54-10 loss against Ohio State on Oct. 22 in Columbus, Ohio when Iowa committed six turnovers in a game in which senior quarterback Spencer Petras was benched for the second half and replaced by junior Alex Padilla.
That was Iowa's third loss in a row and the circumstances seemed bleak.
The Iowa offense had become a national laughingstock, while Petras and offensive coordinator Brian Ferentz had become national punchlines.
A cynic might say that lowly Northwestern came just at the right time on the schedule, and maybe so.
But again, a team can only play the teams on its schedule and Iowa took care of business against a struggling and inferior opponent.
The Iowa defense then held Purdue without a touchdown for the first time since 2017, and the Iowa offense did more than enough to help win by a comfortable 24-3 margin.
"The goal is to build on that and continue to be hungry for more because it's definitely a lot more fun when you're playing to the ability we have the last two weeks," said Spencer Petras. "But we've got a real challenge this weekend.
"But what more could you ask for? It should be good."
Iowa versus Wisconsin is always a huge game because it matches long-time Big Ten border rivals who try to play the game the same way, and who have used some of the same people to rebuild both programs.
Barry Alvarez is arguably the greatest head coach in Wisconsin history and he got his start at the college level under Hayden Fry at Iowa.
This game has added significance because of  the divisional race.
The Big Ten West might not be very good.
But the race to see which team is the best among the not very good is getting interesting.
Big Ten West Division standings
Illinois, 7-2, 4-2
Minnesota, 3-3, 6-3
Iowa, 3-3, 5-4
Purdue, 3-3, 5-4
Wisconsin, 3-3, 5-4
Nebraska, 2-4, 3-6
Northwestern, 1-5, 1-8
Wisconsin vs. Iowa
When: Saturday, 2:35 p.m.
Where: Kinnick Stadium
TV: FSI
Radio: Hawkeye Radio Network
All-times series: Saturday will be the 96th meeting between Iowa and Wisconsin. Through 95 games, Wisconsin leads 49-44-2 and has won eight of the last 10 games in the series.