By Pat Harty
IOWA CITY, Iowa – The Iowa football team, to sort of borrow a line from the 1970s sitcom "The Jeffersons," is movin' on up in my latest Big Ten power rankings.
That's what a three-game winning streak will do for a team.
Iowa has gone from being on what many thought was the verge of collapse after a 54-10 loss at Ohio State on Oct. 22, which was Iowa's third loss in a row, to now having a very realistic chance of winning the Big Ten West Division for the second year in a row.
Should Iowa win its last two games against Minnesota and Nebraska, and should Illinois lose to either Michigan on Saturday in Ann Arbor, Michigan, or against Northwestern in the regular-season finale, then Iowa would win the West.
It won't be easy because nothing comes easy for Iowa in the Big Ten, but a Big Ten West Division title is well within reach.
The Iowa offense still leaves much to be desired as evidenced by having only produced 146 yards against Wisconsin, but the Iowa defense and special teams continue to perform at an extremely high level.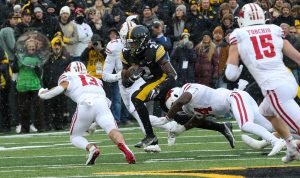 The victory over Wisconsin was Iowa's 13th win in a row during the month of November.
"I told the team, we've talked about November football, and for me it was a classic example of November football in our conference," said Iowa head coach Kirk Ferentz. "Tough conditions weather-wise, and a couple things we really thought coming into the game, we'd have to play tough because Wisconsin is a really tough option. Playing clean football is huge for us and huge for them, and it's been that way historically in this series, and it's been that way for both teams really this year, if you look back in the stats for both teams.
"Then the other thing is you have to make plays when they do present themselves, and our guys did a good job of that. It wasn't easy, wasn't clean, but overall did a really nice job. Just really proud of our players for getting the victory, proud of them for getting the trophy back and having that in our building for a while."
Here are my latest rankings, which include the top two teams switching places.
These rankings are very fluid, and in the moment in case you're wondering why I have Iowa ranked above Illinois even though Illinois defeated Iowa 9-6 on Oct. 8 in Champaign, and did so without starting quarterback Tommy DeVito playing in the final three quarters after he was injured.
The reason is simple; Illinois has lost two games in a row, both of which were at home, while Iowa has won three games in a row.
And there also could be a little bit of Hawkeye homer influencing these rankings.
I'll admit it.
Ohio State, 7-0, 10-0 – I thought about ranking the Buckeyes second behind Michigan for a third consecutive week, but then worried that some Ohio State fans might see the ranking and demand that Ryan Day be fired.
2. Michigan, 7-0, 10-0 – Jim Harbaugh is so impressed with how his team is playing that I'm hearing he might actually spend the night with a wolverine in the Michigan tunnel.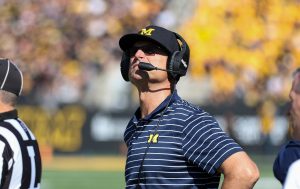 3. Penn State, 5-2, 8-2 – James Franklin blames the Michigan tunnel, global warming, the transfer portal, NIL, inflation, social media and the return of Beavis&Butthead for Penn State not being at the same level as Michigan and Ohio State.
4. Iowa, 4-3, 6-4 – Kirk Ferentz isn't trying to prove that you can finish with a winning record, and maybe even win a division title despite having your son running a historically unproductive offense, but that's kind of what he's doing.
5. Illinois, 4-3, 7-3 – With Illinois showing signs of not being able to handle the pressure that comes with being relevant, Bret Bielema is reminded why he chose to walk-on at Iowa instead of Illinois despite having grown up in Illinois.
6. Purdue, 4-3, 6-4 – The Jeff Brohm-led Boilermakers are coming off an impressive victory at Illinois in a must-win situation, which means they'll probably lose against last-place Northwestern on Saturday.
7. Minnesota, 4-3, 6-4 – P.J. Fleck as the Minnesota head coach never has avoided the spotlight or defeated Iowa.
8. Michigan State, 5-5, 3-4 – Coming off back-to-back wins, including at Big Ten West Division leader Illinois two Saturdays ago, if I'm Mel Tucker, I'm asking for a raise just to see what happens.
9. Wisconsin, 5-5, 3-4 – Before last Saturday's game against Wisconsin, Barry Alvarez stood in one place without moving even the slightest and texted on his cell phone for multiple minutes in the press box at Kinnick Stadium, and it was kind of annoying because he was in the way.
10. Maryland, 3-4, 6-4 – The Terrapins play host to Ohio State this Saturday, which means they will almost certainly move another step closer to having a chance to win the Pinstripe Bowl for the second year in a row.
11. Nebraska, 2-5, 3-7 – I'm hearing that Alabama's struggles this season could be from Nick Saban being concerned that he might not be Nebraska's top choice to be its next head coach.
12. Rutgers, 1-6, 4-6 – Greg Schiano would be earning his $4 million salary if he were paid just to win nonconference games where Rutgers is 6-0 since the start of last season, but just 3-13 in Big Ten games.
13. Indiana, 1-6, 3-7 – Tom Allen recruited five new assistant coaches as well as 12 players from the portal while trying to return the Hoosiers to their winning ways of 2019 and 2020. It hasn't worked, considering Indiana is 1-15 in Big Ten play since the start of the 2021 season. Allen probably has only a slightly better chance of being Indiana's head football coach next season than Steve Alford has of being Indiana's men's basketball coach next season.
14. Northwestern, 1-6, 1-9 – Pat Fitzgerald should look up the grade-point-averages of all of his players just so he can be reminded why it's so hard to sustain success at his alma mater.