By Pat Harty
IOWA CITY, Iowa – Whether you think the Iowa football team is winning or losing in the transfer portal at this moment probably depends on how much credit Iowa deserves for landing former Michigan quarterback Cade McNamara.
Because from a numbers' standpoint, it isn't close with at least 10 Iowa players having entered the portal since the end of the regular season, while McNamara is one of just four players to pick Iowa through the portal, with the others being Michigan tight end Erick All, Charleston Southern receiver Seth Anderson and Wisconsin backup quarterback Deacon Hill, who announced his commitment to Iowa on Wednesday after having previously been committed to Fordham.
But should Iowa go on to have success under McNamara, such as winning the Big Ten West Division behind at least an average offense, the numbers wouldn't matter because whatever should end up happening in the portal would be considered a success.
About half of the Iowa players that have entered the portal did so it from a lack of playing time, and from having little chance of playing in the future, including quarterbacks Alex Padilla and Carson May.
Those kinds of departures happen all the time at every school, so, Iowa is just like everybody else in that regard.
The concern with Iowa's losses in the portal is that at least four of them would have almost certainly played significant roles next season assuming they would be healthy.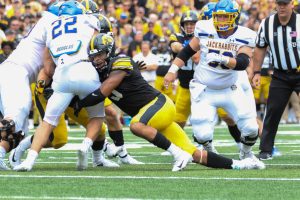 The four would be linebacker Jestin Jacobs, defensive back Terry Roberts, and receivers Arland Bruce IV and Keagan Johnson.
Playing time wouldn't have been an issue with any of the four, though, Roberts would almost certainly have faced some stiff competition from Jermari Harris at cornerback opposite of Cooper DeJean.
The biggest surprise of all the Iowa losses to the portal is Jacobs, who seemed poised to step into a starring role next season in the post Jack Campbell era, assuming Jacobs makes a full recovery from the injury that caused him to miss most of the 2022 season.
Jacobs has since transferred to Oregon, however, and NIL money was reportedly a big factor in his decision.
And if so, more power to Jacobs because that is the world we now live in, and you either adapt or fall behind in the quest for talent.
Another concern at this point is that Iowa has only added one receiver from the portal during this current cycle.
Seth Anderson appears to be just what Iowa needs as an established receiver.
But Iowa needs more of them.
It can't be easy trying to entice receivers to transfer to Iowa right now, given the state of the Iowa offense, which was ranked at, or near the bottom nationally in total offense throughout the 2022 season.
So, to have landed Anderson, who picked Iowa over his hometown school, Georgia Tech, was nice work by the Iowa coaches under tough circumstances.
There was hope that McNamara's decision to transfer to Iowa would convince some Power Five receivers to join him.
But so far, that hasn't happened.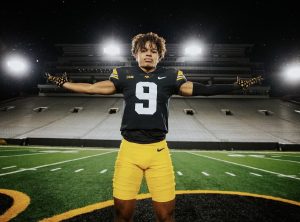 Anderson played for FCS Charleston Southern, and this past season he had seven touchdown receptions, which matches Iowa's total as a team.
Hill barely played in two seasons at Wisconsin, but at the least, he gives Iowa another quarterback on scholarship to help the team function properly.
The transfer portal is sort of like recruiting in that it never really stops.
Student-athletes are coming and going at alarming rate, and NIL money is a driving force behind many of the decisions.
Iowa desperately needs help at quarterback, so, to have landed somebody of McNamara's ilk is an impressive accomplishment.
He led Michigan to 2021 Big Ten title, and to the college playoff, and that gives him instant credibility as a Hawkeye.
Iowa suffered a big loss as third-year sophomore defensive lineman Lukas Van Ness declared for the 2023 NFL draft this past Tuesday.
However, the blow was softened somewhat when senior defensive end Joe Evans announced the next day that he would return to Iowa for a sixth season thanks to his free Covid year.
Iowa's roster, like every roster, is fluid right now.
The portal has been both good and bad to Iowa in recent weeks, but time and performance will ultimately determine how good or bad.
Additions
name, position, previous school
Cade McNamara, quarterback, Michigan
Erick All, tight end, Michigan
Seth Anderson, receiver, Charelston Southern
Deacon Hill, quarterback, Wisconsin
Losses
Alex Padilla, quarterback
Carson May, quarterback
Gavin Williams, running back
Jestin Jacobs, linebacker
Terry Roberts, defensive back
Keagan Johnson, receiver
Arland Bruce IV, receiver
Reggie Bracy, defensive back
Josh Volk, offensive lineman
Dallas Creddiath, defensive back
Let's work @HawkeyeFootball pic.twitter.com/vZVykoFl9k

— Deacon Pe'a Hill (@dhillsb10) January 4, 2023