By Pat Harty
IOWA CITY, Iowa– Caitlin Clark relishes a challenge, even when it comes to her height.
"It's funny. She gave me so much grief in high school because I would not list her at six-foot because she wanted to be listed at six foot," said Kristin Meyer, who is the girls basketball coach at West Des Moines Dowling Catholic from which Clark graduated in 2020. "And I'm 5-11, so, throughout high school, I always told her because we'd stand back-to-back, and I'd say, 'Caitlin when you're taller than me, I'll list you at six foot."
Clark is now listed at 6-foot, and she has been ever since she signed a letter of intent with Iowa.
"I do think she's grown to six-foot just in the past couple years," Meyer said Wednesday in a telephone interview. "I think she grew a little bit after high school, and I remember right after she had committed to Iowa when they posted their recruits, they listed her as six-foot point guard Caitlin Clark.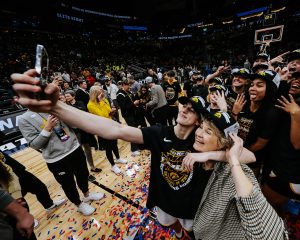 "I texted her right away and said, 'oh, I see that's one of the reasons why you chose Iowa is because they list you at six-foot, huh."'
Meyer, of course, was joking, but Clark's height is one of many reasons behind her ascent to stardom.
Clark is taller than most point guards in women's college basketball and that could help her in Friday's showdown against top-ranked and defending national champion South Carolina in the NCAA semifinal in Dallas.
"I definitely think her length helps her so much," Meyer said. "And it's not just in being able to get shots off, which it does help. But she's now a little taller to see over defenders. Her arms are pretty long, so then she can pass around defenders. Even rebounding, you're a little bit taller it's a little bit easier to go grab some rebounds."
Clark used her height and length to her advantage in the 97-83 victory over Louisville in the Elite Eight last Sunday as she recorded the first 40-point triple double in NCAA Tournament history, men or women, with 41 points, 10 rebounds and 12 assists.
"You saw with Louisville, I thought it was so interesting to watch the different players they put on her," Meyer said. "You could put on a 5-7 girl, but she's going to shoot over her. You put a 6-2 girl on her, she's going to drive past.
"So, she's got just that great size to be able, along with her quickness, and her shooting, and her driving ability, to make her so tough to guard."
Clark will be the ultimate test for South Carolina's defense and vice versa.
South Carolina is tall, long and athletic, and the players take great pride in their defense.
South Carolina is first in the nation averaging 8.9 blocks per game, second in field-goal defense (.317) and third nationally in scoring defense (51.1).
"They all want a chance to guard her," South Carolina coach Dawn Staley said of her players. "It's going to take all of them probably and more to guard Caitlin. She is someone that is unpredictable, like she'll be able to pivot and take and make incredible shots, both from outside, way outside the three, to at the rim.
"So, we got to show her different looks in order for us to, hopefully, keep her somewhat under control."
This already has been a rewarding week for Clark as she has been named the Naismith National Player of the Year, the Associated Press National Player of the Year, the Wade Trophy recipient, and the Ann Meyers Drysdale Award winner.
She is also one of five finalists for the Wooden Award.
Clark has been described as a generational talent and as the face of women's basketball.
She came to Iowa with incredibly high expectations as a five-star recruit coming out of high school.
Meyer knew that Clark would be a force in college after having coached her in high school.
But it would've been hard, even for Meyer, to have predicted this level of dominance from Clark, who leads Division I in several statistical categories including assists per game (8.6), three-pointers made (127), and triple-doubles (5).
Clark also has scored 30 or more points in 12 games, including three 40-point performances. Clark broke Iowa's junior single season records in scoring and assists. She also became the Big Ten single season statistical champion in assists (311).
In Iowa's four NCAA Tournament games this March, Clark is averaging 30 points, 11 assists, 5.8 rebounds, 4.8 three-pointers and 2.5 steals.
So, has she exceeded expectations, even for a mega-recruit?
"I've gotten that question a few times and as I've thought about it, I can't say that I predicted it," Meyer said of Clark's dominance as a Hawkeye. "But I'm also not surprised if that makes sense."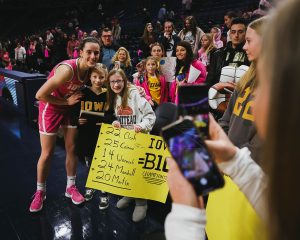 And while Clark has been blessed with immense physical ability, including her size, her work ethic dating back to her childhoods, has also been a key factor in her success.
"She was by far the hardest worker that I've seen," Meyer said. "And it was daily in practice, but the work she put in outside of practice time, and that's how she's earned the right. Now she has some God given talent and coordination and the height that has helped her. But she has earned the right to be good."
Clark, since becoming a Hawkeye, has added about eight pounds of muscle to her once slender frame, and Meyer believes that Clark's commitment to getting stronger has been a key to her dominance in college.
It took Clark a while in high school to fully appreciate the value of weight training.
"I will say that it took until her senior year that she started taking the weight room seriously," Meyer said. "We've heard quite a few times in articles, or announcers will say how she's put on an extra eight pounds of muscle since last year. I think over the last three-and-half, four years, that's been one of the thing that has really helped her game go to the next level because college players are very strong, an they're long and she gets knocked around a lot.
"So, I think that has helped her with her shooting accuracy further out, but also just driving to the basket and being knocked around when you're dribbling. Things like that."
The rest of the nation is starting to appreciate Clark's greatness, and her celebrity status, the same way the Dowling community has since she first burst on the scene in high school.
"Her name came up a lot when she was in high school, and not just because of what she did on the basketball," Meyer said. "But her personality and her joy for life, and her smile and her energy, that's her all the time. So, if you talk to teachers, or her classmates that you see around school, she's just got this energy to her.
"But I would definitely say she's a big inspiration to the people at Dowling, to future Maroons, along with people across the state of Iowa, and across the country. But a lot of the players that we have in high school now, they were lucky to get a front row seat to watch her play in high school. And I think they do feel a little extra connection to her."
Clark had her pick of schools coming out of Dowling, and she gave serious consideration to signing with Notre Dame.
But she ultimately picked Iowa for multiple factors, including the chance to play close to home, to play in Lisa Bluder's fast-pace offense, and Clark also wanted to lead Iowa back to the Final Four for the first time since 1993, as she told Meyer in high school.
"She said my goal is to take Iowa back to the Final Four. This was before her senior season," Meyer said. "That belief that she had in herself then to say that and then her work ethic to back it up. It's one thing to throw things out there and say something. But when you have the work ethic to earn the right to achieve your goals, it's pretty darn incredible."