By Hawkeyesports.com
IOWA CITY, Iowa – University of Iowa fifth-year center Monika Czinano was selected by the Los Angeles Sparks with 26th overall pick in the WNBA Draft. Czinano is the third Hawkeye that has been drafted in the WNBA since 2019. (Kathleen Doyle, Megan Gustafson)
Czinano finished her Iowa career with 2,413 points, 787 rebounds, and shot at least 67 percent the past four seasons. She was the fifth Hawkeye to net more than 2,000 points in a career.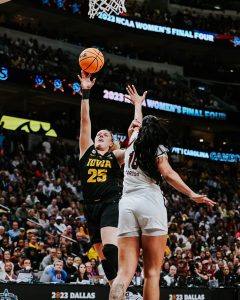 Czinano is the 17th Hawkeye to have been drafted or to have signed in the WNBA since the league originated in 1997.
A native of Watertown, Minnesota, Czinano broke the Big Ten Tournament single game field percentage record, going 11-of-12 (.917) to help Iowa to their 2023 Big Ten Championship victory over Ohio State. She reached double figures in 28 games this season and in 11 of them she netted more than 20 points.
Czinano finished her decorated Hawkeye career with Unanimous First Team All-Big Ten honors, was on the All-Big Ten Tournament, and earned honorable mention from the Associated Press in 2022-23.
Czinano also helped Iowa advance to the NCAA championship game this season for the first time in program history.
"We're so proud of Monika," Iowa coach Lisa Bluder said in a statement. "She's an incredibly hard worker that deserves everything she's getting. I couldn't ask for a better student-athlete to represent the University of Iowa in the WNBA."
I enjoyed following Monika's career in the Big Ten. A great post threat, she has the ability to score down low and has a high basketball IQ! Welcome to LA Monika Czinano! @MCzinano @LASparks

— Earvin Magic Johnson (@MagicJohnson) April 11, 2023
LETS GO SPARKS!!!!!! HAPPY FOR MY GIRL 🤍🤍🤍🤍 @MCzinano GO BE GREAT!!!!!

— Caitlin Clark (@CaitlinClark22) April 11, 2023