By Pat Harty
IOWA CITY, Iowa – By this Thursday night, former Iowa defensive lineman Lukas Van Ness will have almost certainly achieved millionaire status.
Van Ness is expected to be selected in the first round of the 2023 NFL draft, which will be held on Thursday in Kansas City, Missouri, followed by rounds two and three on Friday and rounds four through seven on Saturday.
Iowa could have as many as five players selected in the draft, but Van Ness is clearly the leader of the pack despite having never started a game for the Hawkeyes.
His story isn't rags to riches as Van Ness was a solid recruit coming out of suburban Chicago.
He reportedly had nearly 30 scholarship offers from schools that included Illinois, Minnesota and Kansas State.
But he wasn't an elite recruit because most of his offers came from mid-major programs, including from multiple schools from the Mid-America Conference, and from schools that compete at the FCS level.
Van Ness also took a redshirt his first season at Iowa in 2020 because he needed time to adjust to competing at a much higher level.
Hockey had always been his favorite sport, and Van Ness achieved a great deal on the ice, both individually and from a team standpoint.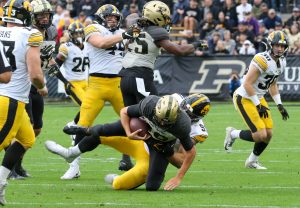 Van Ness played hockey all the way through high school, where he led his team to the state semifinals before the pandemic shut the tournament down.
But as he kept growing and gaining strength, Van Ness started to believe that his future was in football, and he couldn't have been more right.
Because in just three seasons at Iowa, Van Ness has gone from redshirting as true freshman to being a likely first-round NFL draft pick as a third-year sophomore, and incredibly, he made this miraculous ascent without starting a single game for the Hawkeyes.
There have been lots of great stories under current Kirk Ferentz about players defying the odds and exceeding expectations, and Van Ness certainly deserves a spot on this long and distinguished list, perhaps even near the top.
It seems the biggest concern with Van Ness from a draft standpoint is that his body of work is small, but his body itself at 6-foot-5 and 275 pounds is quite impressive as he has a combination of strength, speed, quickness, flexibility and balance that is rare for somebody his size.
Van Ness credits hockey for helping with his success in football.
"I think I attest to hockey a lot of my balance skills and my balance that I have today," Van Ness said to steelersnow.com. "Hockey requires a lot of agility. It's a hard sport to play. It's very physical. It's very demanding. A lot of those attributes contribute to the football player that I am today."
Van Ness made the most of his limited playing time in two seasons at Iowa.
He led Iowa with 11 tackles for loss last season and he finished tied for the lead in sacks with 6.5 for minus 41 yards.
He also blocked two punts against Iowa State this past season.
And he played both defensive tackle and defensive end as a Hawkeye, showing the kind of versatility that impresses NFL scouts, coaches and management.
While some teams might look at Van Ness as an interior lineman, others might see him as an edge rusher, and that might give him an advantage over some other defensive linemen in the draft.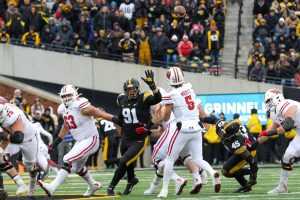 Current Iowa defensive tackle Aaron Graves considers Van Ness an inspiration.
Graves is in sort of a similar situation in that he has shown flashes of star potential, but he will likely be a non-starter for a second consecutive season.
"You see a guy redshirt and then he's going to be a first-round pick," Graves said. "That's really inspiring to me, just from where I'm starting to where I think I can be.
"It's very good to look up to a guy like that."
Graves is actually ahead of Van Ness at this stage in that Graves played as a true freshman last season.
Graves appeared in 12 games last season and finished with six tackles for loss and three sacks.
He is currently listed as the No. 2 defensive left tackle behind sixth-year senior Noah Shannon, who chose to use his free Covid year to play next season.
Van Ness has shown that it doesn't really matter if you start or not. It's more about how you finish, and how you seize the moment.
Van Ness is poised to become the 12th Iowa player selected in the first round under Kirk Ferentz, and the 16th defensive linemen picked in the draft.
He came to college with little fanfare and would go on to never start a game for Iowa, and yet, Van Ness has a very good chance of being a first-round pick.
It's the kind of thing you probably wouldn't believe without seeing it happen.
Van Ness is among five former Iowa players that will likely be picked in the seven-round draft, the others being linebacker Jack Campbell, tight end Sam LaPorta and defensive backs Riley Moss and Kaevon Merriweather.
None of the five were ranked higher than a 3-star recruit coming out of high school, and two of them were two-star recruits.
This year's draft class from Iowa truly represents the essence of Hawkeye football under Kirk Ferentz in how they have defied the odds by working hard, by allowing themselves to be coached hard and by playing hard, and with a purpose.