IOWA CITY, Iowa – One year after watching his twin brother feel the thrill and excitement of being picked in the first round of the NBA draft, Kris Murray had the privilege of feeling it for himself on Thursday.
Kris Murray had to wait a little longer than his twin brother, Keegan Murray, to hear his name announced as a first-round pick. But Kris still now has the rare distinction of being a first-round NBA draft pick as the Portland Trail Blazers selected the 6-foot-8 junior forward from Iowa with the 23rd pick overall.
"I just got off the phone, they are excited to have me," Kris Murray said of the Portland coaches. "They said they were running through the halls when they picked me. I'm excited to meet everyone and get to Portland. I think it will be a really good situation for me."
Kris Murray is the 10th Hawkeye to be picked in the first round of the NBA draft, and with that comes a guaranteed contract worth millions.
This also marks the first time since the 1970 and 1971 NBA drafts in which Iowa has had a player selected in the first round in back-to-back drafts.
Forward John Johnson was selected in the first round by Cleveland in 1970, while guard Fred Brown was picked by Seattle in 1971.
There were 12 sets of brothers that played in the NBA this past season, including Steph Curry and Seth Curry, and now here comes the Murray twins, along with the Thompson twins, Amen and Ausar, both of whom were picked in the first round on Thursday.
The Murray twins will now both live on the West Coast and will square off in the regular season as Portland and Sacramento faced each other five times last season.
"I said to Keegan, we're probably going to be a West Coast family now," Kris Murray said shortly after being picked.
There was speculation heading into the draft that Sacramento was considering taking Kris Murray with the 24th pick in the first round.
But instead of the twin brothers being reunited on the West Coast, they will now be on opposing teams in the Western Conference.
Kris Murray, along with his parents, attended last year's NBA draft so he could be at his brother's side.
But Kris chose to watch this year's draft with family and friends in Iowa City. He then met with the media shortly after being selected.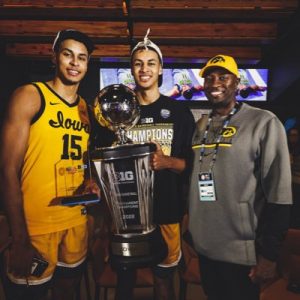 This past season was the first time that Kris Murray and Keegan Murray have been seperated on and off the floor, and they both took advantage of the unusual circumstance.
Kris Murray led Iowa in scoring and was named third-team All-America this past season, while Keegan Murray, who was picked fourth overall by Sacramento in last year's draft, set a record for most 3-point baskets by a rookie, made the NBA All-Rookie team and helped the Kings make the playoffs.
Kris Murray concluded his junior season having scored 20-plus points 17 times, and with seven career double-doubles. He also scored in double figures 43 times as a Hawkeye.
With this being Kris Murray's fourth year out of high school, he was one of the older players to be picked in the first round.
But with age also comes experience and maturity and the 22-year old Kris Murray will bring those attributes to his new team.
His game is also more clearly defined after three years at Iowa and one year at a Florida prep school where his jersey has been retired.
While some NBA teams prefer to pick younger players with enormous, but mostly untested potential, Kris Murray is more of a finished product and there is value in that, too.
Kris is the son of former Iowa basketball player Kenyon Murray, and Kris is named after former Iowa basketball player Chris Street, who was killed in an autombile accident midway through his junior season in 1993.
Kenyon Murray was a Hawkeye freshman when Chris Street was killed, and he considered Street to be almost be like a big brother.
They were extremely close, and it was hard for Kenyon to cope with the loss.
He paid tribute to Street by naming one of his sons after him, and Kris Murray has embraced that privilege.
Welcome to Portland, Kris 🌹 pic.twitter.com/v3bz15n4Vk

— Portland Trail Blazers (@trailblazers) June 23, 2023
With the 23rd overall pick we have selected.. Kris Murray !!#NBADraft | #RipCity pic.twitter.com/myoc4s5hwF

— Portland Trail Blazers (@trailblazers) June 23, 2023